Article | Fashion & Design | Sophie Berrebi
Sophie Berrebi is the 2018 Rita Boland Fellow at the RCMC. Her fellowship research is an investigation into clothes and how they are worn, involving visual culture, ethnography, art history and fashion studies. 
1. The Research Center for Material Culture (RCMC) – outlining my research project – first contacts
It has taken me some time to find my footing. Not only to orientate myself geographically, although that too. In the cool, dark and cavernous building that hosts the RCMC in Leiden, I have learnt to remember the difference between the blue staircase and the green one, understand at what time people gather in the red room, and which of the eight or so identical-looking and unmarked doors open to an office full of now familiar faces, and which ones lead to unknown territory - or onto a cupboard. But soon enough, I was registered with full access, swishing my magnetic pass to enter the building, launching a search into the database and conversing in French with the librarian. 
I wish the process of my research were as smooth. It is an entirely new project that departs from my art historical background to the study of clothing items: head and body wraps, accessories such as neckties, white shirts, pockets and overalls. My aim is not to write comprehensive histories of each of the items (perhaps eight to ten) I plan to research, but to construe them as something close to what art historian Hubert Damisch called  "theoretical objects": I want to understand their symbolism today, and where they might come from across time and space. In a lecture I once gave about lipstick, I stood before the audience applying some to my lips and asking aloud questions I sometimes ask myself: why wear make-up? What is the imaginary I mentally conjure when I do? Why does it give me a certain confidence, and appear attractive to some and repulsive to others? How does lipstick today relate to body markings that have existed in other periods of time and other places?
These kinds of questions guide my research, opening, like other unmarked doors, to new disciplines, objects and ideas. I have come here to study textiles and garments, to understand better what the current trend for head wraps that I have seen on very cool-looking women on the streets in Paris and London means, where it might come from, and what it says. I have come to seek what is at the core of the idea of wrapping the body with fabric, to research how overalls transform their wearer, why with the advent of spring everyone around me seems to be wearing striped sailor shirts and what, unbeknownst to them, it might mean. 
2. The memory of a photograph – a second photograph
But while I have come to study clothing, it is to photography that I first turn, to the slight surprise, I think, of the museum and research teams here. I have this memory of an image I once saw in this very building, I explain to my hosts, on my first day in Leiden. An image brought up on a screen, by an anthropologist from Brazil, Bruna Triana, during an expert meeting on photography. It was a nineteenth-century picture of two young men standing in an unidentified location, wearing a kind of sarong and a striped sailor shirt. That photograph has been in my mind ever since, and it is rapidly, to my relief, found anew by the Africa curator, Annette.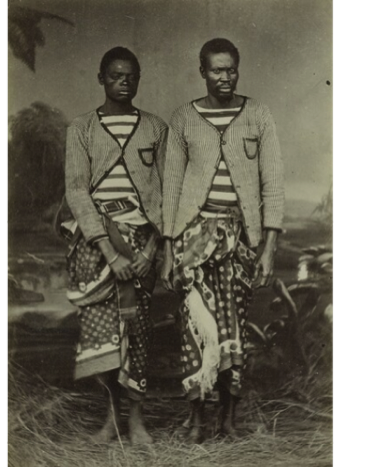 The image she finds (inventory number RV-A274-86, old number 1226) is the photograph that first opened my eyes to the idea that the history of the striped sailor shirt existed beyond the confines of the French navy, seaside holidays and Brigitte Bardot. Discovering it again, I am struck by the discrepancy between the striking outfits and the apparent uneasiness of the two young men who wear them. They wear the shirts under thin-striped blazers with a contrasting trim. Only one button is fastened so that the jackets open up onto the shirts, making visible some kind of sash and the elaborately draped patterned fabric that flows almost reaching to their ankles. But however lush and decorative their outfits are, it only enhances the contrast with the way in which their gazes resist the camera lens. Their apparent discomfort is all over their body language, as they stand huddled together against the painted backdrop. The straw on which they stand is blurred in patches, as if evidencing their slight shuffling, and it makes me uncomfortable to probe the photograph. The database tells us they are two members of the Kru culture, and that the photograph was taken in Angola around 1870 by a Portuguese photographer named Jose Agosto da Cunha Moraes. So is the second photograph that comes up on Annette's computer screen.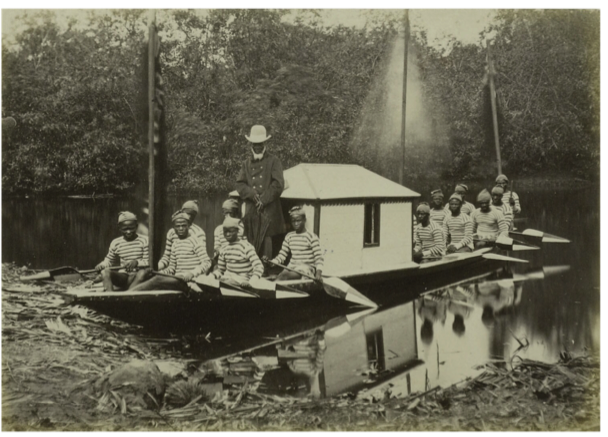 Labeled RV-A274-40, it shows a shallow elongated boat divided in its middle by a cabin in front of which stands a man with a white beard and a light coloured-bowler hat, holding an umbrella and wearing a worn-out double–breasted coat. Around him fourteen men (one mostly hidden from view) wearing pristine-looking sailor shirts and small matching hats or wraps. Paddle in hand as if ready to depart, they are sat on the narrow boat resting against a riverbank. The trees on the other side of the river are luscious while in the foreground the vegetation has been presumably hacked down to allow the boat to land. The water is almost eerily still. The museum note card states that the Kru were identified as such by association with the first photograph ("vgl. voor hun costuum no. 1226," reads a note made by the person who first classified the image), so someone at the museum was there before I was, and made the association, but how far did they go?  I only know that the striped jersey shirt became a fixed element of the French sailor's uniform by official decree in 1858. This is c.1870, Angola, according to the card, and I have little to work on to make the leap between Angola in the 1870s and the French uniform garment (striped shirts were also used by the Russian navy, but that is another story). Examining the note card feels like looking into a cold case in a crime novel. I go into the literature mentioned on the cards. But there is no mention of the uniform or clothing of the Kru there.[1]
3. The Kru – ethnographers – explorers
I proceed to research the Kru and in the weeks that follow, and find myself scouring nineteenth-century accounts of travelers who repeat in substance the same information: that the Kru are a people whose homeland is in Liberia, and their talents as sailors made them a sought after labour force since at least the late eighteenth century. Recruited by Western ships, mainly British, French, Portuguese and Dutch, they sail down the coast as far south as Angola or the Congo before being returned home, working for a few months or a year on each job.[2] They are the only ones, these sources repeat, who can safely manoeuvre across the great waves and rollers that hug the West African coast. All sources similarly evoke the recruitment process, un-changed for more than a century or so and which happens via a headman, an older and more experienced sailor who recruits men for the ship, and a 'book' that each Kru keeps, in which their recruitment information is consigned. That the Kru traveled across such large territories across different colonies and linguistic zones explains why such photographs could be taken in Angola, and it is also what prompts me to check sources in various places and libraries beyond Leiden and the Netherlands. In accounts from Europeans dating back to the mid-nineteenth century, around the time that settlements of formerly enslaved men and women from the United States were consolidating into the state of Liberia (which declared its independence in 1847), I note with fascination the difference of tone between government officials, self-defined explorers, scientists and missionaries: there is the pseudo-scientific pontificating of the French, the patronizing accent of missionaries and the anecdotal and violently racist tone of the British. They call these workers in different languages 'krooboys', 'krumen', 'croumanes', 'crumanoas,' and often question the origin of the name and the strange homonymy between the men from Kru town in Liberia and their activity as Crewmen on ships. From a couple of more recent ethnographic studies I learn that the name Kru has gradually come to be shared by all sorts of people seeking employment by foreign vessels.[3] The racism of the early accounts is almost always coupled with praise for people without whom, sources repeat, Western commerce and exploration would not have been possible.  I even read somewhere that the French under governor Binger negotiated for the border between Liberia and Côte d'Ivoire to cut through Kru territory because they wanted to make sure they would have access to this particular labour force in their new conquered territory of Côte d'Ivoire. So I have found an explanation of why the Kru in "my" pictures have been photographed in Angola. (I write "my" almost as an automatism: they accompany me in my library visits, pasted in my notebook and over the weeks, I have become somewhat possessive towards uncovering their story).
But in every text I find, I search almost in vain for an indication of Kru clothing. Repeatedly I read in nineteenth-century accounts that they are dressed with little more than a loincloth, and sometimes with hand-me down clothes from the western ships, and in some cases, it appears that their wages are paid in cloth. But certainly nothing in what I read accounts for anything as concerted as the outfits in my photographs. Why is that, I wonder, and first of all is it because these people might not actually be Kru people? Or is it because the European travelers did not bother to record the clothing of their temporary staff? Or is it a question of discrepancy between images and text, that images are collected and archived separately from texts, and that textual archives only rarely contain photographs?
4. Johann Buttikofer – drawing and photography - the history of objectivity
This divorce between image and text speaks of several things. Linda, a graphic designer friend points out that technical reasons might offer a simple explanation: printing techniques in the mid or late nineteenth century made it difficult or expensive to reproduce photographs in books, while drawings were easier to reproduce alongside text. But that cannot be everything. I point out to her another photograph that has emerged, in a case where photographer and writer are one and the same person. Johann Büttikofer (1850-1927) was a Swiss-born zoologist who worked for most of his career at the National Museum of Natural History in Leiden in the late nineteenth century.[4] Büttikofer made two expeditions to Liberia, in 1879-82, and then again in 1886, before publishing a book about his work and travel in 1890, Reisebilder aus Liberia in which photographs and drawings alternate.[5] In the book is a drawing showing a view of the Sinoe River, and a man wearing a sailor shirt stands with one hand on the tip of a canoe. In the database, looking at the extensive series of photographs that Büttikofer sold to the museum after his trips, I find the photograph on which the drawing was based. It is much more complex than the drawing, suggesting at that latter, heavily edited image removes the busy messiness of the real in favour of an idealised view of a virgin territory to be explored.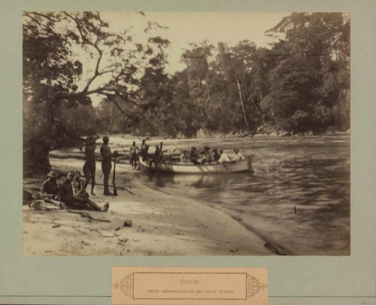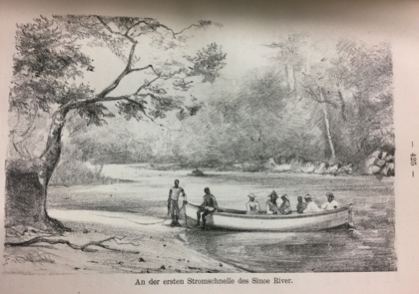 But perhaps, also, Büttikofer's purpose, in cleaning up the image, was to exemplify what science historians Lorraine Daston and Peter Galison have called  "truth to nature", a regime or paradigm of objectivity formed prior to the invention of photography, and according to which a drawing's truthfulness stemmed from its ability to depict things (for example, medical cases) in a general way. Photography's ability to faithfully and mechanically reproduce the real was hailed as a proof of objectivity in the sciences, prompting what the authors call in their landmark book, Objectivity, the introduction of a new paradigm of objectivity in scientific imagery, which they call "mechanical objectivity".[6]  Nevertheless, a photograph would also pick up incidents and accidents that could disturb a generic representation and turn it into an unwanted individual case study. To me, the book comes to exemplify, with its choice of using both photographs and drawings as illustrations, a prime example of the competing ideas of these two regimes of objectivity: "truth to nature" and "mechanical objectivity" (and I note, almost in passing, that there is nothing about the outfit of the man holding the canoe in Büttikofer's text).
5. The purpose of photography, first visit to the restoration studio - Bruna Triana
But when did photography become the dominant medium to represent places and people? And how did it construct its legitimacy? The development of photography is contemporary to the acceleration of the colonization of Africa and the greed to appropriate territories and resources shares similarities with the yearning to see and to know that drove the popularity of photography. After zooming in on the Kru people I need, so I realize, to zoom out to question the photographic image itself, hoping it will help me to understand the why and the how of these men in sailor shirts. I ask to see the photographs in the flesh. In the restoration studio, where Cathelijne greets me warmly, the two photographs have been laid out on a table alongside the box that one of them was extracted from. Using surgical gloves I scrutinize the images, noting the thinness of the paper characteristic of albumen prints, pasted on gray cardboard. There are no marks on either image, although others in the box bear a watermark from Cunha Moraes' studio and show the same painted backdrop as in my first image. Perhaps I am daunted by the plastic folders and anti-acid cardboard, the surgical gloves and matching light. At any rate I cannot see anything that the database, with its high quality digital acumen hasn't yet showed me. I feel hopeless, ignorant and dumb, faced with this display of scientific equipment. But I do find something, perhaps. My first photograph of the two "krooboys" is inscribed 92 in the margin. Sifting through the acid-free box in front of me I discover a photograph numbered, in the same handwriting, 93. Same background as the 92, and this time, three women dressed in contrasting fabrics holding each other's arms look straight into the camera as an unified front, and with a defiant gaze.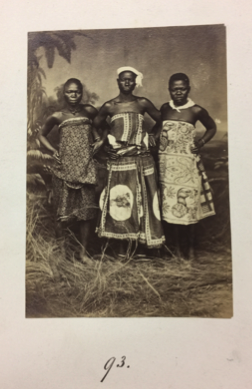 Bruna Triana, to whom I have reached out, has written an article partly about Cunha Moraes (1855-1933), upon her return from Leiden and she kindly sends it to me from Brazil.[7]  In it she investigates how what she calls an "ethnographic gaze" permeates different genres and styles of photography made in nineteenth-century Angola and twentieth-century Mozambique. She points to how Moraes' photographs, made in the commercial studio business he inherited as from his father in Luanda, served different purposes. She argues for the necessity to read against the grain of conventions of posing and the neutral backdrops favored by anthropologists, and identifies here and there in certain images gestures of resistance through which, she writes, subjects regain some agency and resist the ethnographic gaze. She sees such a resistance in the posture of the women in the photograph labeled 93. Following her reasoning, I note once again the discrepancy with photograph 92, the sullen expression of the young men and their body language refusing the gaze of a camera that captures them nevertheless.
6. Photography history in Africa
And yet I have problems with this ethnographic perspective, with the dichotomy of the analysis of objectification and resistance. Even though Triana does write about the many usages of photography, and drawing from such authors as Elizabeth Edwards reminds readers that images could be easily re-purposed and re-labeled, I am not sure I understand, or agree with this idea of an overall ethnographic gaze as a primary characteristic of all photographs taken by European photographers in Africa, a gaze that dominates and classifies and objectifies non-western 'others'.[8]
Although Cunha Moraes was Portuguese and seemed to have worked often for geographical societies in Europe, wasn't he also part of Angolan society, a studio photographer catering for a local population as a whole? (His brother had inherited a clock-repair shop, would that not place them firmly within the Luanda bourgeoisie or lower bourgeoisie?) Here I miss a sociological account of Angolan society at the time, perhaps even some biographies of individuals living in those times and place, to complement Bruna Triana's anthropological reading, and provide a wider picture.
In the past few years a number of publications, mostly by art historians, have begun to give another idea of the history of photography in Africa.[9] The several essays that I immediately lay my hands on focus on nineteenth-century African photographers such as the American-born Liberia-based Augustus Washington (1820/21-1875), and the Sierra Leonnese Francis W. Joaque (c. 1845 – 1895). These studies exclude European photographers but they paint a fascinating picture of the usages of photography in Africa in the late nineteenth century where people, like in Europe, collected in particular small carte-de-visite photographs of themselves to send to family and friends in different locations as propaganda to attract other settlers: these studies show the diversity of ways through which a society resorts to photography to represent itself. Those texts leave me wondering if any project similar to the Arab Image Foundation in Beirut exists in any African country today. In Beirut, the artist-driven Foundation has made regular calls to individuals to donate family images produced and collected by locals in the Middle East and in Arab Diasporas across the world to counter dominant representations of these areas made by Europeans since the mid-nineteenth century. As a result they have built an archive accessible online and which forms the basis from which counter histories of photography and of the Arab world can be written. But perhaps such projects exist, and I hope to come across them. And I also would like to read a book in which European and African photographers working in Africa in the nineteenth century would be presented side by side, and in a social, economic and political context. I am not aware of any such publication at this time of writing.
7. Photography and Fashion
I return to the restoration room, this time with the Fashion and Popular culture curator, Daan, with whom I have shared every minute discovery and disappointment since I have arrived at the RCMC, and Roberto, the trainee curator who works with her. This time I ask to see different pictures that I found on the database and which, I am adamant had never appeared before (the mysteries of database research!), and I ask to see them alongside the other pictures filed nearby in an effort to understand classification as well.  In the restoration studio the three of us are faced with a whole collection of images, thin albumen prints like the others, but pasted on thick coloured cardboard in three formats: stereoscopic views, mostly of landscapes on deep yellow and orange card; cartes-de-visite in pink; and yellow "cabinet cards," which became widely used in Europe after 1870. These pictures that we go through together with great excitement, tell a different story. They show us a wide range of social classes and statuses, degrees of contact with colonials, ways of dressing and posing for the camera. There are ethnographic views of people representing a specific culture or social class, but also many portraits of individuals.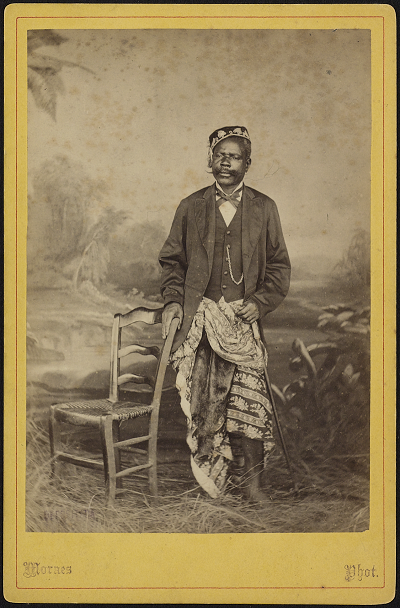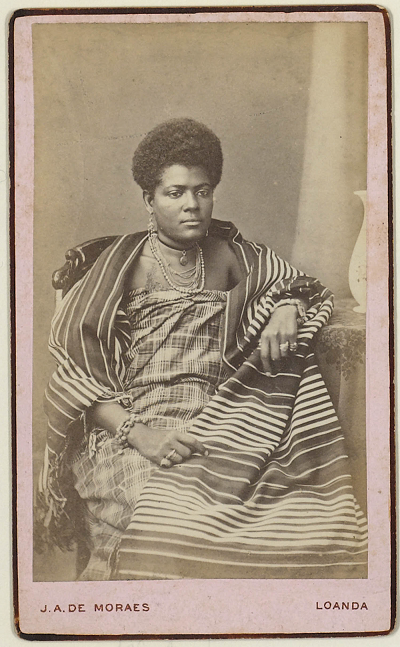 What these images laid out in front of us show is how much this research topic requires one to be interdisciplinary. The knowledge that Daan and Roberto have of textiles produced and worn in West Africa is just as necessary as a background in photography history to understand how these images were made and a knowledge of art history to help figure out what is going on in the images. Just as textile was continuously traveling across continents – Daan and Roberto identify Indian Madras textiles wrapped around the body and worn in combination with European garments – so did photography as a technology and social practice travel across space at high speed from the moment of its invention in 1839. The poses of many sitters are the same as those in European photographs, and they are distinct from some rigid objectifying ethnographic poses that resemble those used in Europe by the police forces and other State institutions[10]. And next to the movement of textiles and there was also a constant move of populations and individuals within and between continents. Professional photographers travelled extensively as well, with painted backdrops serving as mobile studios.
All this means that in turn, an interdisciplinary practice of research is needed to comprehend and analyse these images and practices. An image I come across summarises this concatenation. It is a cabinet photograph of an unnamed man identified only as a "Cabinda interpreter", standing against the backdrop I have now seen many times. Asserting his presence in the image, and looking pensively in the distance he wears a suit jacket, shirt, cravat and waistcoat with a visible watch chain, and sarong wrap. I find him again the following day at the Bijzondere Collecties library in Amsterdam where I look through Africa Occidental, Album photographico e descriptivo, the first album published by Cunha Moraes in Lisbon in 1885. In the album he sits amidst his family and in the preceding page is a lengthy description that Roberto, who is fluent in Portuguese, translates for me, and which shows the imbrication of economy, colonialism social class, textile and photography:
"All the trading posts have one or more linguists, interpreters or callers of business for the trading posts, who speak fluent Portuguese and wear clothing 'half as European, half as indigenous', which means not abandoning the wrapped cloth and not wearing shoes. The photograph shows a linguist of the Zaire area and his family. The payment that the linguists - or intermediaries ('cambuladores') the name by which they are known as in the South - take is in brandy, farms/estates and pieces of clothing. The person in charge of a trading post always has a good linguist, because the business more or less depends on his role."
- Cunha Moraes, Africa Occidental, Album photographico e descriptive Lisbon, David Corazzi, 1885, non paginated.
8. Fred Pepple
The visit to the restoration room has uncovered something else. In a pile of larger photographs I find an older bearded man surrounded by a woman, young men and children. The beard, the expression on the face, the bowler hat and the coat: this is, I am sure, the austere headman in the photograph of the boat with the fourteen sailors. A barely legible name is scribbled on the back, which Daan deciphers as Fred Pepple. Another identical looking photograph appears soon after in the same pile. This time, the name Fred Pepple is neatly written in below the photo with a place: Brass river.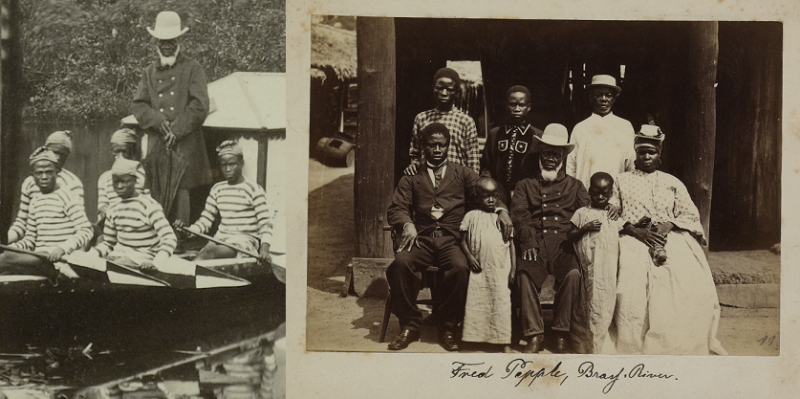 The Brass River is in Nigeria, miles away from Luanda, and yet the man is dressed in identical clothes, his beard cut exactly the same way as in the picture on the boat, which is labeled (wrongly perhaps?) as Angola. Back home, fragments of Fred Pepple's identity and life emerge from a handful of books obligingly bookmarked for me by Google Scholar.  Pepple, aka Isacco, aka Isiuku, was one of two men named as regents by the ailing King William Dappa of the Kingdom of Bonny in the Niger delta in 1852. Elevated to the rank of chief, he seemed to have been a wise advisor and skilled negotiator. Later, following accusations of having precipitated the death of the king, an event that spurned a massacre across the kingdom, Isacco flew to Fernando Po where he was baptized as Fred Pepple in 1857, and then to the Brass, one of the so-called 'oil rivers' of strategic importance in the commerce of palm oil during this time.[11] The little information I can find suggests that Fred Pepple was as skillful with trade as he was with politics, maneuvering between local clans, the British colonizers and missionaries. I need to understand all this more - the people, the place, the commerce of palm oil - and yet, from what I have, I can speculate. Many Niger delta communities, like The kingdom of Bonny, were structured around the so-called House, "an association for maintaining law and order in society", also called "War Canoe House" because they could supply in the advent of a conflict, "at least one war canoe manned with thirty men."[12]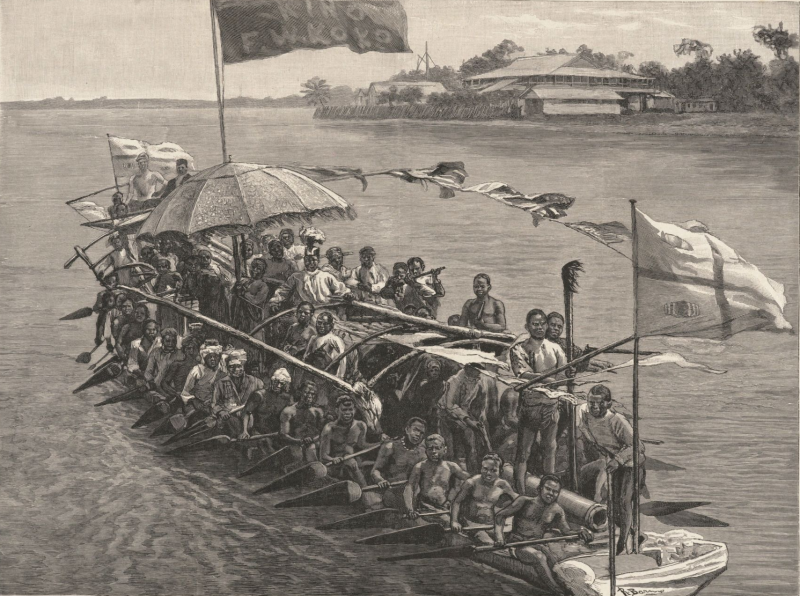 My absence of anthropological knowledge limits my understanding of this history and social structure, but it points out the violence and complexity of the struggle between local chiefdoms in the Niger delta and the "Liverpool oil barons" pillaging palm oil, a key resource in the Industrial Revolution in Europe.[13] But I wonder if Fred Pepple and his fourteen-men crew might be manning a war canoe. As a Christianized and Europeanized chief, Fred Pepple may have been in a complicated position during in the years of the palm oil struggles. I certainly need to read more and follow his trace, but for now, I read this image as a propaganda photograph, staged carefully (with the pristine sailor shirts) in order to show – perhaps to the kingdom he had been forced to flee – a man in exile, with his quiet self-assured posture and entourage, protected by Europeans, maybe as a gesture of defiance or in an attempt to rebuild his reputation. The literature I have found states that he did return to Bonny at the end of his life. While my reading may be wild speculation, at least it opens some doors of interpretation of this evidently staged image and begs for a closer look at the relation between subject, commissioner and photographer through evidence that future historical research could provide.
9. Francis W. Joaque
In the restoration studio, another image of sailor shirts has shown up. The photograph is labeled as un-authored but dated 1875, on the note card that identifies its subject as "Count de Brazza uittrekkend can Gabon naar Stanley Pool". The rest of the caption describes an entourage of a medical doctor, a quartermaster, both named, and thirteen Senegalese men, unnamed, and who appear on the photographs to be all the men wearing sailor shirts. The tired-looking group is huddled together with some standing and others sitting, forming a roughly pyramidal structure. The expedition leader, Savorgnan de Brazza (1852-1905) is uncharacteristically decentered and crouching in the grass, chin in hand.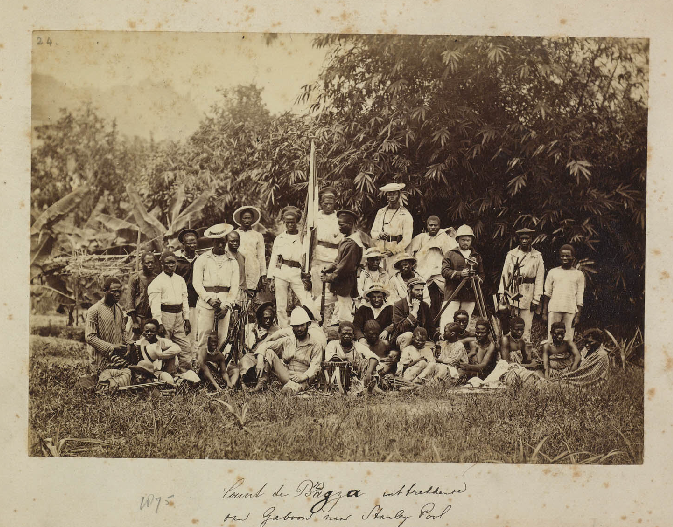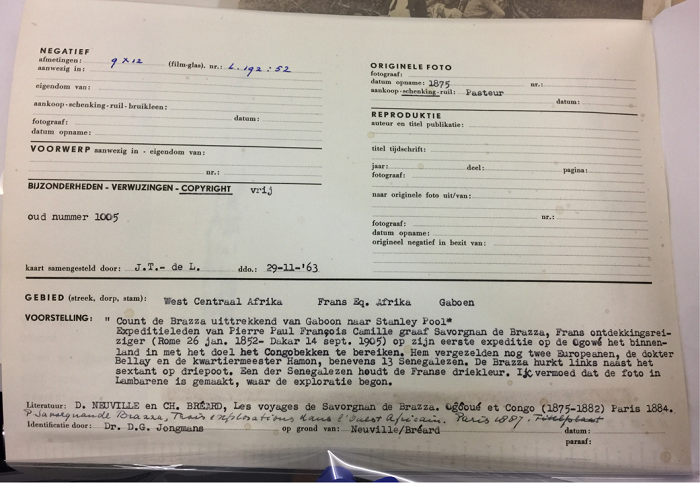 Contrary to Fred Pepple's fourteen sailors in pristine sailor shirts and bare legs, the men identified as the "thirteen Senegalese men" in sailor shirts are wearing full uniforms of French sailors, although some are more disheveled than others. A quick Internet search tells me that Brazza led his expeditions throughout Africa in the 1880s, with thirteen Senegalese men working as "laptots" or native sailors. Brazza is quite a figure in French and Congolese colonial history, often presented as a freer of enslaved men and women who worked closely with his Senegalese troupe, and in particular one of them, non-commissioned officer Malamine Camara (c.1850-1886). Brazza's name was used for the capital city of the Republic of the Congo, Brazzaville, which was retained after independence, and a gleaming memorial was erected to him after his body was transferred there in 2006. This was not without controversy in Congo as this hagiographic view overlooks or minimizes his participation in the European colonial enterprise.
Back home I search online for photographs and literature in the collection of the Bibliothèque Nationale and its associated database and repository, Gallica. I find another copy of that photograph and copies of several others I had also seen in Leiden. They bring about an unexpected find. Firstly, the photographs kept in France bear the names of every single person in the photograph, African and European, written in the margin below by Brazza, including the name of Malamine Camara, his trusted non-commissioned officer. To my great surprise, all the photographs in the sequence are annotated with the names of the individuals included in the pictures, whether they are European or African, sailors or formerly enslaved men. It is so rare to see the names of natives or locals in photographs that this seems quite extraordinary, and it would seem to point to a personal engagement of Brazza with the individuals he encountered during his exploration trips. But there is something else. While the Leiden photos leave the photographer unnamed, those in Paris are attributed to none other than Francis W. Joaque (although there is no mention of how the attribution is made). I double check in the database in Leiden. It tells me that the collections contain no pictures by Joaque and yet, if I am not mistaken, I have just identified two or three.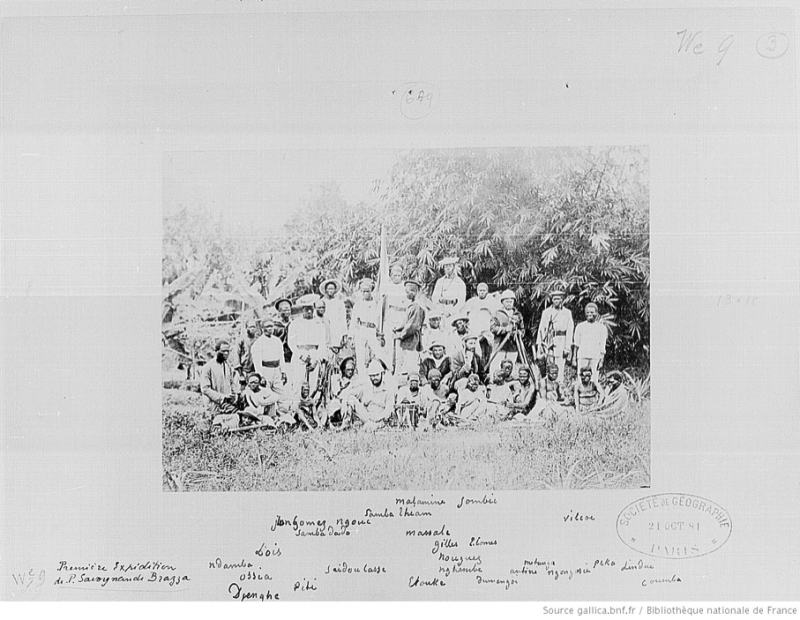 I am reminded of something that Jürg Schneider, in his article on Joaque mentions based on a compiled archive on Brazza: Brazza and Joaque "collaborated in what was a carefully engaged relationship, exchanging and crafting imagery of people and the moments of exploration over ten years."[14] I realize how this must apply to the picture I found and to the second one I saw in Leiden and then again in Gallica, and this suggests the extent to which Brazza carefully constructed his image destined to circulate in Europe and did so through active exchange with local individuals including Senegalese sailors and a Sierra Leonnese photographer. In other words, these images show an intricate story of photography as tool for social exchange and propaganda.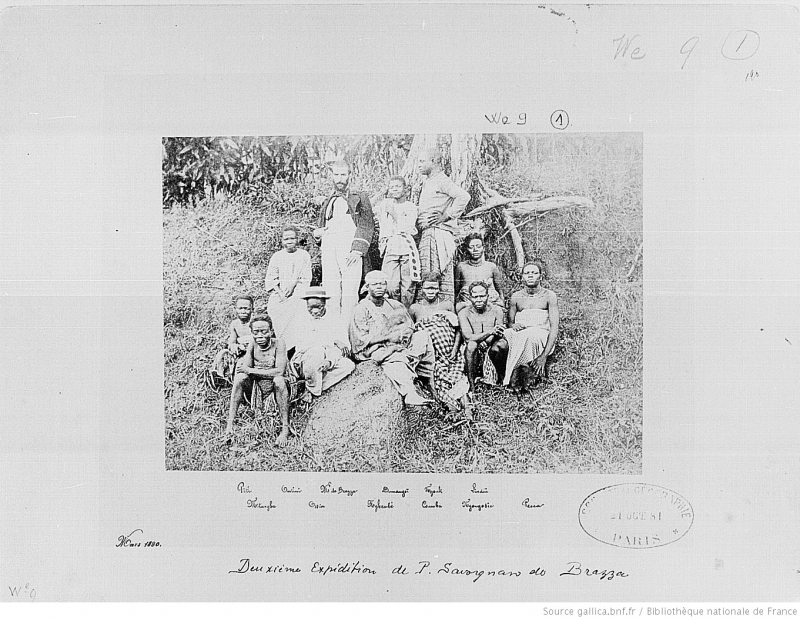 10. Sailor shirts everywhere
I return to the sailor shirt itself a few weeks later, when I speak with the curator of photography at the Quai Branly museum. Christine Barthes too has seen some photographs of sailor shirts. Madagascar and Polynesia are the places she recalls. My heart sinks slightly at the idea that I now face searching beyond West Africa. In the museum's database we find some photographs. In particular a set of stereoscopic views made by geographer, ethnographer and geologist, Guillaume Grandidier, in Madagascar in 1898. I realize now, of course, that native sailors must have been hired everywhere during the French colonial enterprise, even though none of the extremely dull books on naval history (penned by retired old admirals) ever mention anything of the sort, busy as they are in recalling heroic maneuvers and the grandeur of the country they served. This omission of the colonial enterprise in this literature surprises me even more so since the French colonies were, until 1898 under the administration of the Ministère de la Marine. Colonialism was thus under the remit of the navy.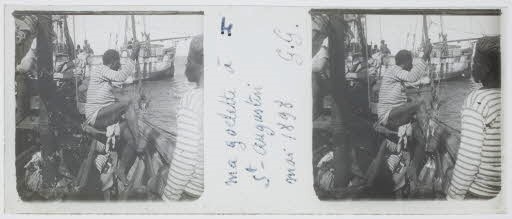 11
My research feels like it is only at its beginning, full of holes and endless to do lists and yet, from what I have seen and read so far, what have I learnt about the sailor shirt, and about those two photographs I started my inquiry with, the one with the two young men in striped shirts and sarongs standing and refusing the camera's gaze and that of Fred Pepple and his European simulacra of a 'war canoe' filled with fourteen men wearing little more than a sailor shirt?
First, perhaps, is that the sailor shirt, this ubiquitous pattern seen on all seas and with all French navy expeditions (note to self: check uniforms of sailors of all other European countries in the nineteenth century) is an emblem of colonialism. If I am right that the French liberally dressed their native sailors or laptots workforce in striped jersey, it is, I imagine, to ensure that the presence of the French was duly noted by other foreign colonial powers in all those contexts, from the Southern coast of Madagascar to the Congo delta. The ubiquitous presence of the striped sailor's shirt was perhaps as effective as the symbolic power shown by Queen Victoria when she traveled abroad with her children dressed in uniforms of the British Empire. The famous portrait of young prince Albert Edward (the future Edward VII) painted by F.X. Winterhalter in 1846, in which he wears a sailor suit is often credited for launching the fashion for sailor outfits as children clothing; but it was also, on the international stage of politics, a soft power emblem of the British colonial empire. In an exhibition catalog entitled Les marins font la mode"[15], which shows the history of the sailor uniform and its transfer from the navy to civilian clothing and fashionable wear, I find a late nineteenth-century advertisement from the children's clothing line at the Bon Marché, a Parisian department store, that depicts a conquering child dressed in a sailor suit amidst caricatures of tribesmen in a luscious savannah, with the caption: "chez les Sauvages."  In the same book a poster from the French Navy that states an unambiguous slogan: "Sans la marine pas d'empire" is also reproduced. There is something vertiginous to imagine that at the same time as it was worn by colonial forces around the world, the time of the most aggressive campaigns across Africa, the sailing suit and shirt translated into the benign forms of seaside and children wear. How cynical can fashion be? And then why did the striped sailor shirt become so popular for the cultural avant-garde in the late 1950s at the very time of decolonization? This is something I crave to answer, even though I am aware that speculation will have the upper hand over certainty on this one.
Cited Works
[1] The literature mentioned on the cards is H. Marquardsen and A. Stahl, Angola, Berlin, 1928, and  J. Buttikofer, Reisebilder aus Liberia. Leiden, Brill, 1890.
[2] Richard Burton Wanderings in West Africa (London, 1863).  FLeuriot de Langle, Croisières à la côte d'Afrique, Paris, 1868/1872.  Many historical sources are compiled and presented in George E. Brooks, Jr.,The Kru Mariner in the Nineteenth Century: An Historical Compendium (Newark, Delaware: Liberian Studies Association), 1970.
[3] Christine Behrens, Les Kroumen de la Côte Occidentale d'Afrique, Talence: Ministère de l'Éducation nationale, Centre national de la recherché scientifique, Centre d'étude de géographie tropicale, 1974; Jane Martin, 'Krumen "Down the Coat": Liberian Migrants on the West African Coast in the 19th and Early 20th Centuries', The International Journal of African Historical Studies, v. 18, n. 3, 1985, 401-423; L.B. Breitborde, 'City, Countryside and Kru Ethnicity', Africa v. 61 (2), 1991, 186- 201.
[4] A brief biography and examples of photographs are published in De Bril van Anceaux, Leiden, XXX, 128-129.
[5] Johann Büttikofer, Reisebilder aus Liberia Leiden, Brill, 1890, This was recently translated into English and published as Johann Büttikofer, Henk Dop and Phillip T. Robinson (editors), Travel Sketches from Liberia: Johann Büttikofer's 19th Century Rainforest Explorations in West Africa. Leiden, Brill, 2012.
[6] Lorraine Daston and Peter Galison, Objectivity. New York, Zone Books, 2007.
[7] Bruna Nunes Da Costa Triana, '(Post)colonial Archives and Images Analytical Contributions on Two Photography Collections' Sao Paulo, v. 2 n. 1, 37-60 (May 2017).
[8] Elizabeth Edwards (editor) Anthropology and Photography. New Haven and London, Yale University Press, 1992.
[9] I consulted for this section: John Pfeffer and Elisabeth L. Cameron (editors), Portraiture and Photography in Africa, Bloomington and Indianapolis, Indiana University Press, 2013, Jürg Schneider, 'The Topography of the Early History of Photography", History of Photography v. 34 n. 2, May 2010, 134-146. Jill R. Dias, 'Photographic Sources for the History of Portuguese-Speaking Africa, 1870-1914, History in Africa v.18, 1991, 67-82. Giulia Paoletti and Yaëlle Biro, 'Photographic Portraiture in West Africa: Notes from "In and Out of the Studio", Metropolitan Museum Journal 51 (2016): 182-199, and Jürg Schneider, 'Demand and Supply: Francis W. Joaque, and Early African Photographer in an Emerging Market, Visual Anthropology, vol. 27, 316-338, 2014, 316-338.
[10] On this subject see in particular  Allan Sekula, 'The Body and The Archive', October. Vol. 39 (Winter 1986), pp. 3-64 and John Tagg, The Burden of Representation: Essays on Photographies and Histories, London, Macmillan, 1988.
[11] Sylvanus John Sodienye Cookey, King Jaja of the Niger Delta: His Life and Times, 1821-1891, Lagos, Nok publishers, 1974, 41, 44, G. I. Jones, The Trading States of the Oil Rivers: A Study of Political Development in Eastern Nigeria. International African Institute, Oxford University Press, 1963; G. O. M. Tasie, Christian Missionary Enterprise: In the Niger Delta 1864-1918. I have only briefly delved into these sources.
[12] Joe Ebiegberi Alago, The Small Brave City-state: A History of Nembe-Brass in the Niger Delta,Madison: The University of Wisconsin Press, 1964.
[13] Joe Ebiegberi Alagoa, The small brave city-state: a history of Nembe-Brass in the Niger delta. Madison, University of Wisconsin Press, 1964. https://anthrosource.onlinelibrary.wiley.com/doi/pdf/10.1525/aa.1965.67.3.02a00230
[14] Jürg Schneider, 'Demand and Supply: Francis W. Joaque, and Early African Photographer in an Emerging Market, Visual Anthopology, vol. 27, 316-338, 2014, 328. The source he bases himself on is: Catherine Coquery-Vidrovitch (editor) Brazza et la prise de possession du Congo, la mission de l'ouest africain 1883-1885. Paris, Mouton, 1969.
[15] Véronique Alemany (editor) Les marins font la mode (exhibition catalogue) Paris, Musée de la Marine and Gallimard, 2009.
More sailor shirts from other collections
Complements of Christine Barthe from Musée du Quai Branly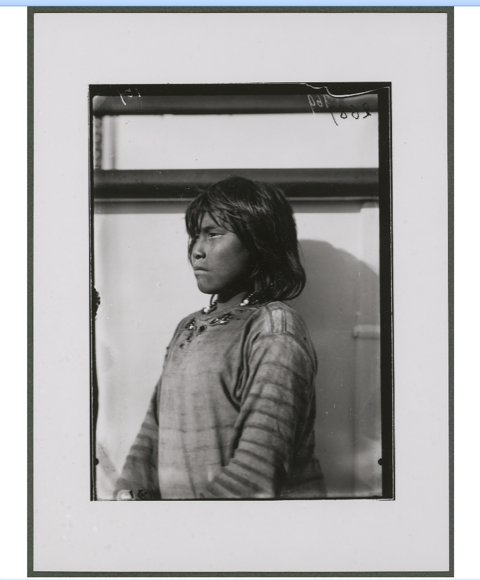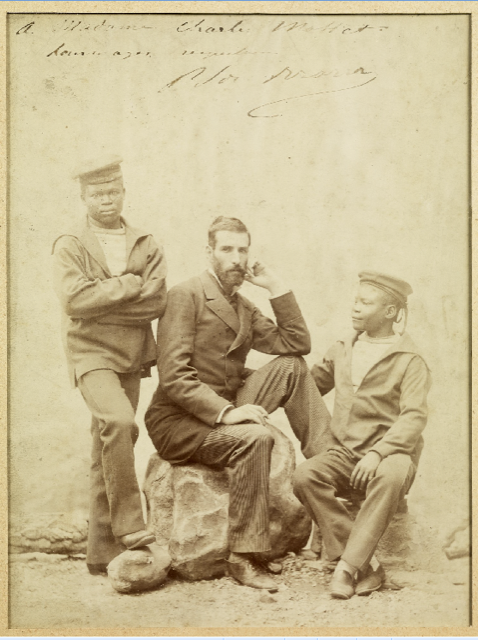 Noted by C.Nakamura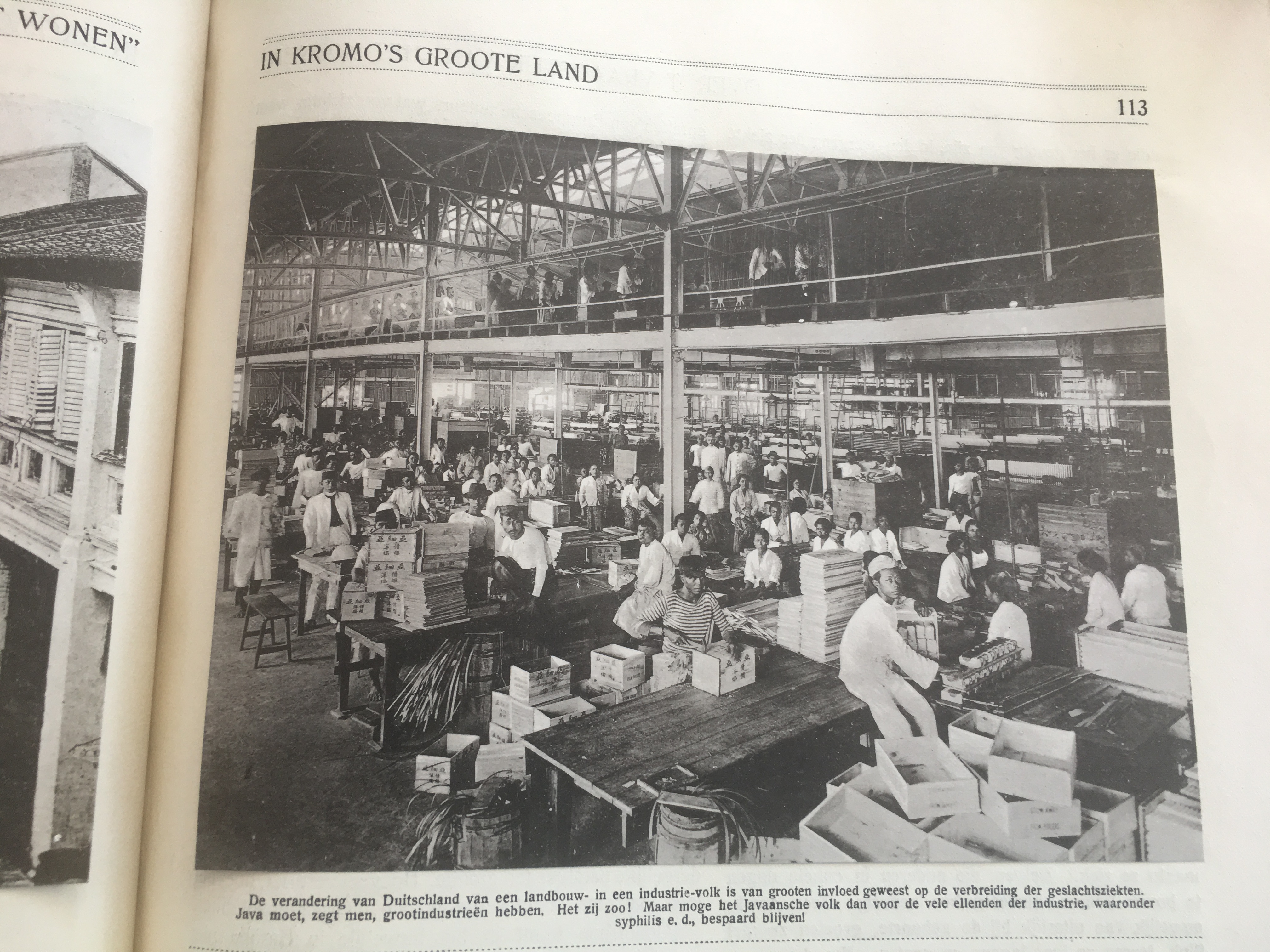 Other images located in the NMVW collections
Noted by C. Nakamura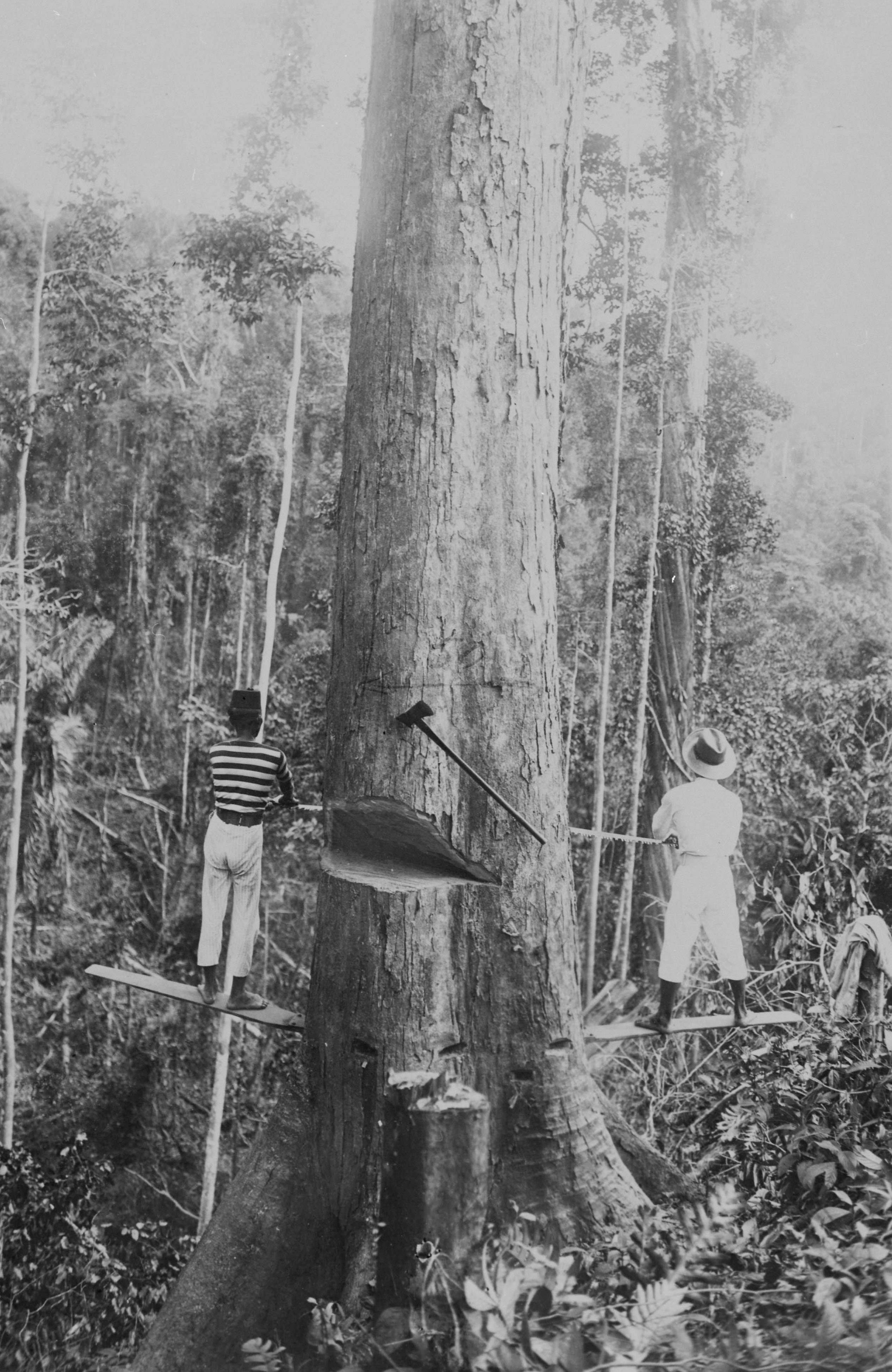 TM-60031948, "Het vellen van een resakboom," Vereenigde Javasche Houthandel Maatschappijen, 1910-1926, Sinabang