CLOSED EXPERT MEETING | 28 Jan 2021 | 15:30 - 17:30 CET | Zoom online 
In ongoing conversations about slavery and Dutch colonial history, the Caribbean and the Black Atlantic loom most present. Recently, a more geographically expansive concern has been raised, bracketed by the now contested and inadequate term 'the East': 'Remember there was slavery outside of the Black Atlantic too?' We draw notably on recent publications to probe our thought further: Nira Wickramasinghe Slave in a Palanquin: Colonial Servitude and Resistance in Sri Lanka (Columbia UP, 2020) and Alica Schrikker and Nira Wickramasinghe's edited volume, Being a Slave: Histories and Legacies of European Slavery in the Indian Ocean (Leiden UP, 2020).
In this closed conversation, whose goal is to inform our curatorial work on The Erfenis/ Legacies of Colonialism exhibit scheduled to open in 2022 at the Tropenmuseum in Amsterdam, we are interested in thinking about the stakes of the adverb 'too'? What is the analytical yield of thinking about slavery, extractive labor, and colonialism in parts of the world that are not connected to the Atlantic?
This is a closed expert meeting, if you would like to join, please send an email to alessandra.benedicty@wereldculturen.nl
Some questions that arise
Special thanks to Amal Alhaag, Alicia Schrikker, Nira Wickramasinghe, and Carine Zaayman for helping to deliberate on the below set of interrogations. If we have not done it justice, we look forward to further deliberations in our workshop.
In preparing for the exhibit, are we interested in an additive history or an analytical history? What yield does data have? If analytical, when we draw upon slavery as a critical category, then how does the term enable us (or constrict us) differently in our thinking of colonialism in the regions brought into contact through the Indian Ocean? How do we discuss diverse regions from South Africa to Eastern Indonesia, which each have had  different pre-colonial and colonial trajectories and histories of extractive labor?
How do we discuss colonial violence as distinct from the violence of slavery? Of extractive labor? Should we discuss them as separate? How do we discuss the impact of Dutch colonialism in relationship to the differing assemblages of class and race?
How do extractive forms of labor force us to take account of historical processes of de/humanization? What is the role of enslavement in the relationship to our present-day understanding of being human? Of personhood and how should we understand personhood: in contexts of present-day and colonially informed academic and legal understandings? Of indigenous notions? And how do we deliberate on these questions respectfully?
One of the ongoing tropes when one talks about slavery in the Dutch context has to do with the question of where colonialism was 'worse' or 'better,' if such a question should or can even be asked? How to regimes of extractive labor and the nomenclatures given to them contribute to such comparative readings of the gravity of colonial legacies? 
How to think of nomenclatures for extractive labor in relationship to dehumanization? How do we deliberate on Rothbergian theorization of implicatedness in relationship to these questions?
Historically, how do we correct a history that until recently has not taken account of how extractive labor in the nineteenth century simply continued, even after the abolition of slavery? 
How might we focus on the techniques of slavery, labor, and colonialism, rather than just on who and what were traded? 
How are regimes of taste in Europe conditioned in grand part by practices of trading, yes, of goods, but also of the laborers who produced those goods (Simon Gikandi, 2014)? [We hope to organize a separate workshop on this question, yet still invite speculation, if appropriate.]
Most importantly, which stories are most important to tell to a Dutch audience today? And to those visitors taking their impressions of the Netherlands when visiting our museum? Which stories from the archive, which are not usually told, might we mobilize in this exhibit? How do we emphasize localized knowledge? Which dilemmas must we explicitly articulate? Which might be suggested or alluded to?
BIO | Alicia Schrikker
Alicia Schrikker is Senior Lecturer in colonial and global history at Leiden University. She currently leads two NWO funded projects on everyday colonialism in the Indian Ocean throughout the eighteenth and nineteenth centuries, focusing on sites and moments of exchange and interaction. Her most recent publications deal with socio-legal history, slavery, historic disaster and Dutch colonial ideology in the Indian Ocean. Together with Nira Wickramasinghe she edited the volume Being a Slave: Histories and Legacies of European Slavery in the Indian Ocean. Leiden: Leiden University Press, 2020.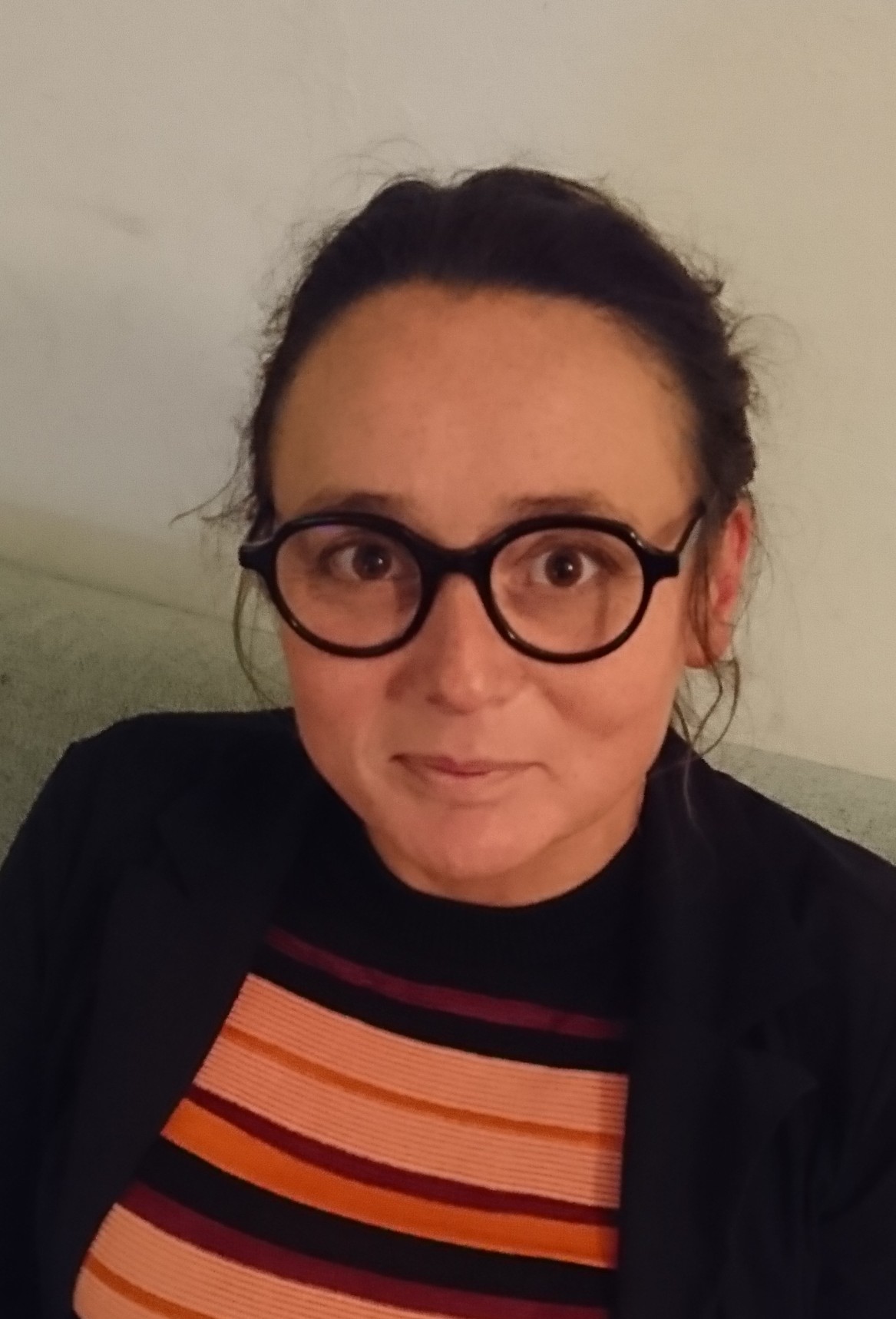 BIO | Nira Wickramasinghe
Nira Wickramasinghe, is Chair/Professor of Modern South Asian Studies at Leiden University and former Academic Director of Research at the Leiden University Institute for Area Studies (LIAS). Before taking up the chair at Leiden, she taught for 19 years in the Department of History at the University of Colombo. Her current research addresses the genre of minor histories through studies of enslaved people and forced migrants in the Indian Ocean world. Her most recent books are Slave in a Palanquin. Colonial Servitude and Resistance in Sri Lanka (New York: Columbia University Press 2020).  Sri Lanka in the Modern Age. A History (New York: Oxford University Press 2015) and Metallic Modern. Everyday Machines in Colonial Sri Lanka (Oxford: Berghahn Press 2014).  She grew up in Paris and studied at Université de Paris IV-Sorbonne and at the University of Oxford (St Antony's College) where she earned her D.Phil in Modern History in 1989.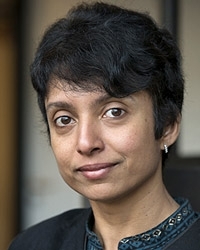 BIO | Amal Alhaag
Amal Alhaag is an Amsterdam-based curator, researcher and co-founder of several initiatives, including Metro54, a platform for experimental sonic, dialogic and visual culture and the Side Room: a room for eccentric practices and people together with artist Maria Guggenbichler (2013-2016). Alhaag develops ongoing experimental and collaborative research practice, public programs and projects on global spatial politics, archives, colonialism, counter-culture, oral histories and popular culture. Her projects and collaborations with people, initiatives and institutions invite, stage, question and play with 'uncomfortable' issues that riddle, rewrite, remix, share and compose narratives in impermanent settings. Alhaag is currently part of the curatorial team of the quadrennial sonsbeek2020-2024 in Arnhem, Netherlands; senior research & public programmer at the Research Center for Material Culture, Netherlands and curatorial and research fellow at Mathaf, Arab Museum of Modern Art, Doha, Qatar.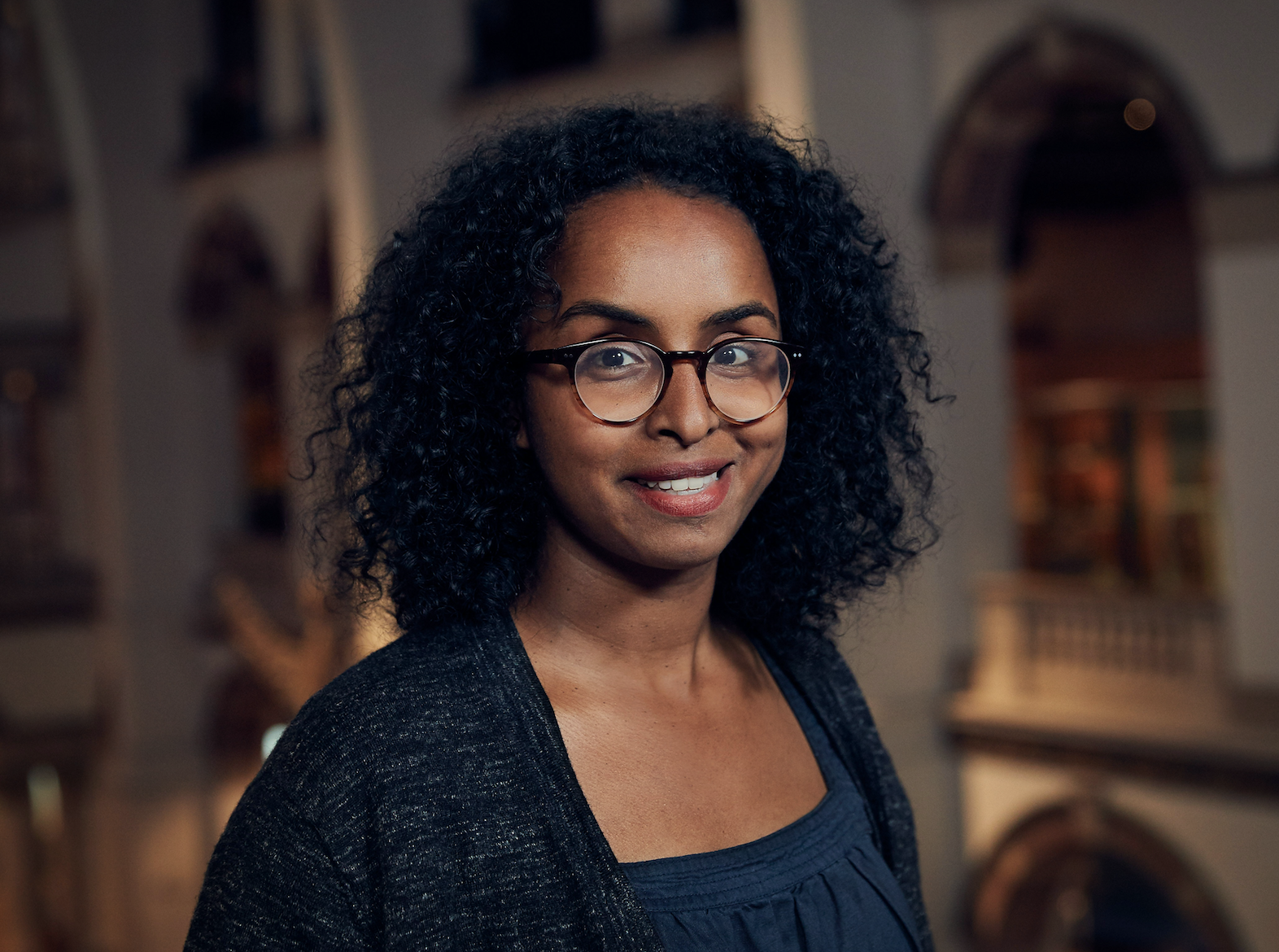 BIO | Anne Marieke van der Waal
Anne Marieke van der Wal is Assistant Professor African History & International Studies at Leiden University with a main interest in the history of South Africa, Indian Ocean Slavery & Slave Trade, and Memory & Subaltern history. She has worked mainly on memory & slavery studies, postcolonial critique and modernity/counter-modernity. Her PhD thesis 'Singing of Slavery, Performing the Past. Folk songs as Cultural Memory of the South African Slave Past, 1652-present', based on extensive archival research and fieldwork in South Africa and the Netherlands, explores the value of songs for historical research as well as the role of intangible heritage in constructing a social identity. She has published several articles on the commemorative folk songs of the descendants of the enslaved in South Africa including, 'Slave Orchestras and Rainbow Balls, Colonial Culture and Creolisation at the Cape of Good Hope, 1750-1850', in Dieuwke Van der Poel, Louis Peter Grijp and Wim van Anrooij (eds.), Identity, Intertextuality, and Performance in Early Modern Song Culture (Leiden: Brill, 2016) and "Hoera, dit skip seil uit oos". The Sea as a Site of Memory in the Folk Songs of the Enslaved Community and their Descendants at the Cape. In: Schrikker A., Wickramasinghe N. (Eds.) Being a Slave: Histories and Legacies of European Slavery in the Indian Ocean (Leiden: Leiden University Press, 2020) 233-248. Her current research continues to explore counter-memories of colonialism and focuses on ecological imperialism at the Cape.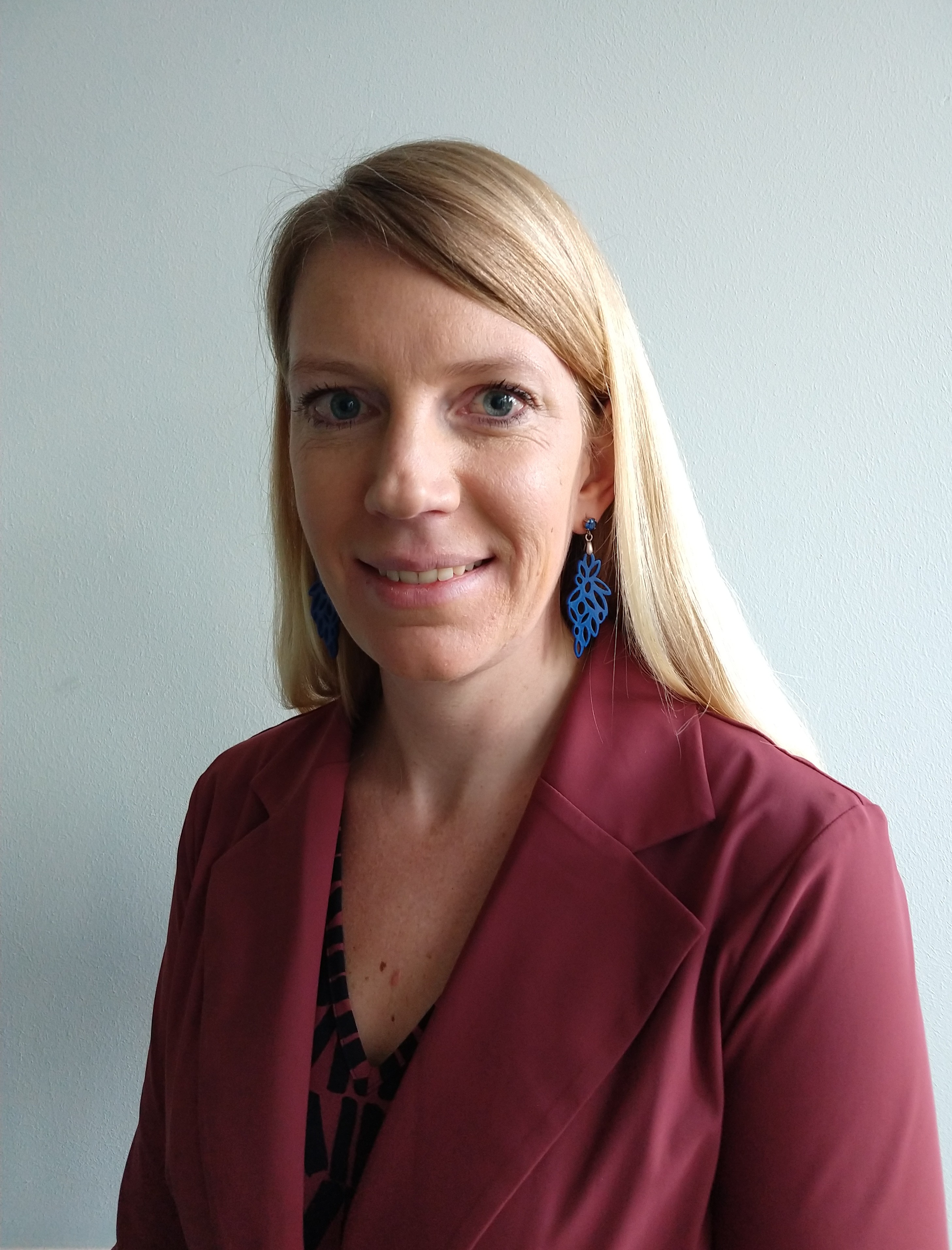 BIO | Kate Ekama
Kate Ekama is a postdoctoral fellow in the Department of History at Stellenbosch University, South Africa. She defended her PhD in social and economic history at Leiden University in 2018. Kate's research on slavery in the Indian Ocean focuses on Sri Lanka and the Cape of Good Hope, and spans the Dutch East India Company and British periods. She teaches, supervises postgraduate research, and publishes on slavery and coerced labour. Kate's recent publications include 'Connected Lives: Experiences of Slavery in VOC Colombo' in Being a Slave: Histories and Legacies of European Slavery in the Indian Ocean (2020), 'Precarious Freedom: Manumission in eighteenth-century Colombo, Sri Lanka' (Journal of Social History, 2020) and 'Bondsmen: Slave Collateral in the 19th-Century Cape Colony' (Journal of Southern African Studies, forthcoming). Kate's current research deals with the financial underpinnings of slavery in the nineteenth-century Cape Colony. Her research relies on qualitative and quantitative approaches to a variety of sources including mortgage records, company account books and newspapers. She coordinates the Capitalising on Emancipation research group at Stellenbosch University which addresses questions about the process and impact of emancipation of the enslaved in the nineteenth-century Cape Colony. The group contributes to better understanding the role of slavery in the development of the Cape economy.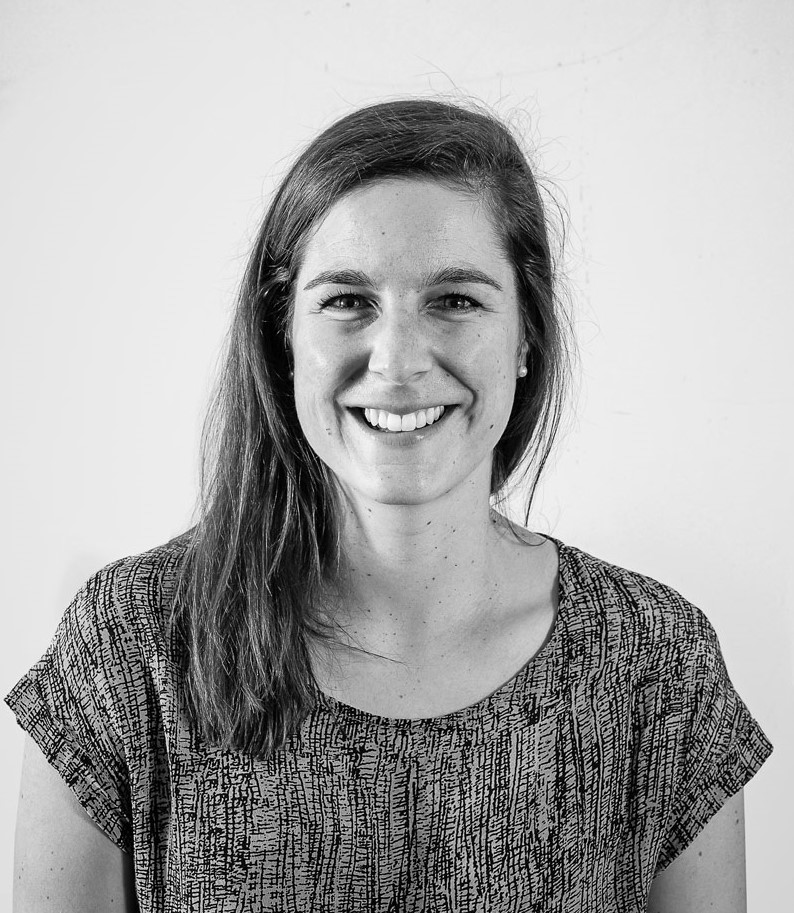 BIO | Reggie Baay
Reggie Baay studied at Leiden university and is an independent researcher and writer. He writes non fiction, novels and plays. His work focuses on Dutch colonial history in, especially, Indonesia and it's effect on present-day generations. He wrote highly appreciated non fiction books about, for instance, the position of  the indigenous women in Indonesia during the Dutch colonial era (De Njai. Het concubinaat in Nederlands-Indië, 2008) and the history of colonial slavery in the Dutch East-Indies from the settlement of the voc, the abolition in 1860, up to and including the aftermath (Daar werd wat gruwelijks verricht, 2015).  His latest book, a novel, tells the history from the perspective of an enslaved young woman called Flora van Makassar, who was  captured in Wajo (south- Sulawesi) and was taken to the Dutch Republic in the 18th century (Het lied van de goden, will be published february 2021).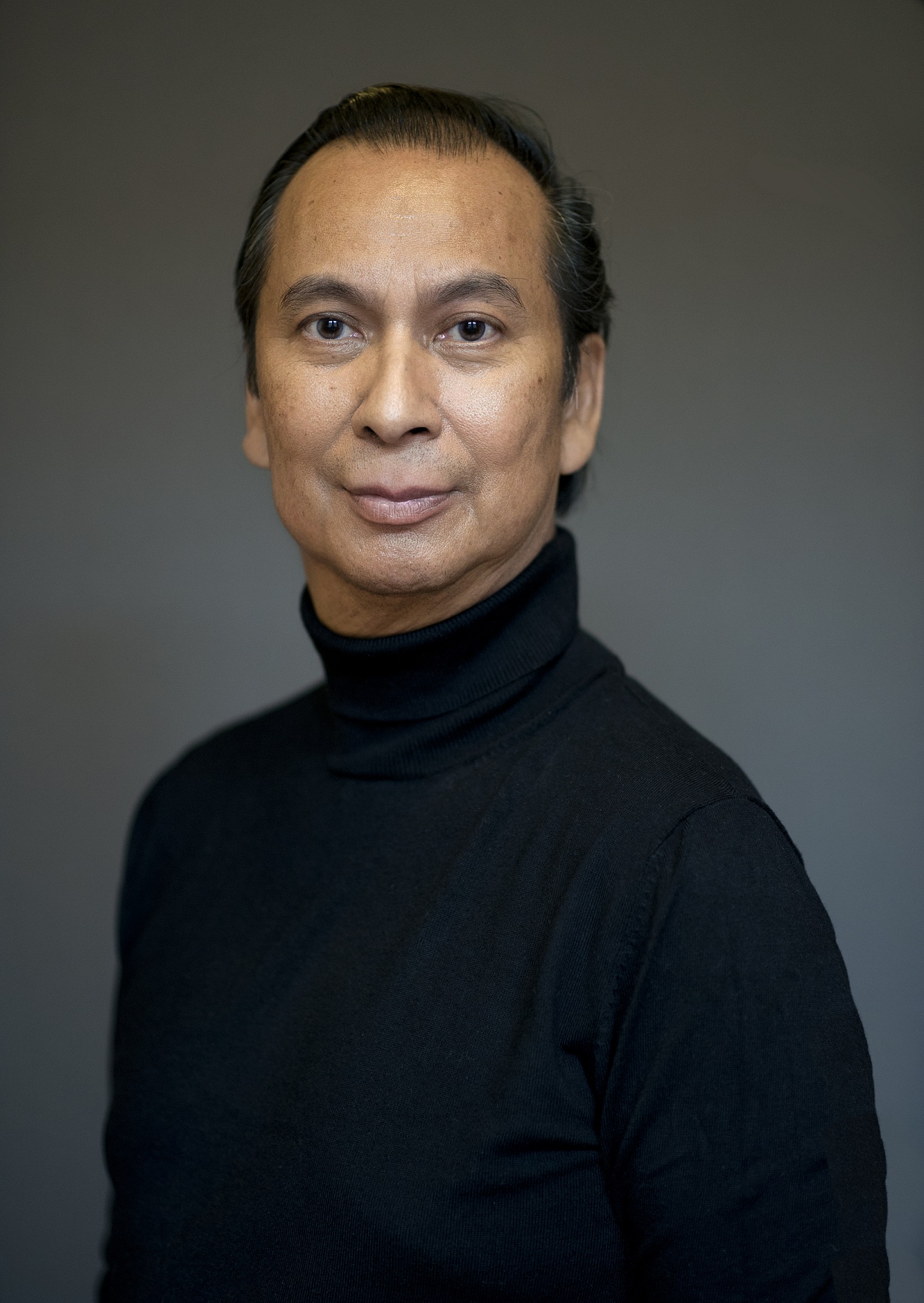 BIO | Wim Manuhutu
Wim Manuhutu (1959) is a historian, researcher and curator. Manuhutu studied history at the Universiteit Utrecht, specializing in the history of Indonesia. In 1987 he became one of the directors of the newly established Moluccan Museum in Utrecht. He was directly involved in the planning and preparations for the opening of the museum in 1990. Until 2009 he curated numerous exhibitions, and was involved in research projects leading to events and publications. Manuhutu has been a speaker at various international conferences, dealing with diversity, Indonesia and museums. As an expert in community museums, he participated in discussions and projects regarding diversity in the cultural sector in the Netherlands and the initial development of the shared cultural heritage policy. From 2000-2004 he was chairman of a working group within the project Cultureel Erfgoed Minderheden that was funded by the Mondriaan Foundation. Manuhutu also served as a board member of the learned society of the KITLV in Leiden from 2002-2006 and is currently a member of the appointment committee of the Raad van Cultuur. After leaving the Moluccan Museum in 2009 he has started Manu2u. In this capacity he has been involved in exhibition making, organizing events and consultancy in the field of culture and heritage. Currently he is also doing research on the cultural relations between the Netherlands, Indonesia and Suriname, focusing the concept of shared cultural heritage.