Event date and time: Thursday 30 June 2022, from 10:00 – 21:00
Location: DAS Research, Academy for Theatre and Dance, Amsterdam University of the Arts in Amsterdam Noord
*This will be an in-person event and not hybrid or recorded. 
Registration is open! Entrance is free, but registration required due to space constraints. It is possible to register for the day program (10:00-17:30) or evening program (19:00-21:00) only.
See below for the full program.
Summary
Specifically, this symposium considers dimensions of performance and performativity in archival interactions: namely, interactions between and among archivists & records; scholars & documents; artists & archival scraps; artists & archivists; archives & counter-archives. In these interactions, what affects are elicited? What knowledge is produced? For many, performance remains fundamentally anarchic – defined by ephemerality in ways that place it in an inevitably antagonistic relationship to the archive. We also invite further critical consideration of the notion of being 'counter to' an institutional archive. Can one be 'counter' in the post/de/colonial? When we work with certain archives, do we foreclose the possibility of 'countering'? Can colonial archives be mobilized in a counter archival frame? Keeping present the crucial role of "canonical black feminist work" in shaping intersectional legal work and theory, we invite participants to take up Jennifer Nash's crucial question: "Who owns intersectionality, and who steals it?" (2019: 26). In our reflections at the symposium, we wish to engage intersectionality because in Nash's words, it "offers the sense of collective world-making, and because it is the extension of a certain form of agency" (Ibid., 27).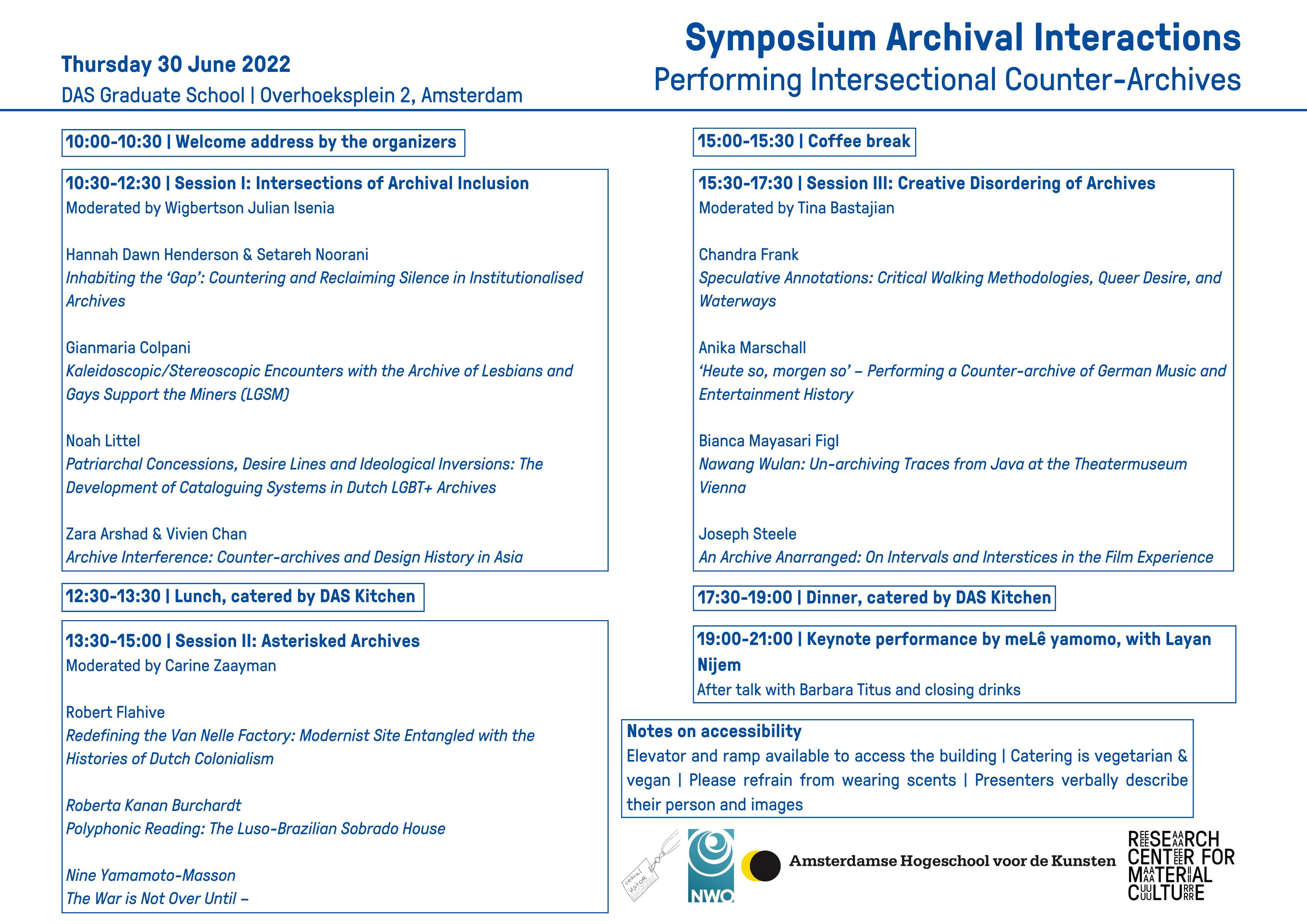 Symposium Program
In three sessions, the day includes academic and/as performative interventions into archives and archival studies. The first session Intersections of Archival Inclusion addresses questions of belonging in archives, and develops methods for reclaiming silences in institutional archives and reading them in an intersectional manner. Case studies range from queer activist archives, to those on design (and architecture) history in Asia and the Netherlands. The second session Asterisked Archives asks what do we do with archival documentation that concerns unfree and violated bodies, a history that can be submerged in the built environments of a factory and a home, or highly graphic in remembrance stories of the struggles of women forced into sexual service for the military ('comfort women'). The methodological approaches to these legacies of racial-sexual violence draw on affective methods, experimental restoration, as well as reading with the grain. The third session Creative Disordering of Archives leans away from empirical practices of history, tilting towards a speculative relationship to history that embraces creativity as a necessary mode to outplay the paradigm of archival obliteration and harm. The presentations engage embodied methods of walking, performing, dancing, and live filming to access and invent archives for marginalized and invisibilized pasts. The symposium closes with a keynote performance titled "Rumah Kaca: the ordering of orders" from performance scholar and sound artist dr. meLê yamomo and musician Layan Nijem, investigating what it would take to 'just' listen to archived music recordings, not seeking to add more capital to the colonial institutions of knowledge.
Organized by: Eliza Steinbock, Associate Professor of Gender and Diversity, Maastricht University, together with Laura Cull Ó Maoilearca, Lector, Head of DAS Graduate School, Head of Research at the Academy of Theatre and Dance at Amsterdam University of the Arts, and supported by Wayne Modest, Director of Content, and Esmee Schoutens, Research Associate, at the Research Center of Material Culture at the Nationaal Museum van Wereldculturen.
This event is made possible with support from the NWO-Dutch Research Council (Creative Industries) for the project "The Critical Visitor Intersectional Approaches for Rethinking & Retooling Accessibility and Inclusivity in Heritage Spaces" (2020-2025) and the Consortium partners: The Research Centre for Material Culture within the Nationaal Museum van Wereldculturen and the Amsterdam University of the Arts.