CONVERSATION | Thursday 17 Sept | 15:00 - 16:30 CET | Online 
In this conversation, as part of the RCMC Thinking With series, Olívia Maria Gomes da Cunha will discuss her work notably in her most recent The Things of Others: Ethnographies, Histories, and Other Artefacts (Leiden & Boston: Brill, 2020). We invite Cunha to think with us for in the past decades her work has rigorously interrogated the relationship between and among: people, things, anthropologists, interlocutors, and artefacts, in such a way as to provocatively and caringly challenge us in our academic, ethnographic, and museum practices to think through what it means to "creat[e] artefacts of knowledge" and how this creation contributes to the "making of anthropological histories and practices" (Cunha, "Preface"). 
For excerpts. The 25% discount code is valid until December 31, 2020: 75000.
This conversation leads into the Caring Matters conference, which is part of the international collaborative research project Taking Care - Ethnographic and World Cultures Museums as Spaces of Care. 
**Check in a couple of days prior to the event for instructions as to how to livestream the event.
Bio
Olívia Maria Gomes da Cunha is Associate Professor at the Graduate Program in Social Anthropology, National Museum, Federal University of Rio de Janeiro. She was Post-doctoral fellow at Harvard University (1999-2000), John Simon Guggenheim Foundation Fellow (2002), and had appointments as Royal Netherlands Academy of Arts and Sciences Visiting Professor at the University of Amsterdam (2017), Visiting-Professor at New York University (2006-2007), and Tinker Visiting Professor at the University of Chicago (2018). She has published articles, book chapters, and edited volumes on post emancipation and social movements, archives, anthropology and history in Brazil, Cuba and the U.S.; and on Maroon societies in Suriname. Her current research, initiated in 2009, is about art, creativity, and other cultural and political transformations among the Maroon Ndyukain Eastern Suriname. In 2018, she edited a volume entitled Maroon Cosmopolitics: Personhood, Creativity and Incorporation (Leiden& Boston: Brill).
Her more recent publication is a book on ethnography, archives, and artifacts of knowledge in Cuba, Brazil and the U.S., entitled The Things of Others: Ethnographies, Histories, and Other Artefacts (Leiden & Boston: Brill, 2020).The book is about the creation of artefacts of knowledge and the archives in the making of anthropological histories and practices. It deals with the things mainly, but not only, mobilized by anthropologists in order to produce knowledge about the African-American, the Afro-Brazilian and the Afro-Cuban during the 1930s. However, its goal is not to dig up evidence of the creation of an epistemology of knowledge and its transnational connections. The book suggests that the artefacts created in fieldwork, offices, libraries, laboratories, museums, and other places and experiences –beyond the important fact that these places and situations involved actors other than the anthropologists themselves –have been different things during their troubled existence. Thus, she seeks to make these differences apparent, highlighting rather than concealing the relationships between partial modes of making and being 'Afro' as a subject of science.
Banner image: Quebra-Pote. Mar Grande, Bahia, Brazil, 1936. Author: Édison Carneiro. Courtesy of Biblioteca Nacional.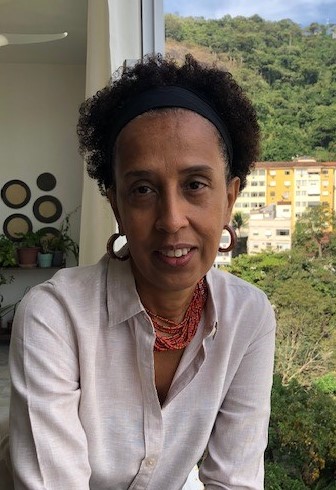 Thinking With series
RCMC's Thinking With is a conversational series that makes a commitment to a certain kind of collaborative criticality. This project complements several of our existing initiatives, as well as our attentiveness to the notion of "togetherness." Thinking With arises out of the NMVW's mission to contribute to world citizenship. For us, this ambition involves reflecting on how we might live with and among others in the world in more just and equitable ways, but also in ways that acknowledge that we do so 'from' drastically different subjectivities and vantage points. Thinking With then offers a form of joined-up problem solving that imagines a future that we can only fashion together. As such, Thinking With is a series that includes book talks, conversations with authors and makers, and specialists in the many fields that inform museum practice.
We draw on Mireille Rosello's notion that companionship between and among societal actors, especially those who have different positions within our society, can only but be disorienting. Yet this companionship may, as Ariella Aïsha Azoulay suggests, provide us with methodologies to "unlearn imperialism." For this reason, we actively seek out companions who challenge us, as an attempt not to reproduce ourselves, but to push ourselves and each other to create more equitable and just futures. This involves practices of de-centring, of provincializing ourselves, as we practice forms of worlding that take each other seriously.  Ultimately then, the Thinking With series takes companionship as an assemblage of people, objects, and texts, so that we courageously ask ourselves to think all of our social actors—animate and inanimate—as part of the entangled unequal  world we grapple with.  In so doing, the project explores the notion of companionship and disorientation, not to deepen hierarchies, but rather as a way of fostering a more humane and unprejudiced world.