CONVERSATION | Wednesday 18 November | 16:30 - 18:30 CET | Online
"Accommodate yourself to me. I won't accommodate myself to you!" - (Aimé Césaire, Return to My Native Land, translation by John Berger and Anna Bostock, Archipelago Books, translation, 2013 (1969))
In July 2020, First Americans opened at the National Museum of World Cultures, Netherlands in the Museum Volkenkunde. First Americans features pre-contact, historic and contemporary works of art from indigenous North America.The exhibition includes the first item that can be traced into the Royal Cabinet of Curiosities, a ball-headed club either Algonquian or Haudenosaunee, that is associated with Reverend Hermanus Bloem who lived in Wiltwyck on the Hudson River, New York in the 1660s. First Americans conincided with other events that were part of Leiden400, a city wide commemoration of the presence of the Pilgrims in the Netherlands. For our museum, taking a critical approach to Leiden400, First Americans presented an opportunity to reflect on temporality, sovereignty, futurism, resistance, resilience and community in contemporary indigenous North America. Of the eighty works featured in the exhibition just under half are the work of contemporary living artists.
How to join
We will host this event online.
To join via ZOOM WEBINAR, please register in advance for this webinar.
After registering, you will receive a confirmation email containing information about joining the webinar.
Please note that we will only open the Q&A on Zoom. Based on time, we cannot promise to address all of the questions, but we shall do our best. 
Elizabeth James Perry
Elizabeth James Perry is an enrolled citizen of the Wampanoag Tribe of Gay Head-Aquinnah, located by the richly colored clay cliffs of Noepe (Martha's Vineyard).  Perry holds a degree in Marine Science from the University of Massachusetts, Dartmouth. Perry was employed for the last decade in the Aquinnah Tribal Historic Preservation department. Perry resides in Dartmouth, Massachusetts. She is a researcher and exhibit consultant, and owner of Original Wampum Art. 
In her creative process, Perry focuses on early Algonquian Native American material culture, exploring the rich purple hues of the quahog shell in designing original jewelry, sculpturing whale and bear effigies; and drilling beads to weave the luxurious drape of collars, cuff bracelets, crowns, leadership sun medallions, and wampum belts.  As part of her work, Perry has revived endangered textiles, and number of museums, including New Bedford Whaling Museum, Wallraf-Richartz Museum, Haffenreffer Museum at Brown University, New England Historic Museum have commissioned her artwork. An image of her Leadership Medallion is emblazoned on the banner of the Mashantucket Pequot Museum. Perry's made Out of the Ocean (2019) for exhibition in First Americans.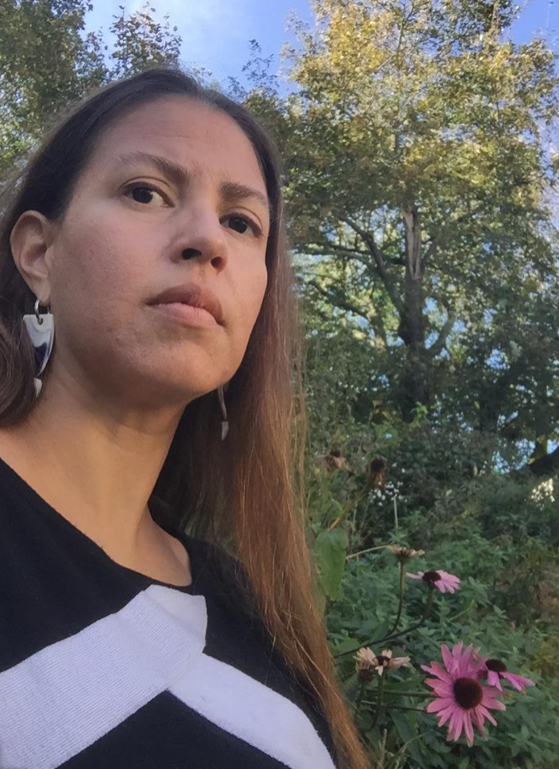 Hulleah Tsinhnahjinnie
Born into the Bear clan of the Taskigi, and a descendent of the Hvteyievlke band of the Seminole Nation of Oklahoma. Born for the Tsi'naajinii (Black-streak clan) of the Dine' Nation.  Tsinhnahjinnie was formally adopted in to the Keet Gooshi Hit (Killer Whale Fin House), and also adopted into the La̱xsgiik (Eagle Clan) of Metlakatla. Tsinhnahjinnie holds the position of Professor of Native American Studies at the University of California Davis and is Director of the C. N. Gorman Museum.
Tsinhnahjinnie grew up in Phoenix and Rough Rock, Arizona, and later attended the Institute of American Indian Arts in Santa Fe. She received her B.F.A. from California College of Arts and Crafts in Oakland in 1981 and was a Chancellor's Fellow at from University of California at Irvine for her MFA. Tsinhnahjinnie has taught at the University of California at Davis, San Francisco State University, San Francisco Art Institute and the Institute of American Indian Art. Tsinhnahjinnie's creative and documentary work bears witness over 30 years, documenting protest, establishing an archive of friends and family. Hoke'Tee (2002) from the series Portraits Against Amnesia is on show in First Americans, and We'wha #2 (2019) will be on display in What a Genderful World.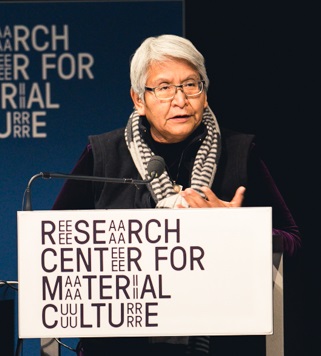 Jacob Meders
Jacob Meders is a member of the Mechoopda Indian Tribe of Chico Rancheria, California. Meders presently lives in Phoenix, Arizona. Meders possesses a BFA in painting with a minor in printmaking from Savannah College of Art and Design and a MFA in printmaking at Arizona State University. In 2011 he established WarBird Press, a fine art printmaking studio that he operates as the Master Printmaker in Phoenix, AZ. Meders is an Assistant Professor in the New College of Interdisciplinary Arts & Sciences at Arizona State University, Glendale, AZ.
Meders's work focuses on altered perceptions of place, culture, and identity built on the assimilation and homogenization of indigenous people. This work often ties into current issues faced in Indigenous communities. Meders reexamines varied documentations of Native Americans through printing processes that hold onto stereotypical ideas and how they have affected the culture of the native people. Often using book forms and prints as a symbol of western knowledge and the linear mind, Meders deploys them as a vehicle to challenge new perceptions of Native Americans. Meders worked as Artist Fellow at the National Museum of World Cultures in February 2020, devising a series of five woodblock prints entitled Trading Views  #1-5 (2020), for exhibit in First Americans.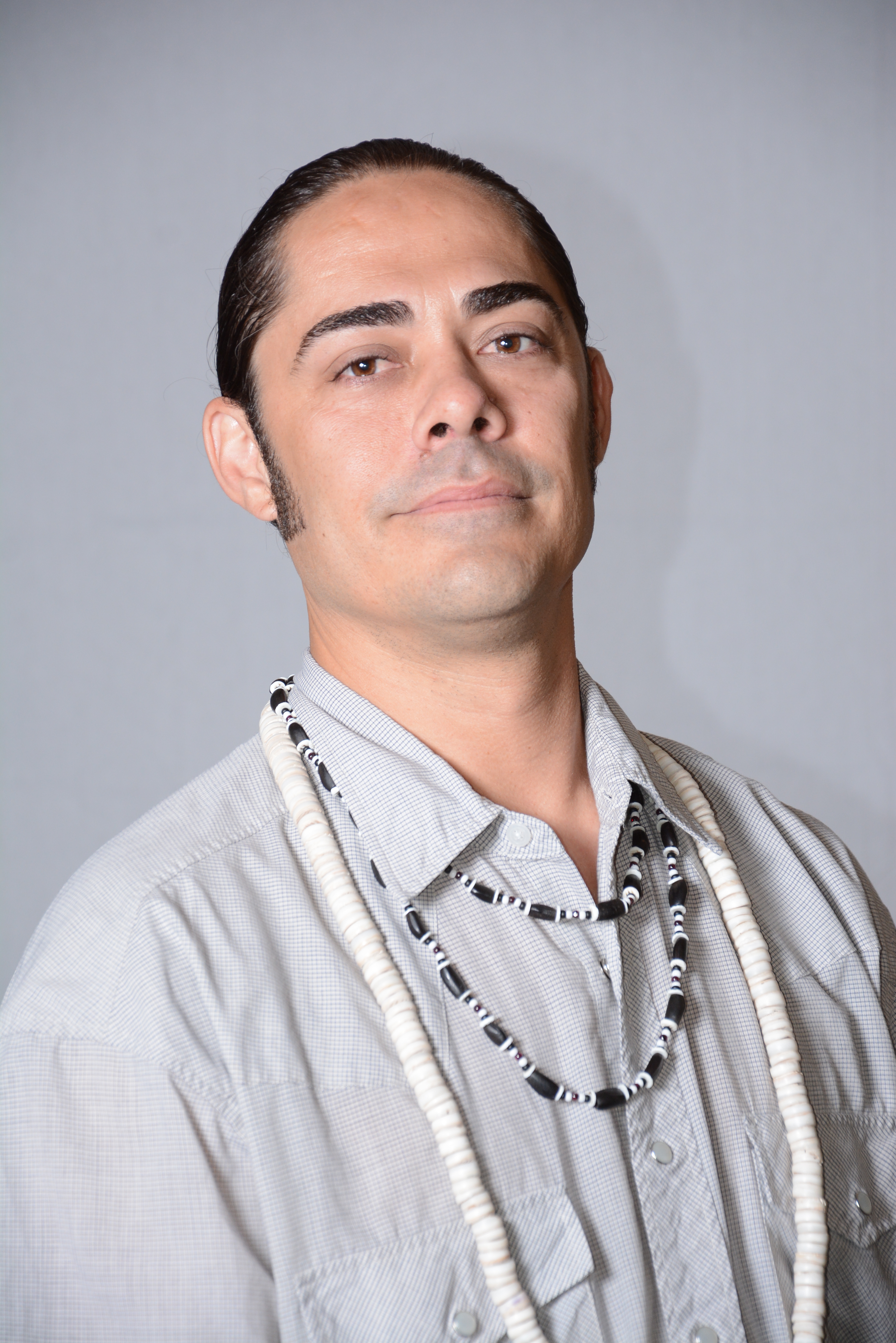 Joe Horse Capture
Joe Horse Capture has been in the museum field for over two decades and is widely published in the area of Native American art with a specialization in Plains Indian culture. A second generation museum professional, Horse Capture has served as a curator at the Minneapolis Institute of Arts and the National Museum of the American Indian-Smithsonian Institution. Horse Capture was recently the director of Native American Initiatives at the Minnesota Historical Society where he led a team who facilitated relationships with regional Native American communities. In 2020 he took up the post of Vice President of Native Collections & the Ahmanson Curator of Native American History and Culture at the Autry Museum of the American West, Los Angeles. He has served as a consultant and advisor at several national and international institutions. Horse Capture is a member of the A'aniiih tribe, commonly known as Gros Ventre, from Fort Belknap Indian Reservation, north central Montana. In 2019/2020, Horse Capture was a Senior Research Fellow at the National Museum of World Cultures, Leiden.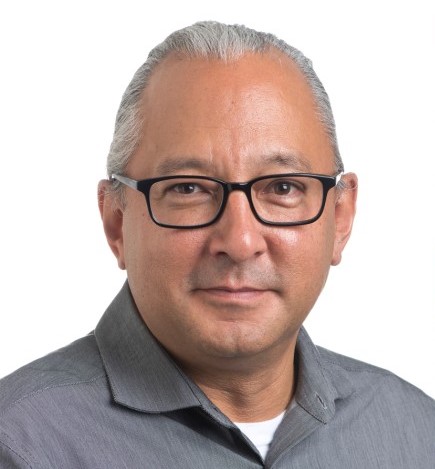 Shelley Niro
Shelley Niro is a member of the Kanienkehaka (Mohawk Nation), Turtle Clan, from Six Nations of the Grand River Territory. A visual artist and filmmaker, as well as a contemporary bead artist, Niro is internationally known for her influential photographic work in which she depicts herself and her family members in contemporary situations to challenge the stereotypes and clichés of Native American women.
Niro has work featured in permanent collections across the USA and Canada and has been recognised in a number of ways. The film Honey Moccasin won Best Experimental Work at the Dreamspeakers Festival in Edmonton, Alberta and Best Feature, Best Actress, Best Actor, and Best Director at the Red Earth Festival in Oklahoma City, Oklahoma. Niro's short film The Shirt was presented at the 2003 Venice Biennale and the 2004 Sundance Film Festival in Park City, UT. Niro was awarded a Governor General's Award in Visual and Media Arts in 2017 and awarded an Honorary Doctorate from OCAD University. Niro's photographic quartet A History of the World (2017) is featured in First Americans.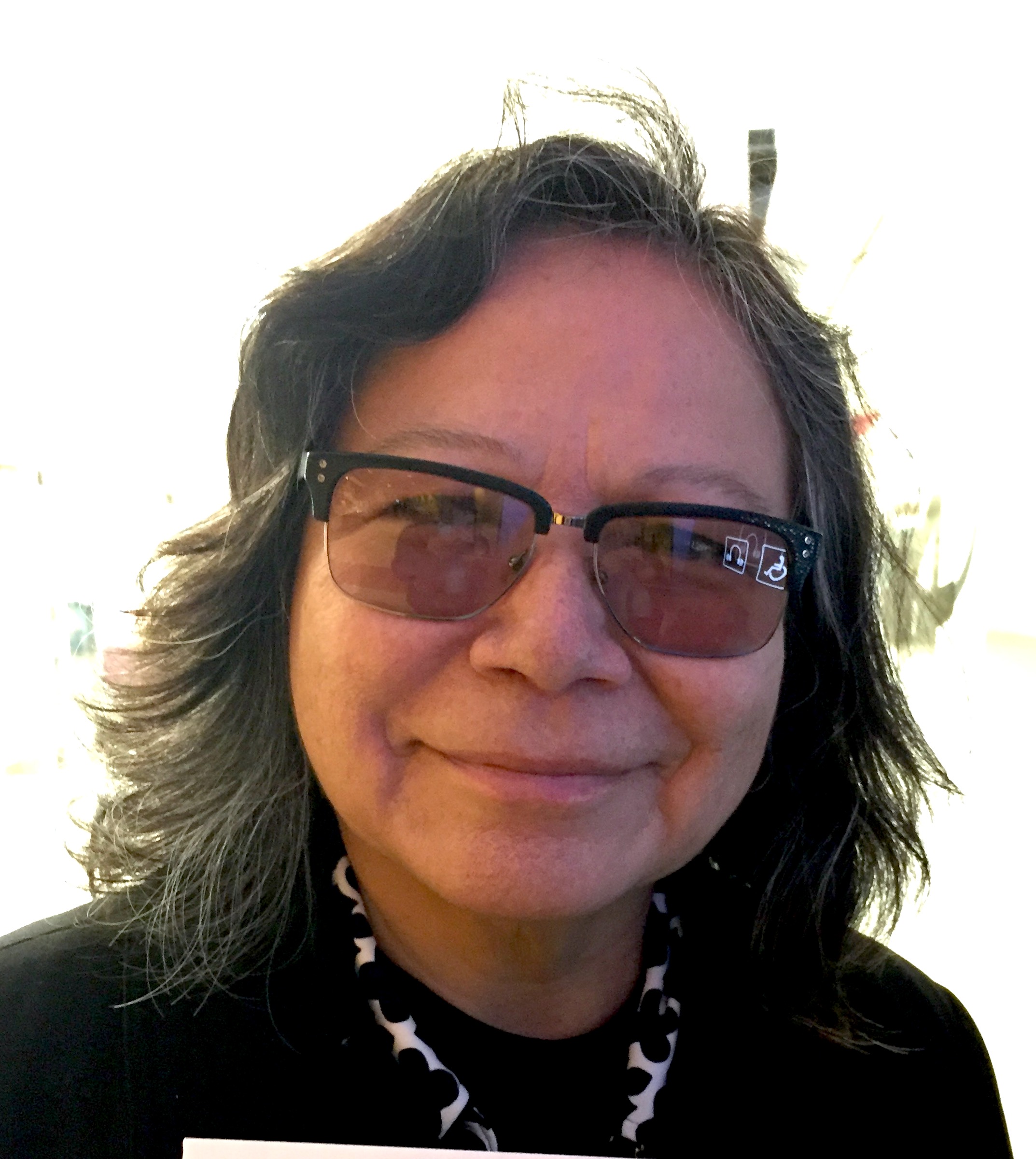 Yatika Starr Fields
Yatika Starr Fields (Osage/Cherokee/Muscogee-Creek) is a painter and muralist. While attending the Art Institute of Boston from 2000 to 2004, he became interested in Graffiti aesthetics, which has been integral to his knowledge and process, along with landscape painting, and continues to influence his large-scale projects and studio works. Fields is from Oklahoma and currently living and working in Tulsa in conjunction with the Tulsa Artist Fellowship. Fields has spent the last decade on the East Coast, New York City and most recently Seattle where the energy of urban life inspires and feeds the creative force in his artwork. Fields' compositions are often spontaneous and he uses kaleidoscopic imagery, with its dynamic pop, symbolism and culture aesthetic, reference both historical and contemporary themes-tied together with traditional affinity but provoked by general concerns of world differences.
In September 2019, Fields was an Artist Fellow at the National Museum of World Cultures, painting the mural Accommodating Strength, Our Land, Our Hearts to be seen at the rear Museum Volkenkunde building in Leiden.