VISUAL COLUMNS
For the Caring Matters conference, in an effort to pay closer attention to the contexts that surround the objects in our museums, but also the often painful contexts that have led to how they became part of our collections, each of the partner organizations of the Creative Europe grant TAKING CARE - Ethnographic and World Cultures Museums as Spaces of Care have chosen objects, objects which speak to the concepts of Environmental Justice, Extraction, Endangerment, and Healing Materialities. These titles correspond to each of our conferences sessions. Our objects come from ways of thinking the world that often engage the notion of togetherness and healing in ways that might offer supplemental knowledge to how we work through our current environmental crisis. Often too, in their trajectory to our exhibit halls and depots, they have undergone a painful journey that includes the violent processes that silently undergird the very project of colonialism and its afterlives. Caring Matters seeks to attend to the object, to care for it, to carefully interrogate the histories and heritages it implicates. We do not pretend to fix the past, but perhaps we can think through approaches to 'healing' that focus on the object and the contexts out of which we came to acquire it. 
Museo Preistorico Etnografico "Luigi Pigorini", Rome
Cellulose fiber of doum palm (Hyphaene thebaica) in glass vase
The object is part of a larger collection of botanical and mineral samples exposed in the former Italian Colonial Museum of Rome (1923-1971), whose collections were included in the Museo delle Civiltà in 2017. Seeds, oils, row and processed woods, minerals from Italian colonial domains were gathered in Rome for propaganda aims: to "educate" and "raise awareness" of the economic potential for Italian companies operating in Libya, Ethiopia Eritrea and Somalia. Today these collections of samples materialises the colonial predatory behaviour toward colonies.
The exportation in Italy of doum palm, especially from Eritrea (but also from Etiopia and Somalia), grew exponentially during the colonial period for the national production of buttons. Some industrial factories were established in Eritrea (at Cheren and Agordat, for example).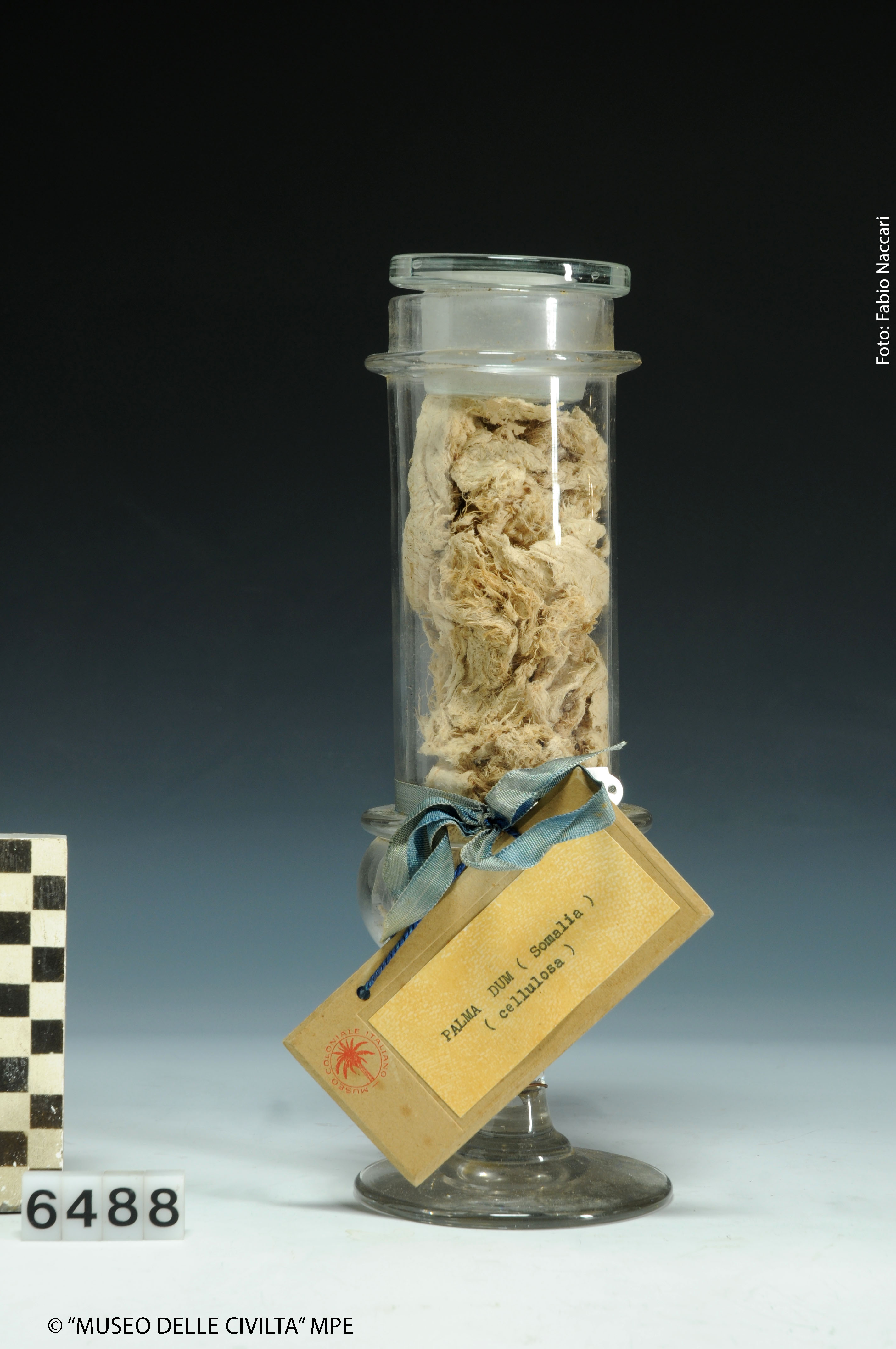 Museu Etnològic i de Cultures del Món, Barcelona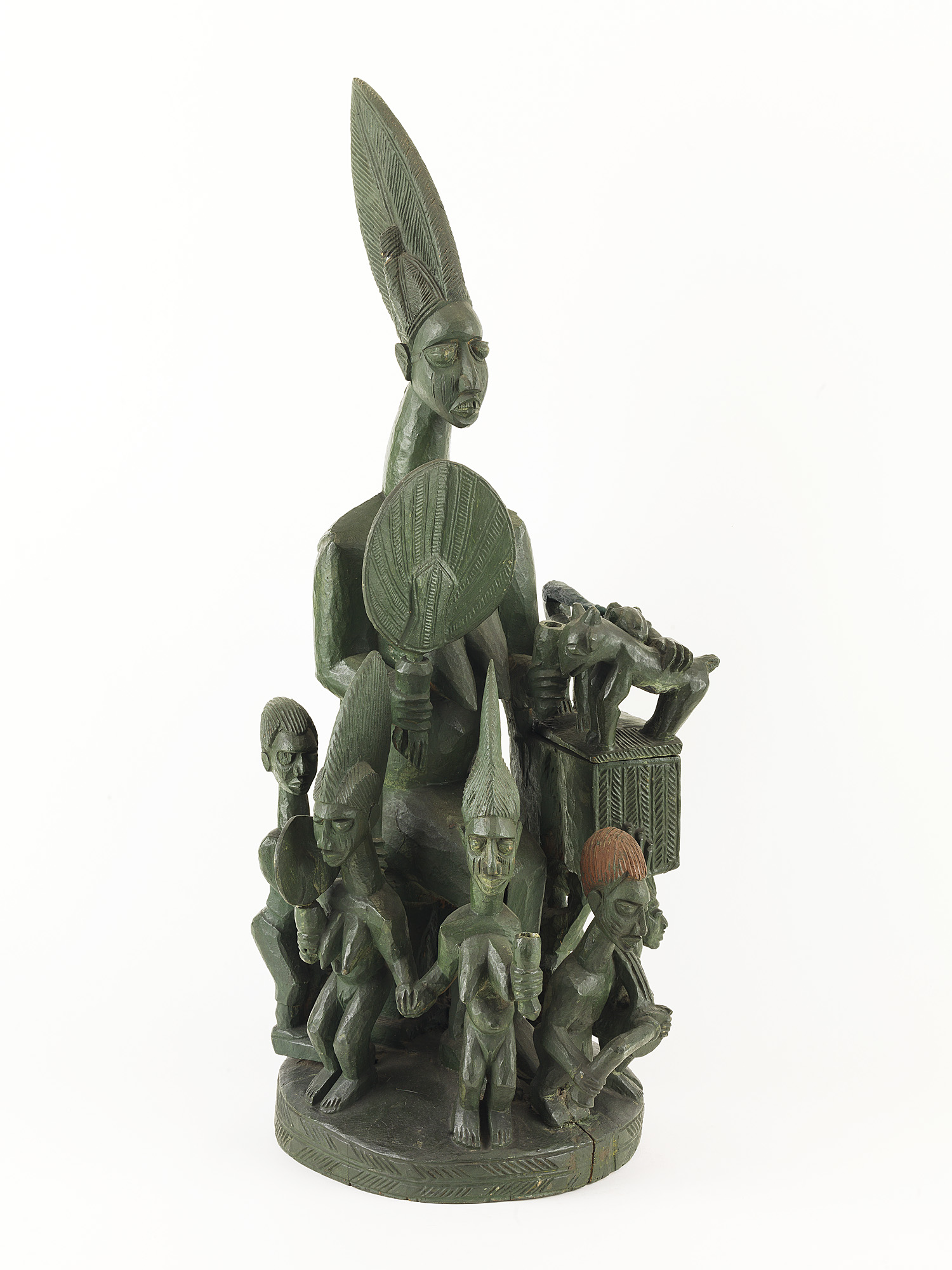 Osun, the goddess of freshwater and rivers
This piece was acquired by Miguel Núñez de Prado (1882-1936), the Spanish governor of Equatorial Guinea between 1926 and 1931. His collection was formed during his administration and it was formed according to his personal taste, based on his concept ot the "exotic".  One year after his death, his 165 pieces were adquired by the Generalitat de Catalunya and in 1948 this collection was deposited in the Museu Etnològic i Colonial de Barcelona. The spanish colonisers in Equatorial Guinea  not only exploited the territory's resources (wood, cacao, etc.) but other ones as specimens of flora and fauna and objects of artistic, archaeological or ethnographic interest, etc.
- Salvador García Arnillas, Conservador. Departament de Col·leccions, Museu Etnològic i de Cultures del Món
Museum am Rothenbaum Kulturen und Künste der Welt (MARKK), Hamburg
Brush, Nauru, before 1911 
Antonie Brandeis, since 1898 married to Eugen Brandeis, who held high ranking positions in the German colonial administration in the Pacific, features as collector of this tiny brush. Made from plant material and decorated with shells, it was registered at the museum as device for cleaning children of influential families when water was short. This notice dating back to colonial times reflects precarious aspects of living on atolls like Nauru where access to fresh water often was short and considerate ways of dealing with hygiene had to emerge. Climate change and rising sea water levels are current challenges adding stress on water supply, triggering migration and loss of homes in the Pacific.
MARKK 11.44:5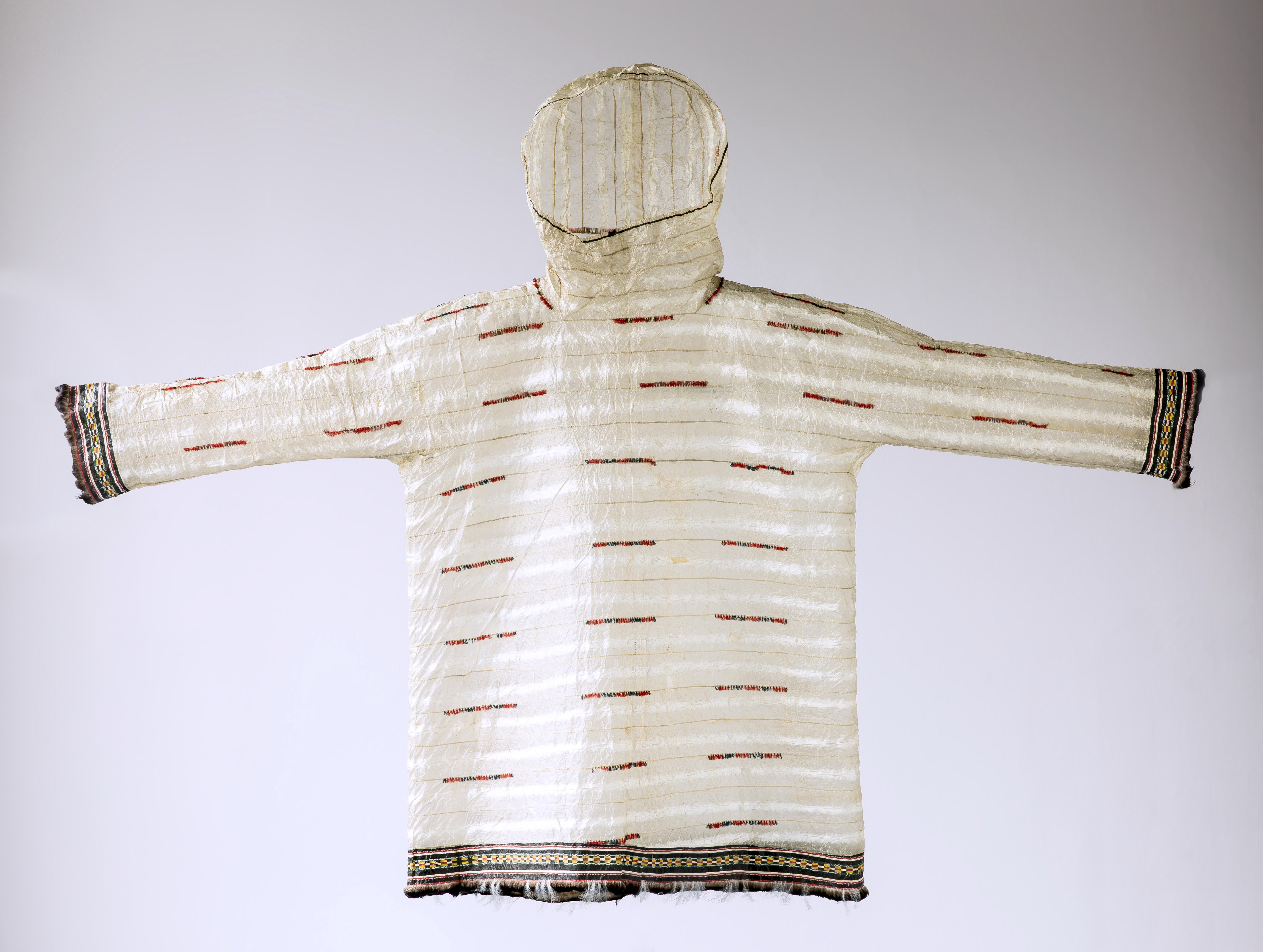 Gut skin clothing Alaska, before 1937.
Parka and anorak are sophisticated clothes perfectly matching the needs of protection while travelling in wet weather and hunting on water. For this parka intestines from marine mammals were cut into stripes, folded and sewn together to achieve an almost water and wind proof effect. Wisdom, knowledge and respect embedded in the choice of material and its fabrication were handed down through generations and draw attention to the flaws of the industrial follow up versions of functional clothing and global outdoor lifestyles. Modern waterproof effects often rely on microfibers and water repellent chemicals endangering the marine environment.
MARKK 37.37:1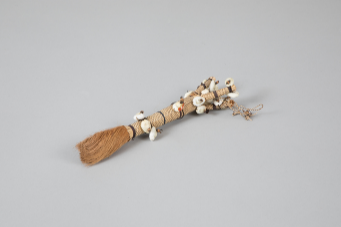 Yurt, Kyrgyzstan.
In 1985 Turdu Kydyrbaeva, mistress of crafts, designed and manufactured this yurt in traditional style. Different elements of this complex construction consisting of felted mats, woven bands, wooden lattice and rods have been continually renovated and replaced until in 2017 this prestigious habitation was ceremonially handed over to the museum with a commission to safeguard the estimation and tradition of techniques, knowledge and designs embodied in this masterpiece.
Yurts have become icons of flexible and "traditional" ways of living in steppes and feature as national symbols in Kyrgyzstan. At the same time nomadic lifestyles have been facing more and more challenges. This contemporary object bears witness to a variety of agencies and policies in the shaping, regaining, and claiming of traditions and identity.
- MARKK 2017.14:1-220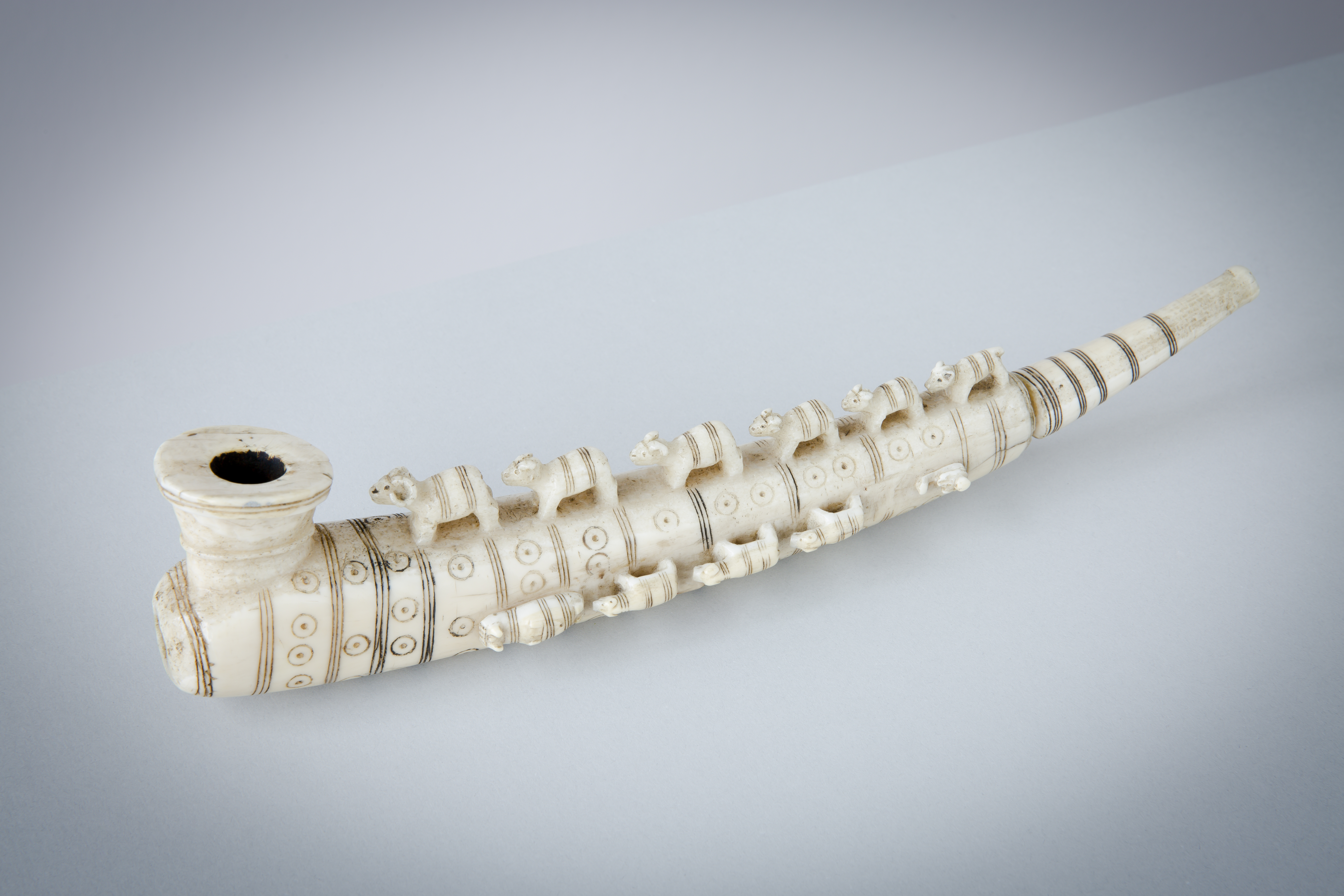 Tobacco pipe, Alaska, before 1870.
This engraved pipe, showing a procession of animals along its stem was sculpted from walrus tusk ivory. As important folk art for people of the Arctic the carving of ivory is also closely connected to exchange. Following colonial expansions of the 18th and 19th century trade intensified, joining northern Atlantic and Pacific coastlines with global markets. Access to coveted goods like tobacco, coffee, iron, rivals, and alcohol often related with the loss of independency and substantial changes in the ways of living. MARKK B 77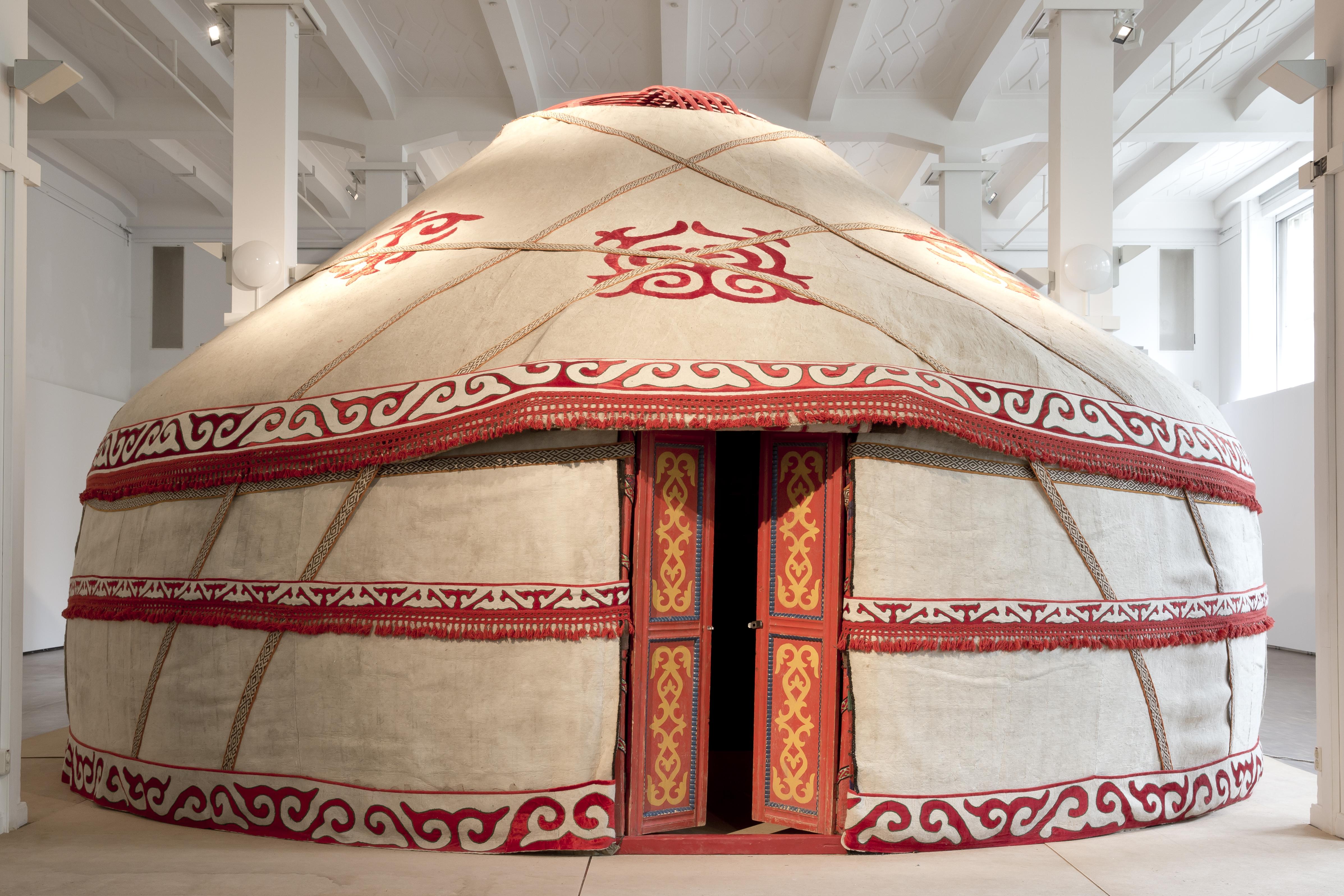 Museum of Archaeology and Anthropology (MAA), Cambridge
Walrus Tusk 
Piece of walrus tusk decorated with scenes of whale harpooning, bird and people driving sleighs behind reindeer. It is possible that the piece this was made either by Siberian Eskimos or Chukchi, for sale to tourists.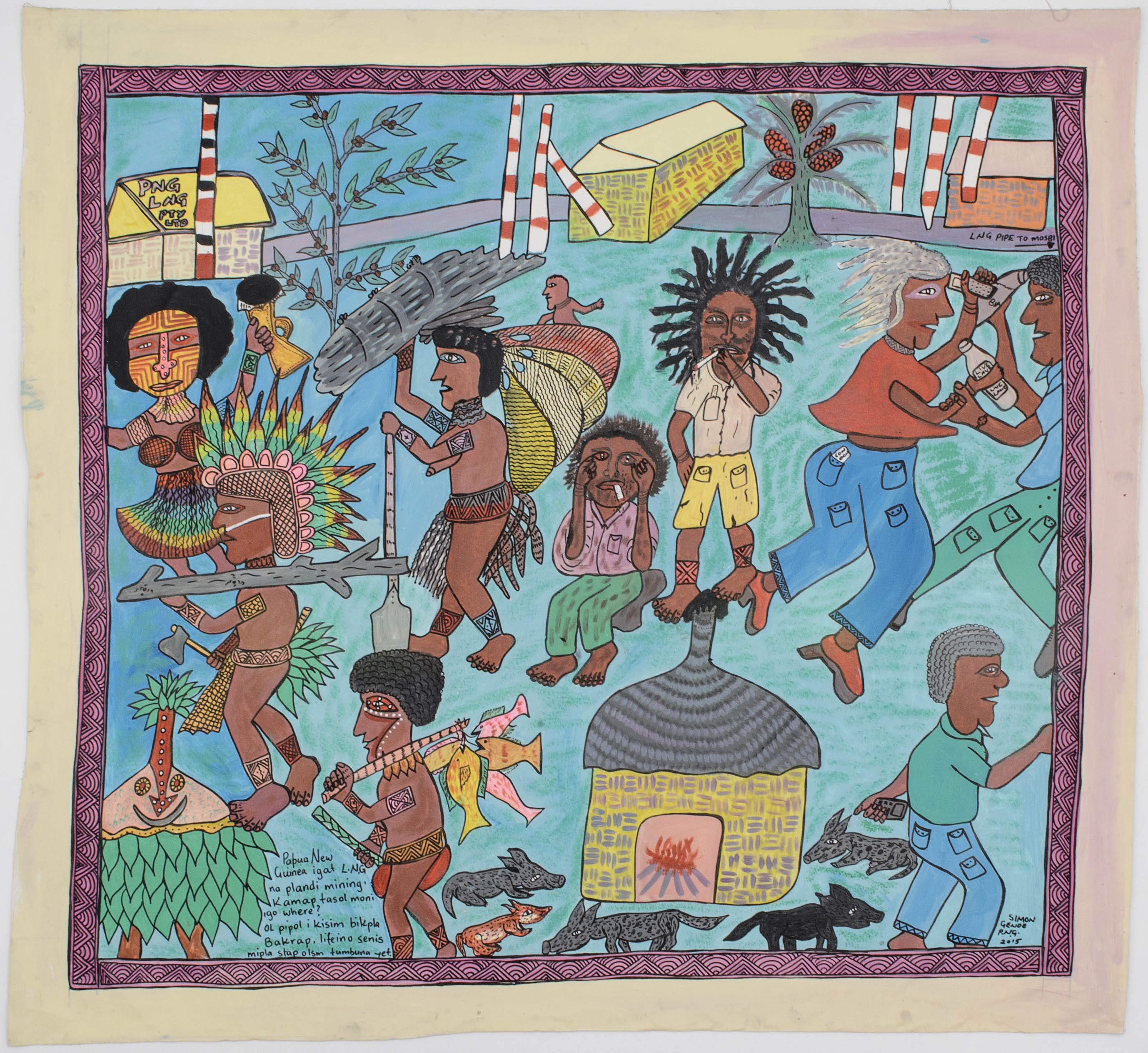 'The disappointing lack of development in Papua New Guinea as a result of the enormous Liquified [sic] Natural Gas project'
Papua New Guinean artist Simon Gende is known for his often humorous and insightful commentary on international events and icons. Working with saturated colour and stylised or silhouetted figures, Gende paints subjects as diverse as the 9/11 attacks on the World Trade Centre in New York, and Diana, Princess of Wales, lifting them from the pages of major print media and presenting them in an alternative universe — the landscape of Papua New Guinea. Gende was born in Gere in the Gembogl district of Chimbu province and is from the Kuman language group. 'Most of my paintings are about big new stories in the world because most of people like to buy them because they want to keep the stories of what they heard over the news. It's something like keeping history on the painting.'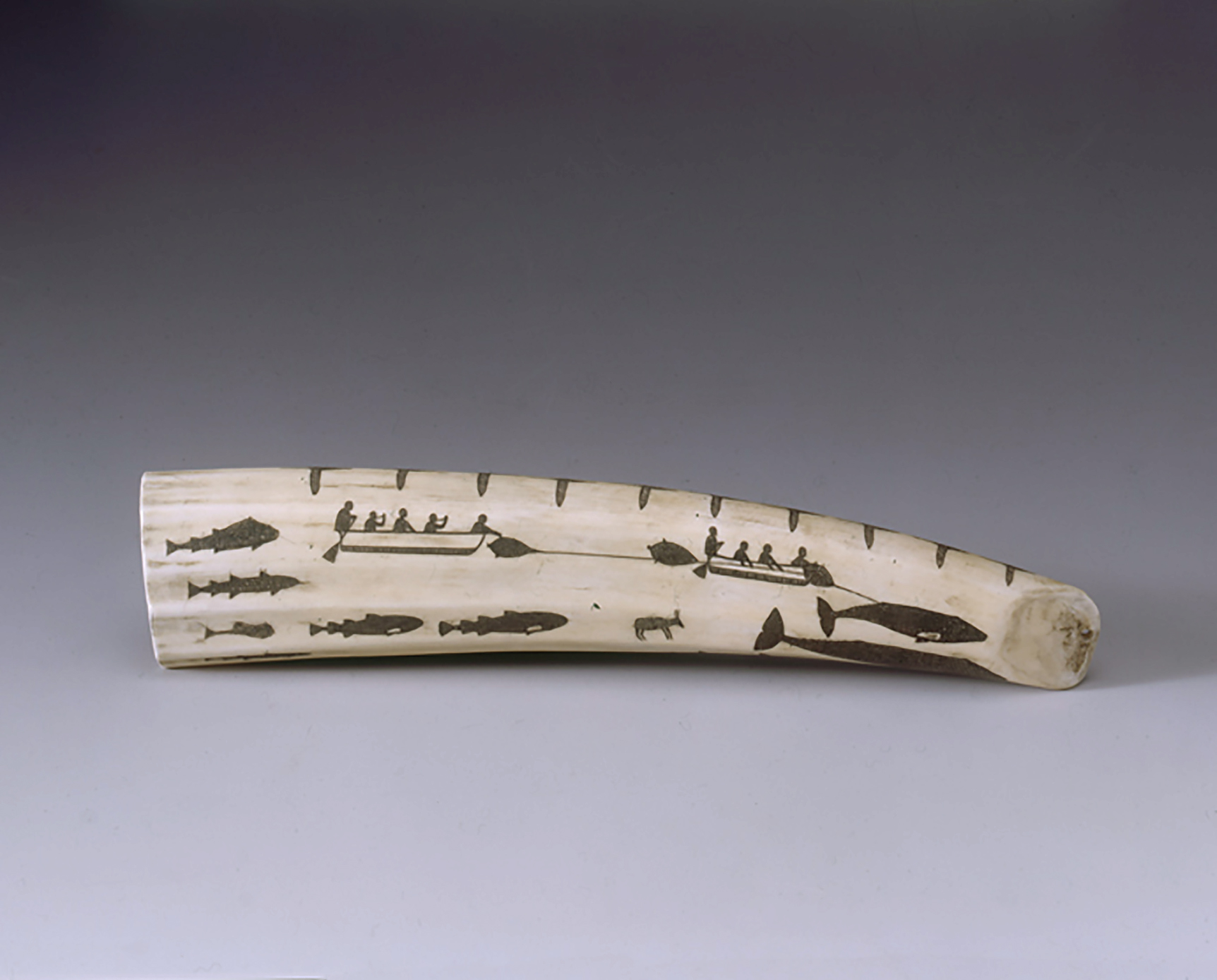 Norfolk Island autonomy
Green pin in the shape of a hand and decorated with the Norfolk Island flag. These pins were created in protest against the loss of autonomy of Norfolk Island and its incorporation into the Australian state of New South Wales.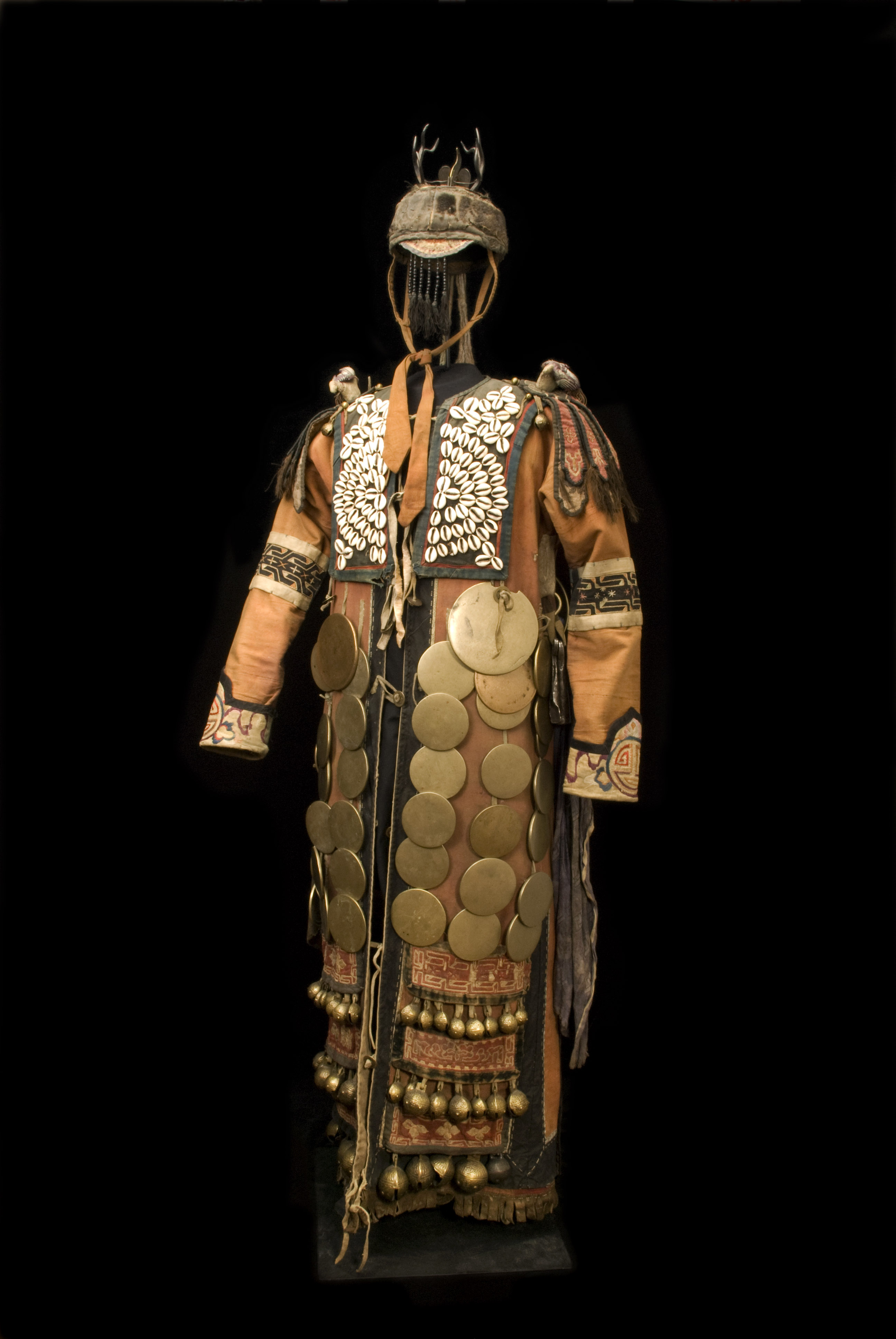 Samashi (Shaman's Dress)
This dress belonged to the elder daughter of the ex-chief of the Numinchen of the Chol and Yimin region. The shaman had died three years previous to the purchase, and there was no young aspirant to the Shaman's profession in the tribe at the time who would require them. The ex-chief refused to sell the Shaman outfit in August 1931, but agreed the following March. The Shaman dress, hat and drum were stored in a covered platform 6 ft above the ground, concealed in the woods, when purchased.
One year later, the ex-chief and the entire population of Anggo Xules were massacred during an inter-tribal conflict.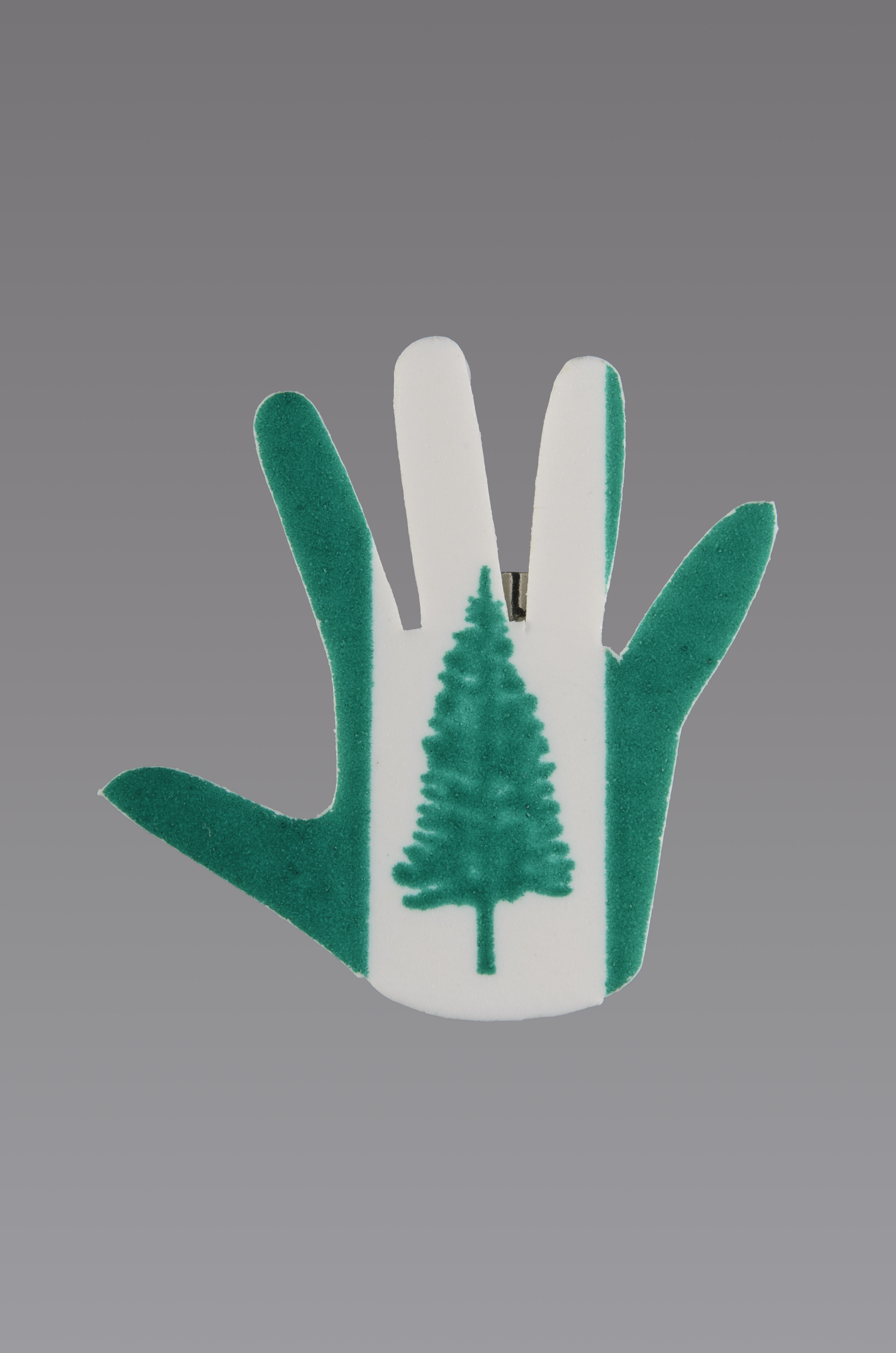 National Museum of Denmark, Copenhagen
Headdress with buffalo horns and eagle feathers, Northern Plains, ca. 1850
In traditional Native American societies, the large headdresses with eagle feathers were only worn by men who had distinguished themselves in war. To this day, headdresses with feather tail serve as an important Native American symbol, worn on official or ceremonial occasions. Today, however, artificial eagle feathers are also used. The right to use eagle feathers in religious ceremonies is secured in the 'American Indian Religious Freedom Act' from 1978. However, since both the bald and the golden eagle has been endangered until recently, they are protected in the USA. Native Americans can apply for an eagle from the National Eagle Repository – most of them roadkill and victims of poison. It can take up to five years to have an application processed. Moreover, many Native Americans do not believe that these eagles meet the requirements for birds intended for ritualized use.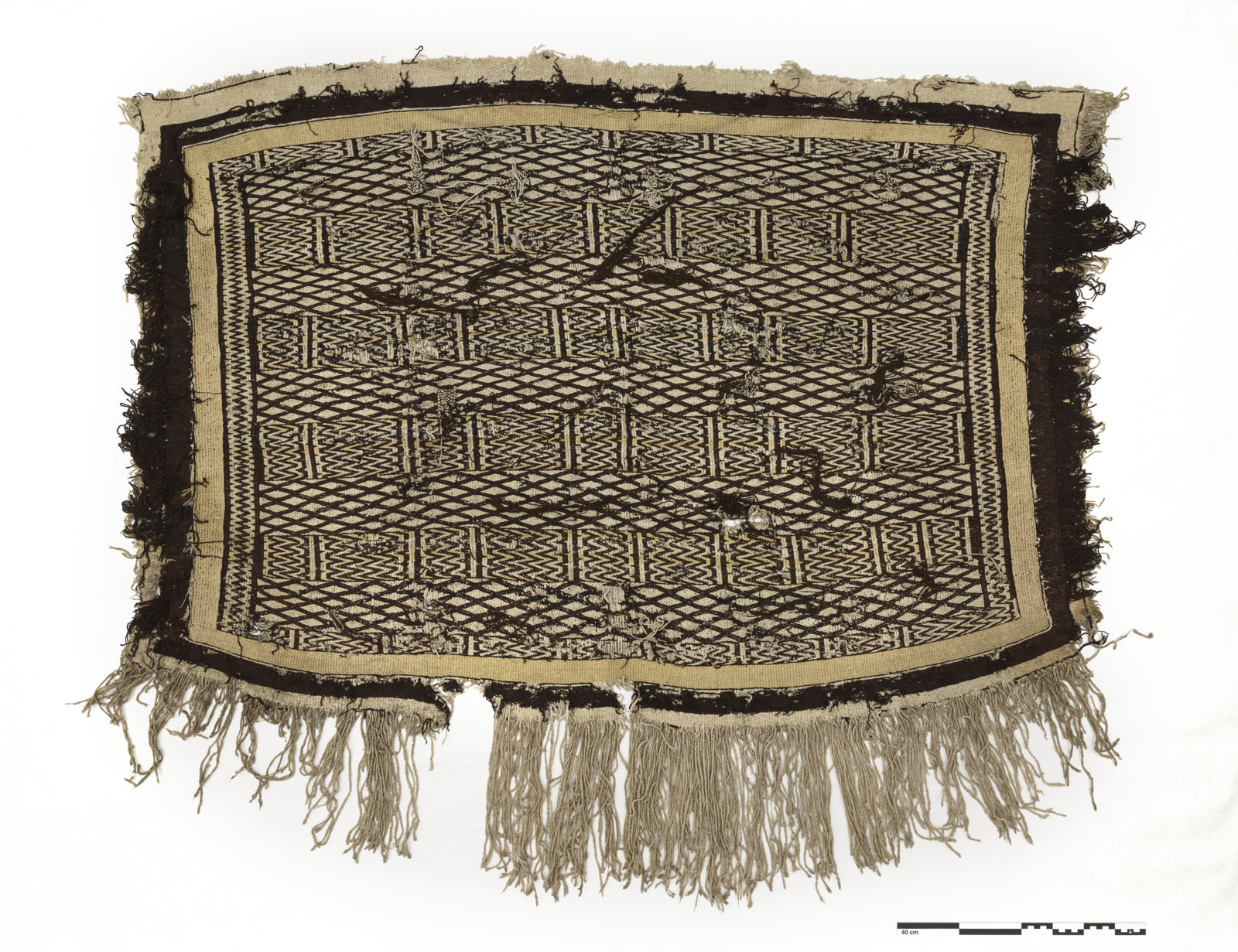 Ravenstail robe
Ravenstail weaving or twining is a traditional weaving style practiced by Native women on America's Northwest Coast and used to make ceremonial clothing, robes among other things. It fell out of use in the early 1800s, due to the introduction of both European blankets and the more complex Chilkat weavings. However, Ravenstail weaving has experienced a revival over the past three decades.
There exists only a very limited number of 18th and 19th century Ravenstail weavings, one of them being the robe at the National Museum of Denmark. Recently, this robe was reproduced and "danced" by Alaska Native dancers during the Celebration in Juneau. When being danced, Ravenstail robes help the healing and sharing of tradition. This highlights the need for a more caring approach of ethnographic museums, including the need for making ethnographic collections accessible to the communities of origin.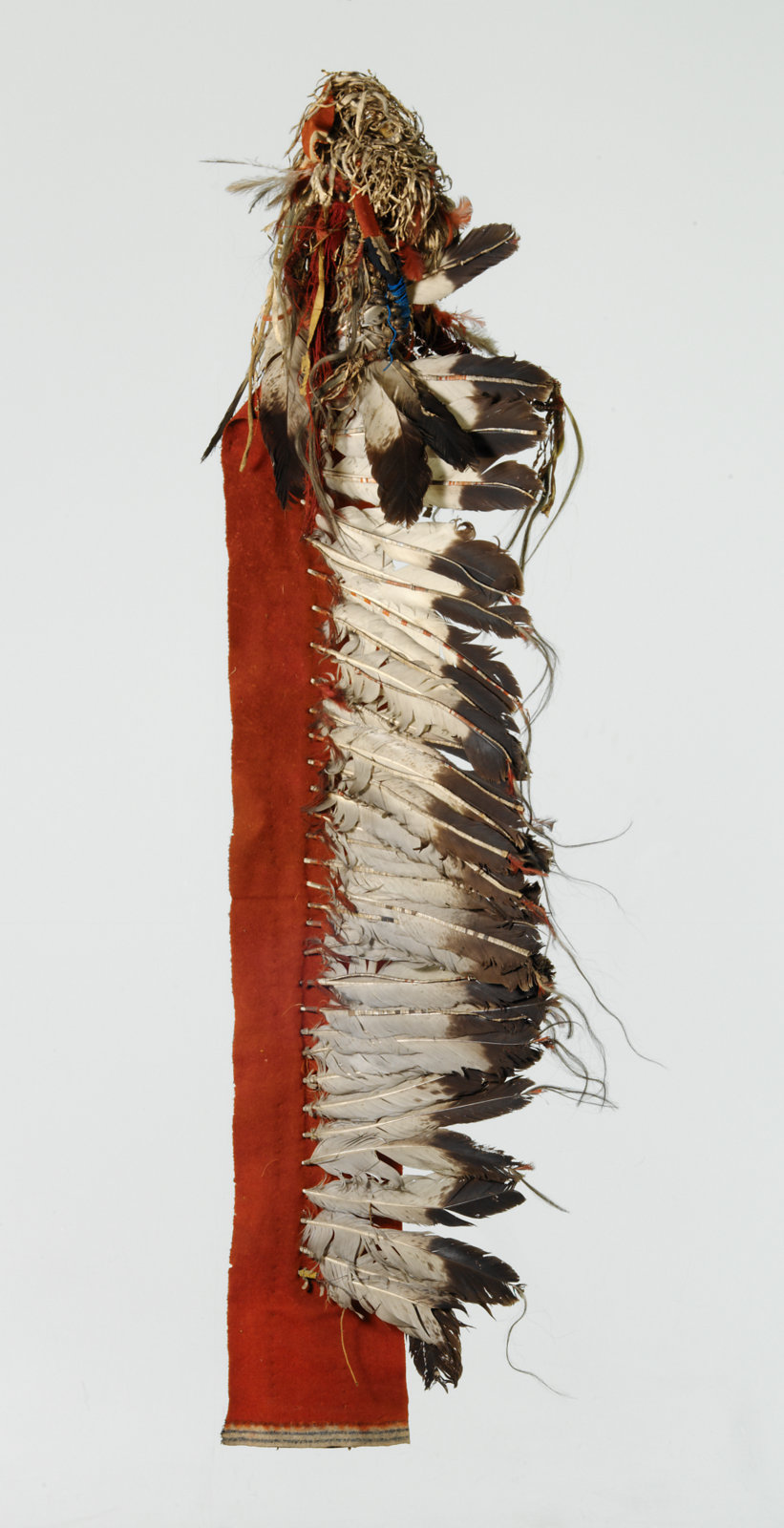 Portrait of Chou-Man-i-Case (Prairie Wolf), chief of the Otoe
In the early decades of the nineteenth century, a large number of delegations of Native American tribal leaders went to Washington, D.C. to negotiate their territorial rights with the government –negotiations, which often resulted in the loss of territory and access to resources. In Washington, D.C., they received the presidential peace medal and had their portrait painted. This was done by the Bureau of Indian Affairs (BIA), who had commissioned artists to document the Native peoples that they believed to be nearing extinction. One of these portrait painters, Charles Bird King, made 147 such portraits between 1822 and 1842. Nine of these came to The National Museum of Denmark in 1854 from the estate after Peter von Scholten, General Governor of the West Indies. The majority of the remaining portraits was lost in a fire in the Smithsonian Institution in 1865.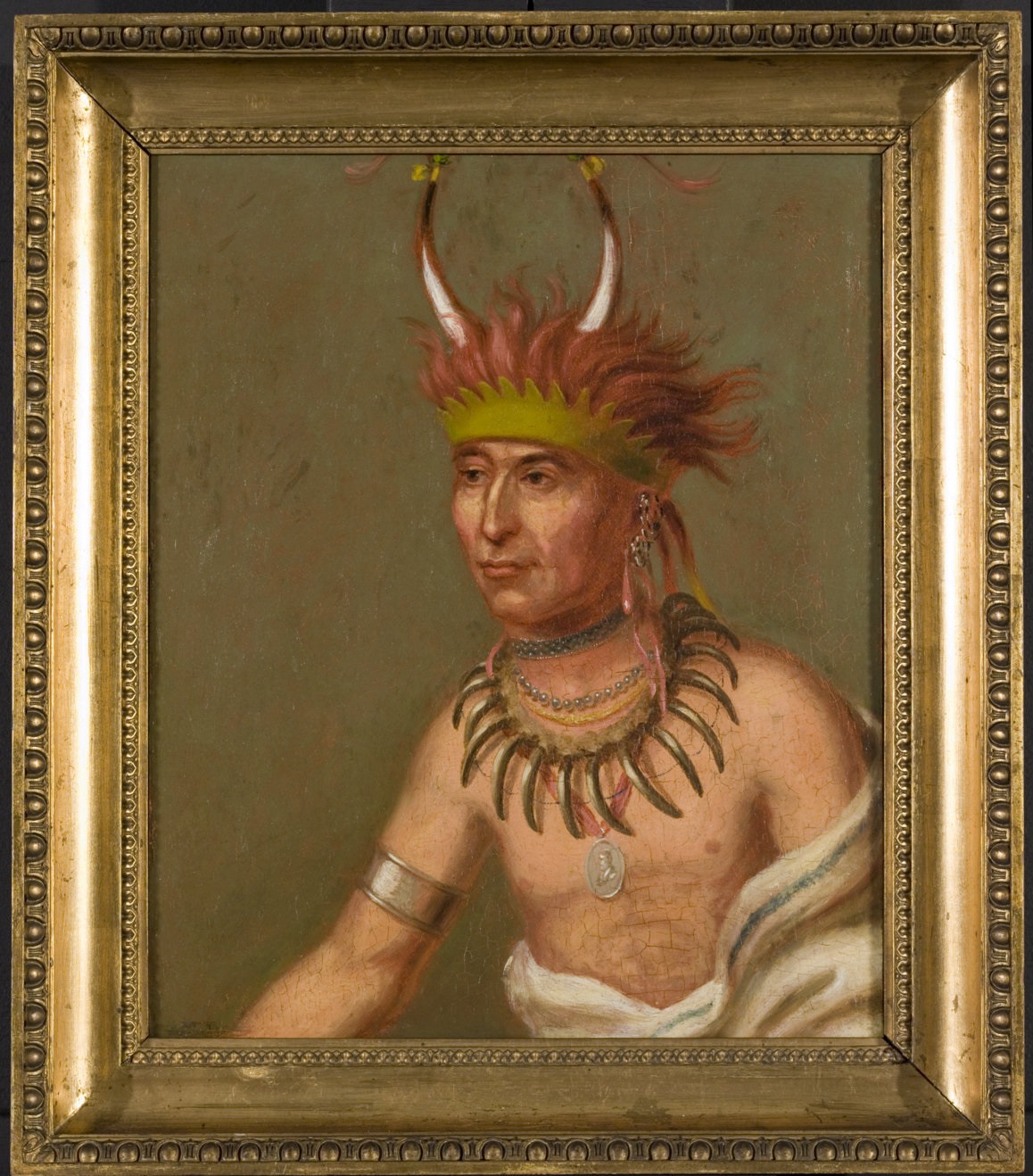 Pitt Rivers Museum, Oxford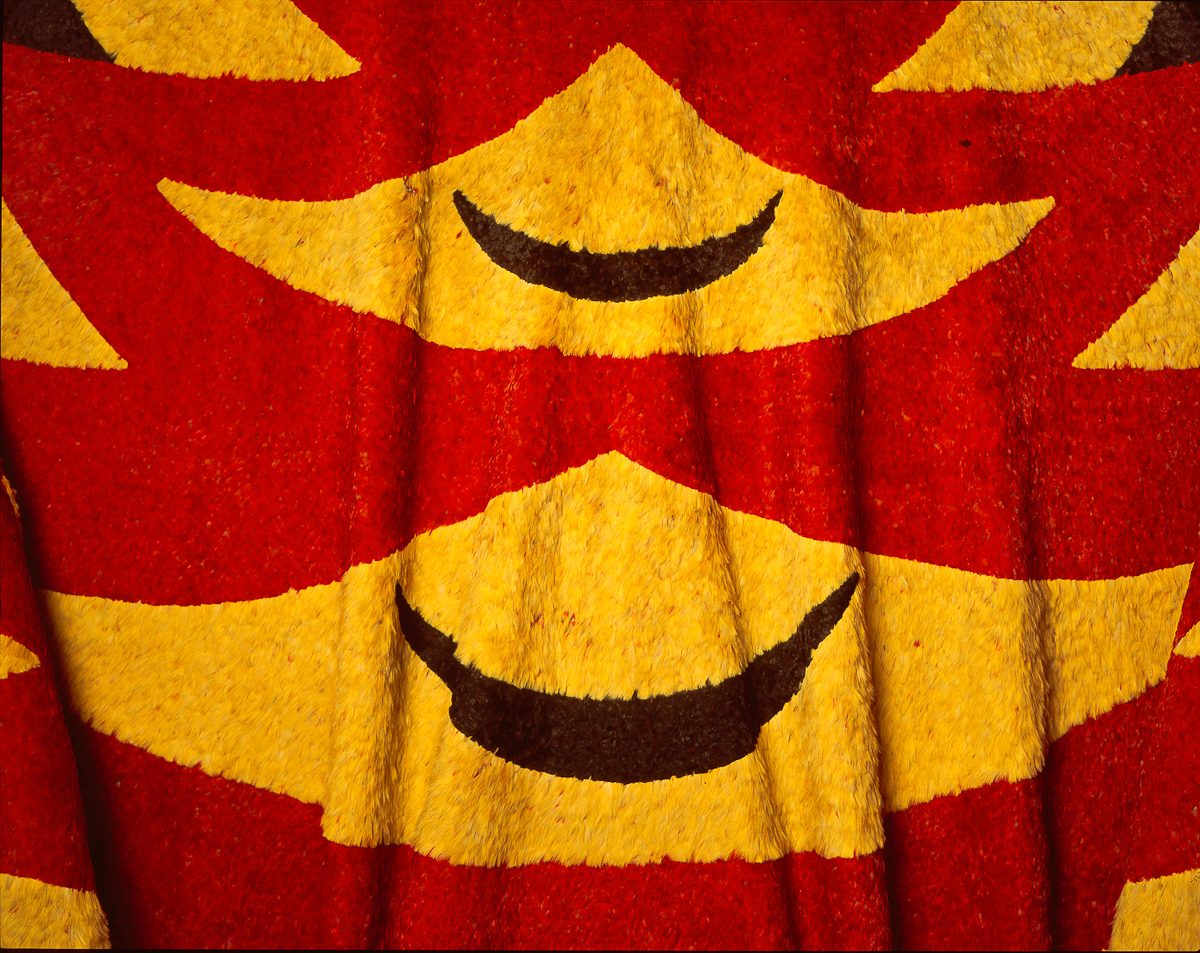 Feather cloak decorated all over with yellow, red and black feathers
The Pitt Rivers has 208 objects from the Hawaiian Islands and countless more created in other Polynesian island groups.  Brilliantly coloured feathered cloaks such as this one embody the heavenly status and spiritual power, or mana, of the chiefs. In a land with abundant natural resources, bird feathers were great treasures. Feathers from honeyeaters/o'o and two species of honeycreepers/mamo and 'I'wi, were used to make this vibrant cloak. Feathers were reserved exclusively for the chiefs, and the most important featherwork were 'ahu 'ula, or symbols of Hawaiian royalty. In battle, they were spoils of war; great chiefs possessed dozens of cloaks, and they presented feather cloaks to people whom they held in high esteem, including European captains and explorers. Serving as symbols of chiefly divinity, rank, and authority, these cloaks were the greatest gifts that eighteenth and early-nineteenth century chiefs could bestow. But the 'ahu 'ula were not mere gifts: the chiefs used them to reinforce political and diplomatic transactions, solidify relationships, and engender obligations.  The feather cloak, or 'ahu 'ula, shown here, was presented by Chiefess Kekāuluohi to Sir George Simpson, a governor of the Hudson Bay Company, in 1842. Kekāuluohi was the Kuhina Nui, or, premier, of the Kingdom of Hawai'i, and was second in power after King Kamehameha III.  She gave the cloak to Simpson to present to his wife Frances Ramsay Simpson, which raises questions of gender and power in this transitional time in Hawai'i.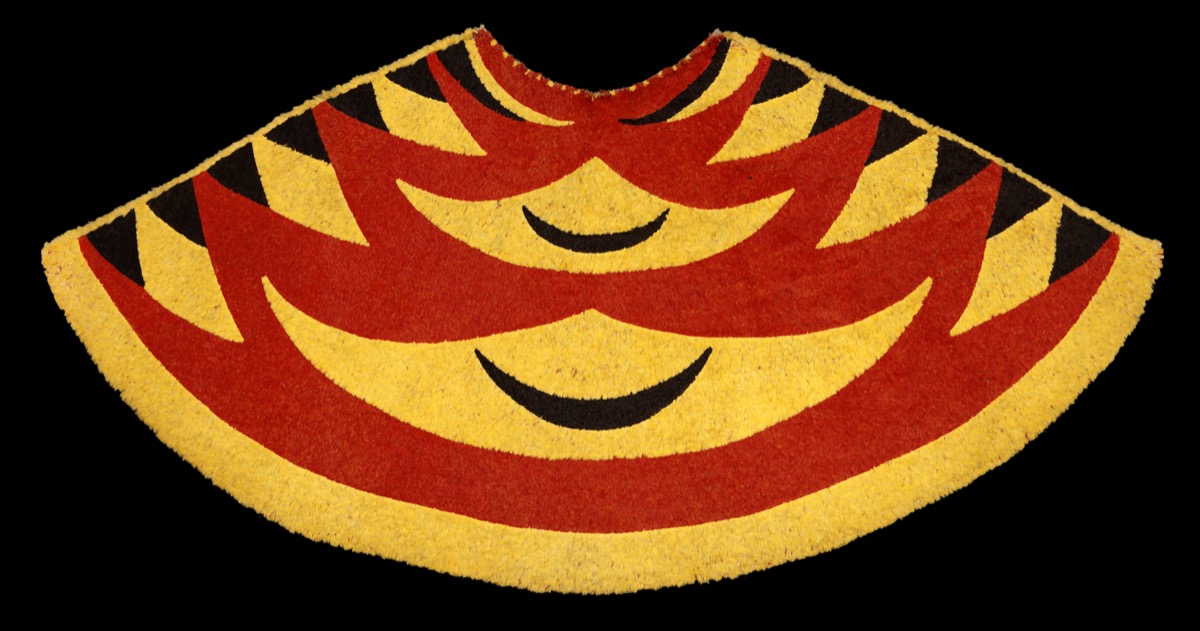 More than two-thirds of all Hawaiian bird species have gone extinct since humans populated the archipelago.  The majority of yellow feathers used in Hawaiian feather work are from honeyeaters/o'o and the Hawaiian honeycreeper/mamo, which became extinct in 1934 and 1898, respectively.  Most of the red feathers used in making these cloaks were harvested from the scarlet honeycreeper/'I'wi, which is currently categorised as vulnerable and declining across its known habitat range.  Reasons for these extinctions and declines are complex and include a suite of interacting factors, including habitat degradation and loss due to human activities and invasive species, introduced predator and competitors, and introduced avian diseases and disease vectors.  Rising temperatures due to climate change also accelerates the spread of avian malaria and pox virus, as it expands the disease transmission zone. The Hawaiian featherwork thus reminds us of the ecological loss that has occurred from the 19th century to today, and the impending loss of these species in future.  We thus want to discuss what it means for us to curate and conserve this cloak, which is not only a biological artefact of an extinct species, but also represents the loss of making, wearing, and receiving these cloaks within Hawaiian culture. 
- Dr. Ashley Coutu, Research Fellow, Pitt Rivers Museum, Marenka Thompson-Odlum, Research Associate, Pitt Rivers Museum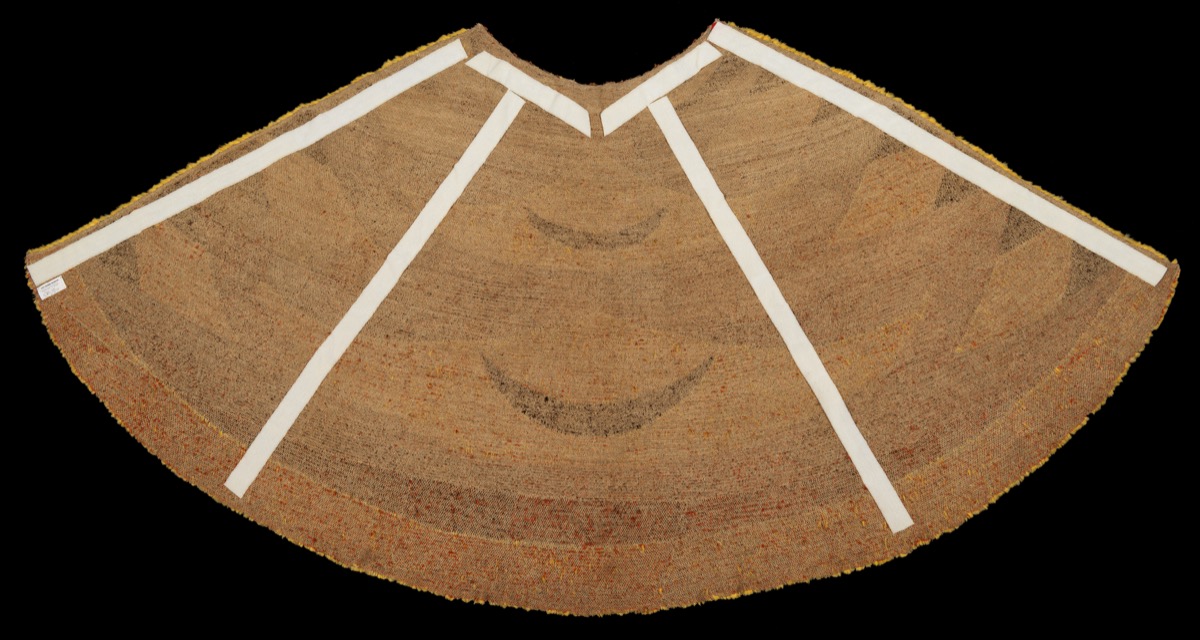 Royal Museum for Central Africa, Tervuren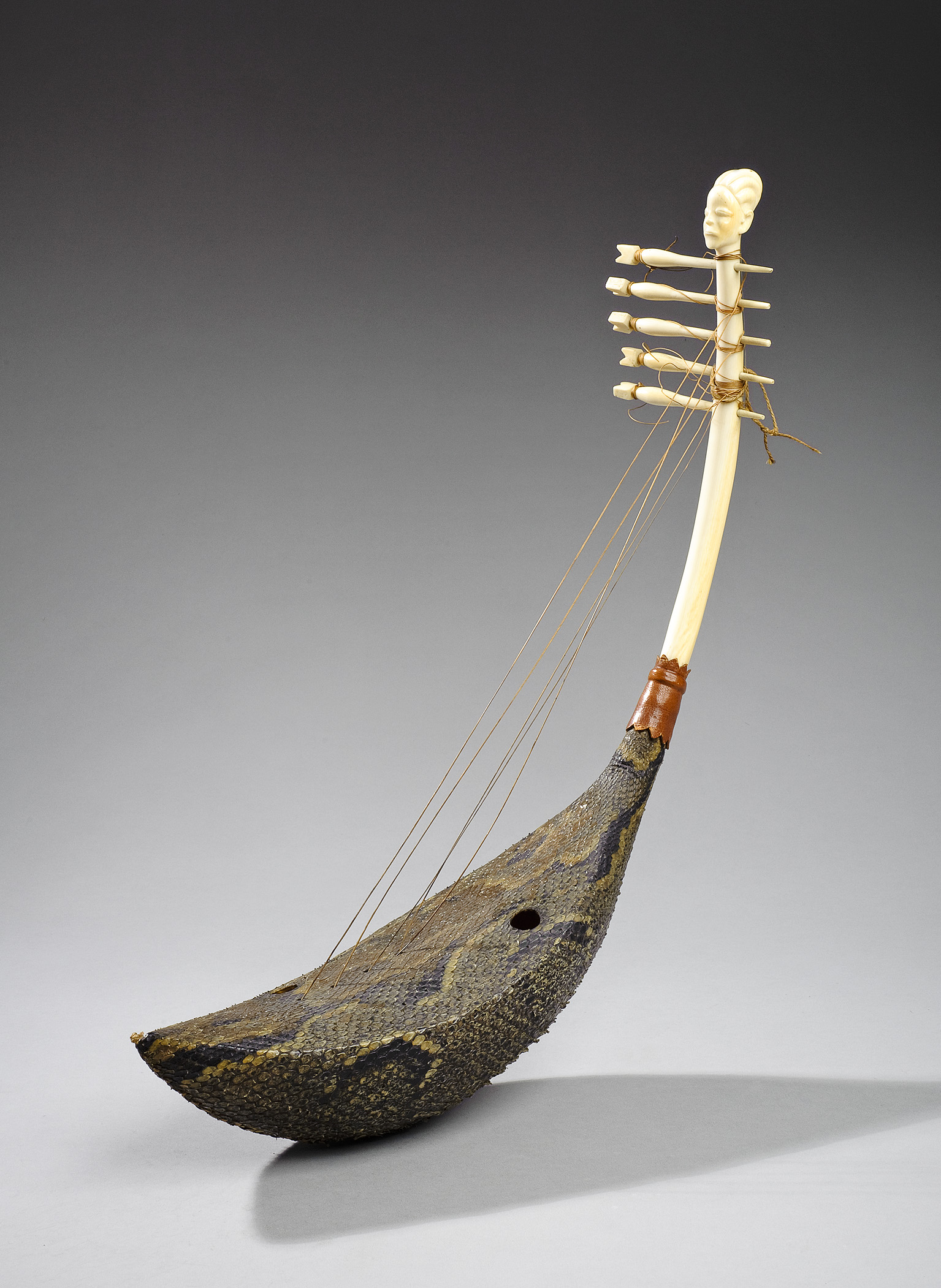 Ivory music instruments from the early colonial period
From the end of the 19th century, trade based on the export of natural resources in Central Africa, particularly in Congo Free State (1985-1908) and in the early years of the Belgian colony (1908-1960), was marked by violence. Massive exports of materials such as rubber and ivory to the metropolis have left a painful mark on the memories and history of the Congo. Ivory was mainly exported for the manufacture of piano keys and billiard balls, but also for objects considered exotic at the time, such as traditional musical instruments. This predominant taste for ivory objects at the beginning of the 20th century is evident from the number of objects dating back several centuries in European ethnographic collections. At the Africa Museum, alongside the large collection of ivory horns (687 objects), there are also flutes and harps. There is a common confusion between instruments that are used in musical practice and those that serve as decorative motifs or status emblems. This confusion has been stimulated by European demands. Contrary to a misconception widely held at the time in Europe, the music of the people of the Congo was not dominated by ivory instruments. These occupy only a tiny space in the soundscape. The trumpets and harps before the arrival of the Westerners were made almost exclusively of wood. It was not until the beginning of the 20th century that ivory models appeared. These should no longer be considered as musical instruments but as figurative objects.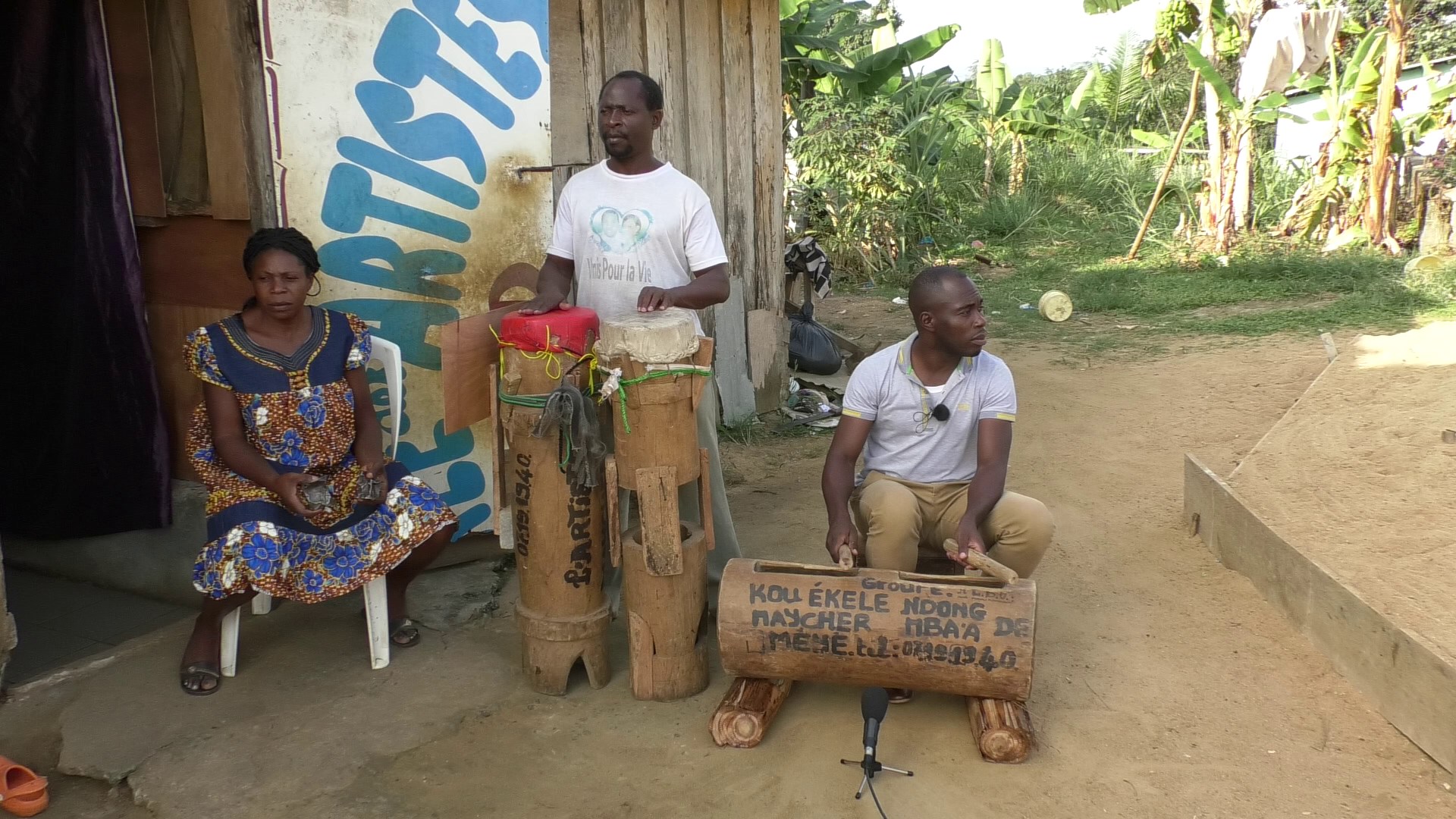 The ivory trade is one of the main factors in the endangerment of animal species, mainly the African elephant, but also populations forced to contribute to their commercialisation during colonial times or those who oppose it today. This type of object invites us to reflect on the legitimacy of our collections to represent the other and on its implications in terms of the exploitation of Man and Nature and the historic and political contexts that allowed them. The discourse of environmental policies taken by national governments or international institutions on the issues of sustainable forest management and conservation of ecosystems finds an echo with contemporary traditional musicians. Many components of traditional musical instruments such as drum skins (see picture of the mbèɲ drum), formerly made of animal skins, are now being replaced by synthetic materials, which are more resistant and respectful of the measures taken to accelerate the fight against climate change.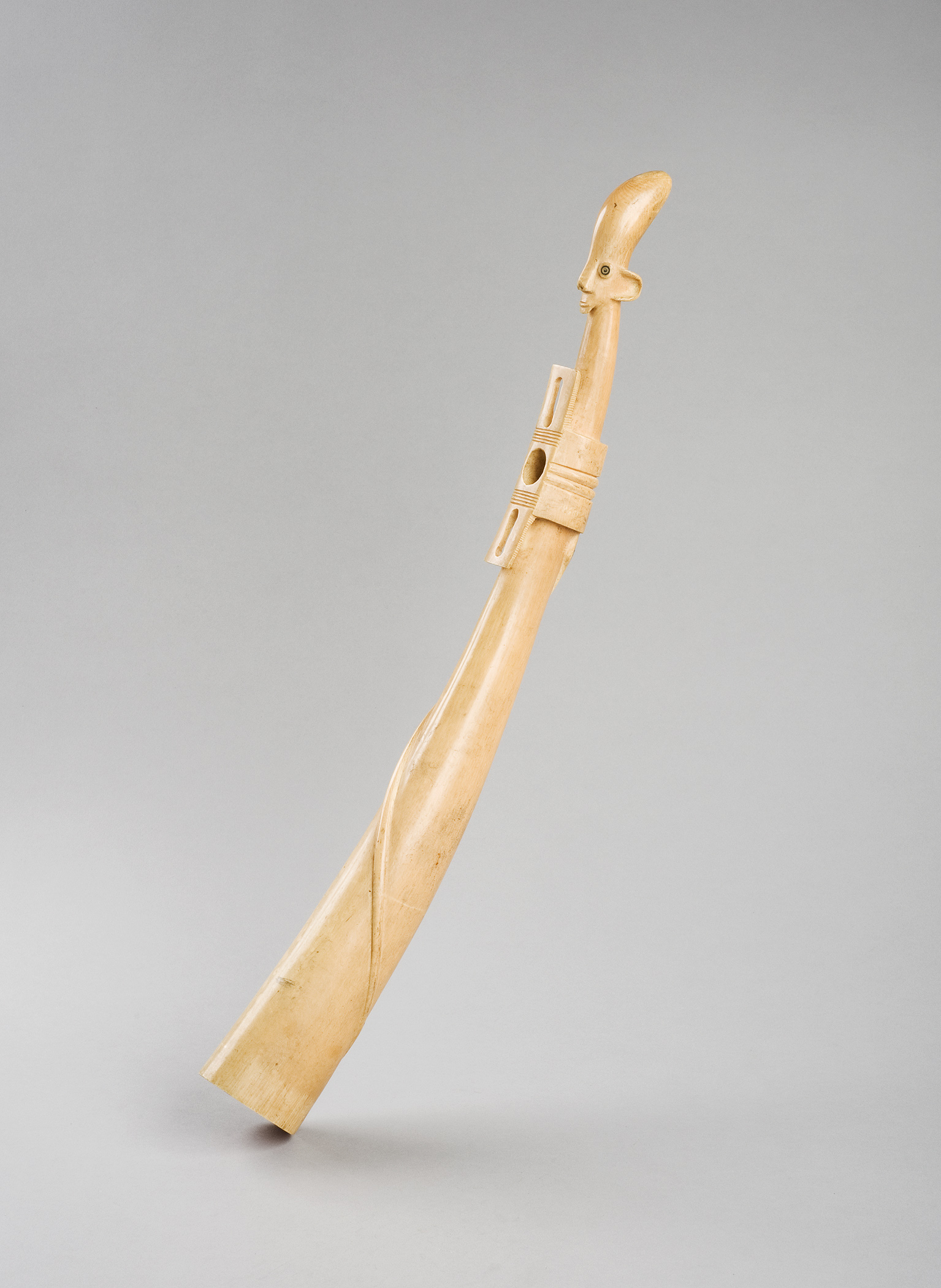 Slovenski etnografski muzej, Ljubljana
Guanyin, the Buddhist goddess of mercy,
The Slovene Ethnographic Museum acquired this object in 1963, just before putting on permanent exhibition of the Chinese Skušek Jr. collection in its new Museum of Non-European Cultures in the Goričane Manor near Ljubljana. Guanyin is an East Asian Buddhist goddess of mercy and bodhisattva of compassion in Mahayana Buddhism. The worship of Guanyin started already in the 1st century at the time of arrival of Buddhism in China. In Chinese Buddhism Guanyin became very popular because of a belief that Guanyin is the Savior of poverty, illness and pain. Ivan Skušek Jr. was an Austro-Hungarian navy officer, who was captured in the famous Qingdao battle in WW I (1914) and transferred to captivity in Beijing, where he stayed until 1920. As a purser he was allowed to walk freely and used that time to acquire a fantastic collection of antiquities. How he managed to do it, is still a question! But anyway, he was a foreign intruder and acquired the Chinese Cultural heritage to show (exploit) it in his homeland Slovenia. His collection can be an evidence to explore the violent workings of colonialism!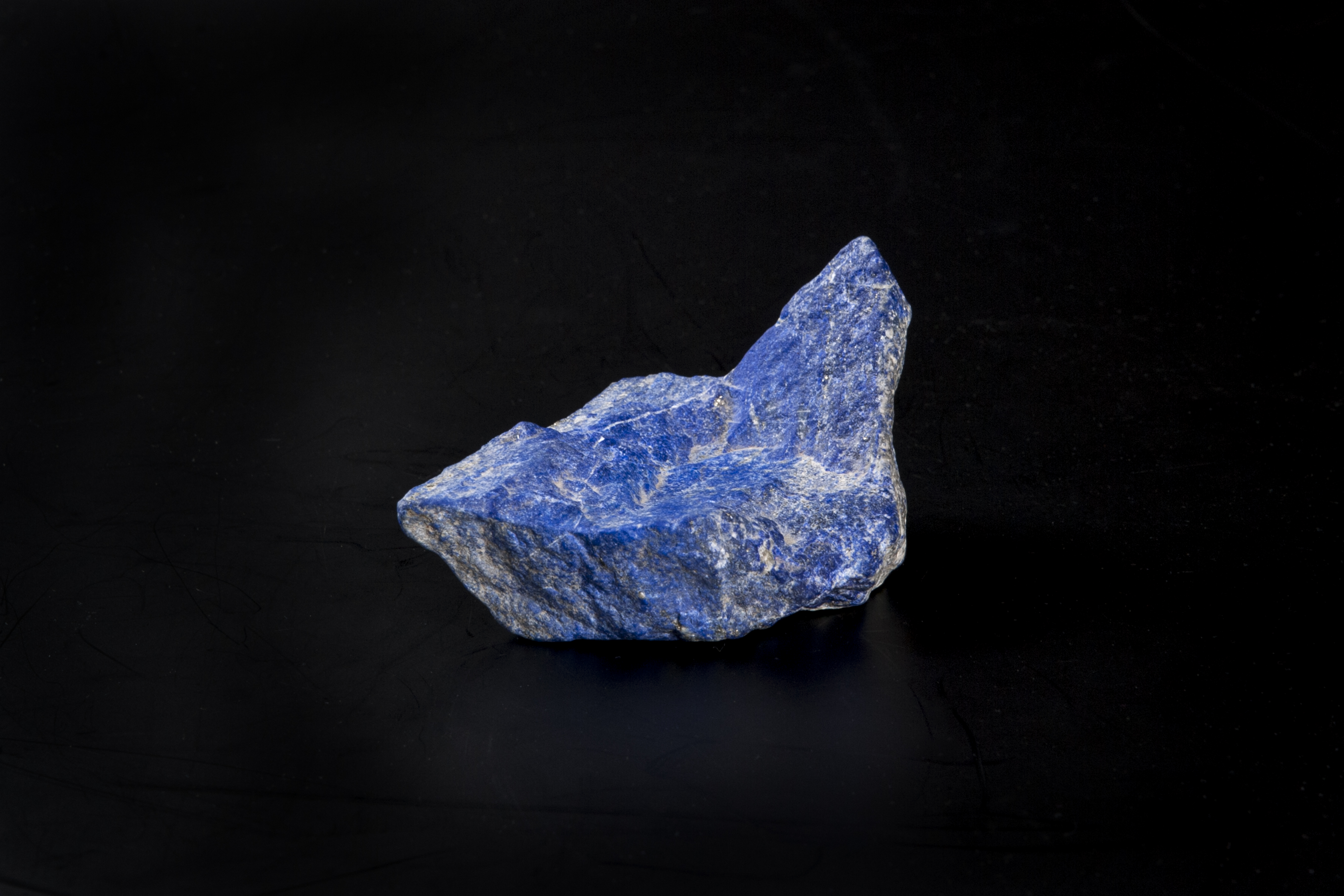 Lapis lazuli
The Slovene Ethnographic Museum organized an exhibition »Afghanistan – Slovene views« (May 25th 2017 – March 30th 2018). The curator Ralf Čeplak Mencin made a field work research in Afghanistan in October 2011. In the time of his research he acquired some Lapis lazuli semiprecious stones in the Herat bazaar, which are very specific for Afghanistan. The Afghan lapis lazuli was found already in the archeological Neolithic graves in Mehrgarh (7000 – 2000 BC; today Pakistan) and even in the Tutankhamun's tomb in Egypt and has a long tradition for being exploited and used for decoration of many different objects. Even today the mining of Lapis lazuli in the North - eastern Afghan Province Badakshan (where they are mining the best quality Lapis in the world) is done in a very old, traditional and exploiting way. The miners earn nearly nothing for their very hard and dangerous work.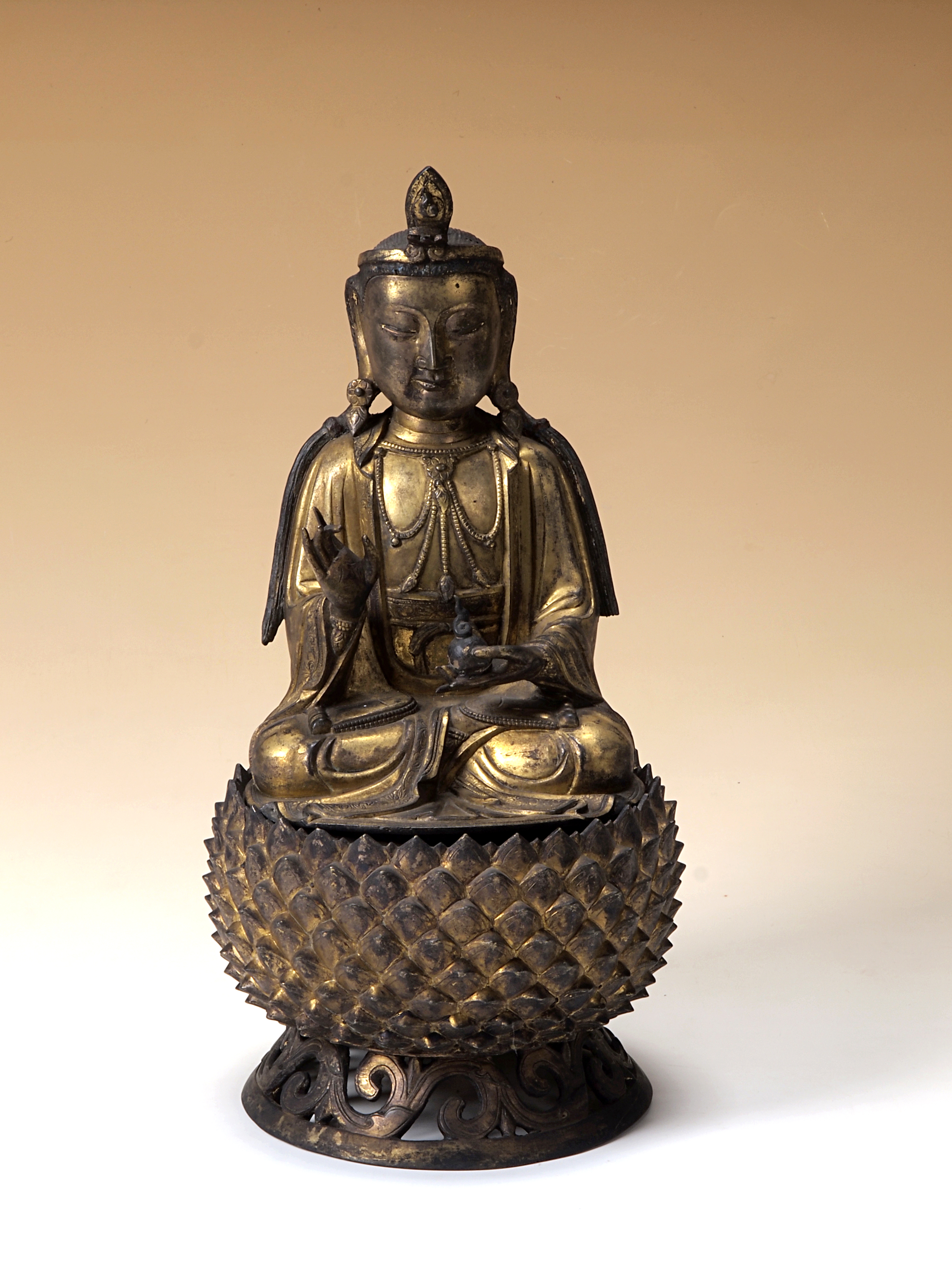 Grammar book of Ojibwe language
In 1837, catholic missionary Friderik Baraga (1797-1868) came to Ljubljana to present the objects he collected among the people in the town La Pointe located at the western part of Great Lakes, North America. Today, his collection is kept by the Slovene Ethnographic Museum. Baraga quickly learnt the language of native people, and with their help wrote down the grammatical rules. In 1850, he published the grammar book with a long title "A theoretical and practical grammar of the Otchipwe language, the language spoken by the Chippewa Indians; which is also spoken by the Algonquin, Otawa and Potawatami Indians, with little difference: For the use of missionaries and other persons living among the Indians of the above-named tribes".
In 1853, Baraga finished a comprehensive manuscript with 1700 pages that was a draft of bilingual dictionary Ojibwe-English. Published dictionary contains 622 pages, and the original title is "A dictionary of the Otchipwe language, explained in English this language is spoken by the Chippewa Indians, as also by the Otawas, Potawatamis and Algonquins, with little difference: For the use of missionaries, and other persons living among the above mentioned Indians".
Baraga's dictionary of the Ojibwe language was used during the whole 20th century because it was one of the most thorough examples of bilingual dictionary from the area of Great Lakes.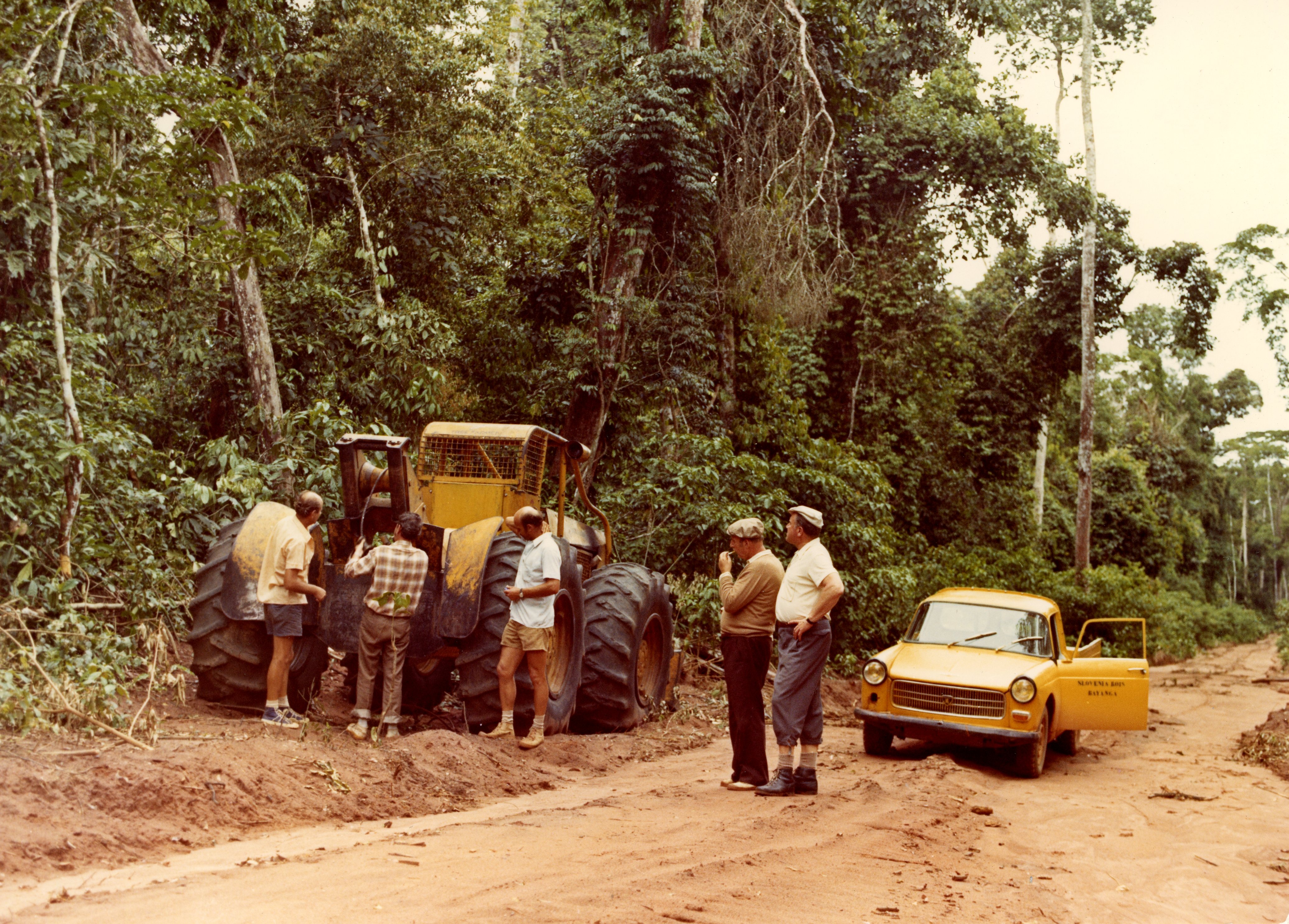 Logging area in the Central African Republic forest
The Slovene Ethnographic Museum keeps Anton Petkovšek's (1920-1989) collection that consists of approx. 400 objects from different West African countries, as well as a selection of photographs from his personal archive. Petkovšek was appointed Consul of the Central African Republic in Ljubljana in 1968, and later made manager of the branch office of Ljubljanska Banka in Abidjan, Ivory Coast. He also managed the Slovenia Bois company in the Central African Republic which operated under the wings of the Slovene woodworking company Slovenijales. For the interview in Nedeljski dnevnik (Slovene newspaper) in 1981, Petkovšek as a director of Slovenia Bois company answered the question, whether this organization is also a part of colonial exploitation, with the following words:
"I believe the truth is quite the opposite. Slovenijales started this investment in need for raw materials, and Central African Republic in need for developing its own industry and fulfilling life needs of its population in general. Perhaps this factory is even more modern than some factories in Yugoslavia." (Turk, J., 1981: 5)
Petkovšek emphasized that the company also constructed new schools, shops, clinics, and apartments for 1000 people, as well as built more than 400 km of new roads. The exploitation of the forest ended in 1984 due to the high costs of wood's transportation to remote seaside ports, changes in the international markets and advent of the new design patterns of wooden furniture on the Yugoslav market.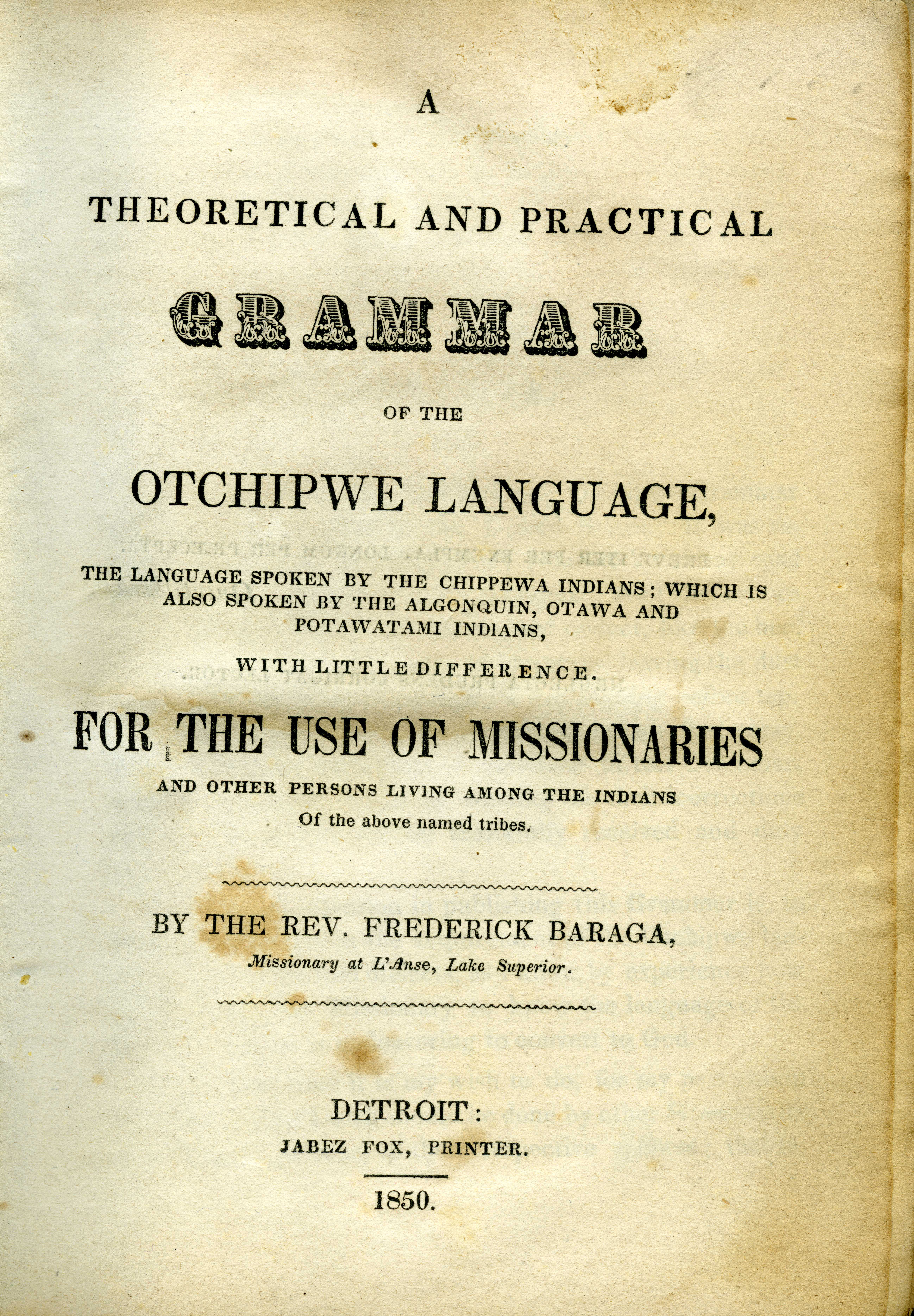 Världskulturmuseet. Sweden (Gothenburg, Stockholm)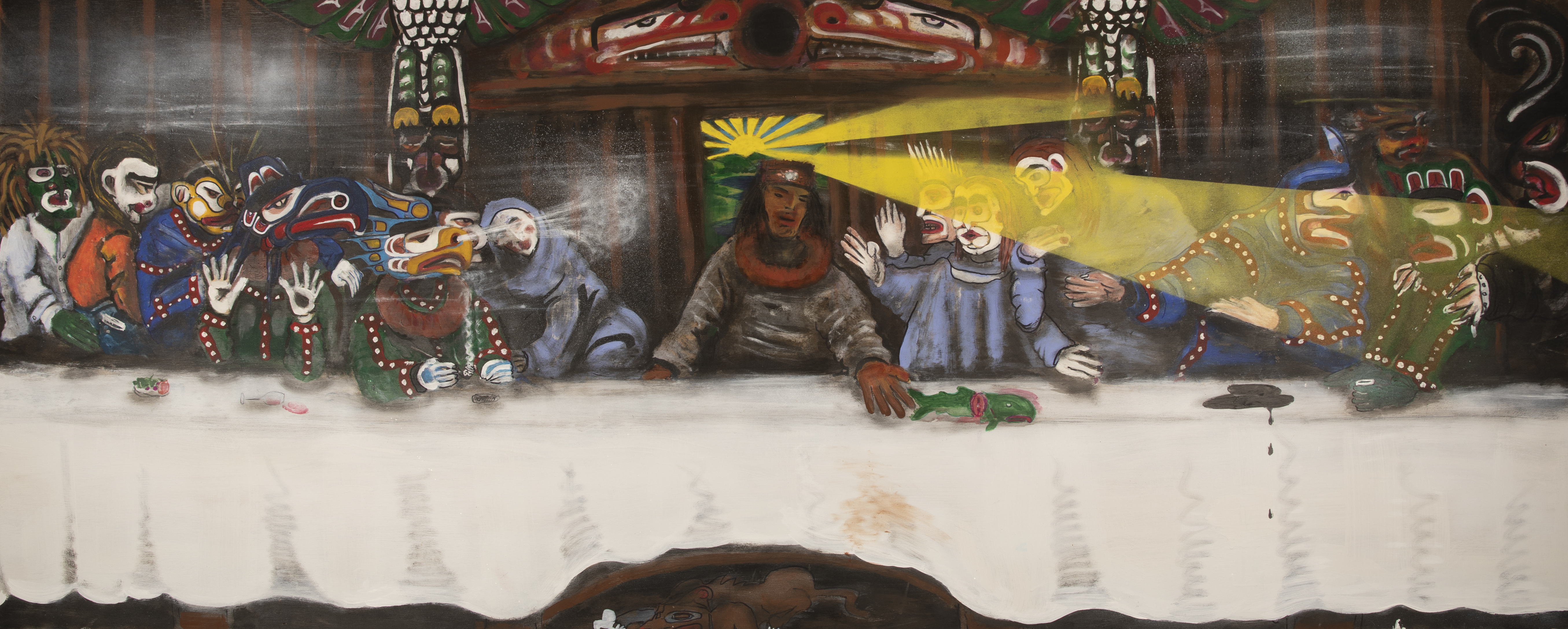 The Last Feast 
This painting by Zee Kwakwee Baker addresses the struggle for cultural survival on the Northwest Coast of North America in relation to environmental issues. While political sovereignty of indigenous nations is slowly restored, the survival of cultural traditions does also depend on the protection and restoration of nature and Environment. 
Kwakwee Baker is a contemporary, West Coast, Multi-Media Artist. Born in Morocco Africa in 1972 and of Squamish, Kwaguilth, Tlingit-Haida and Celtic nationalities, Kwakwee has strong traditional roots from Alert Bay and Kingcome Inlet areas of British Columbia Canada. He incorporates all his world travels and experiences in his artistic cultural representation, with expansive spiritual flow and visionary dream-like impressions.
- Martin Schultz, Intendent Nordamerika, Arktis, Statens museer för världskultur
Dreamcatcher
Dreamcatchers have become archetypical objects of indigenous American culturs and their spirituality. Mass-produced in Southeast Asia and appropriated worldwide, they have likewise become a standardized visual sign of connectedness to Mother Nature. In 2013 a dreamcatcher was added to the collections of Etnografiska Museet that has no further information as to it´s maker or place of origin and is attributed to North America on the basis of having been bought there.
- Martin Schultz, Intendent Nordamerika, Arktis, Statens museer för världskultur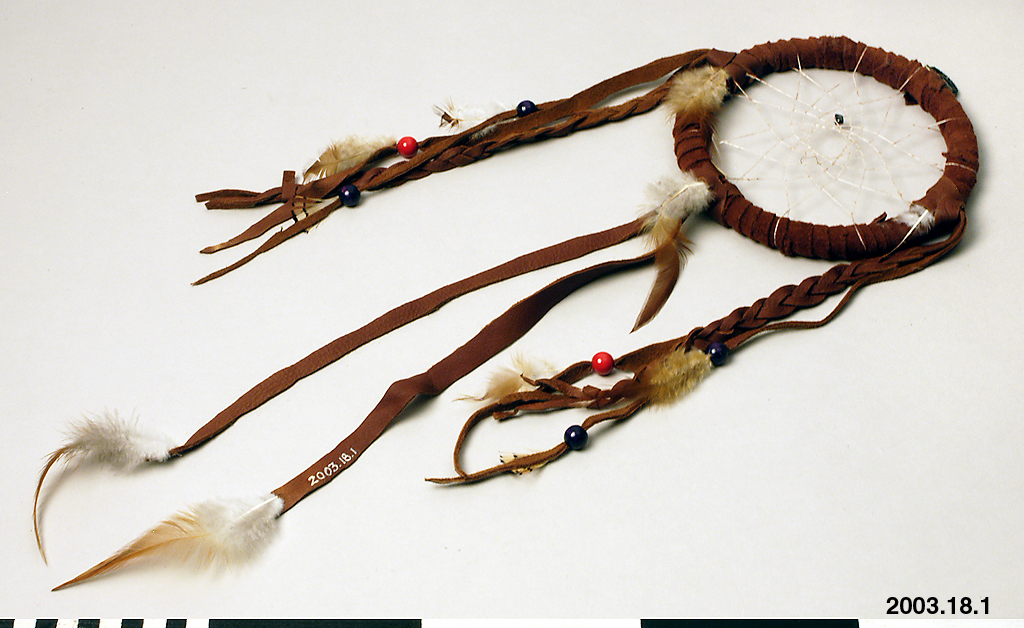 Knife from Xinjiang, China
This knife is of a traditional design made in Xinjiang, probably in the city of Yengisar. These knives were primarily used by the Uyghur and other Turkic peoples of the region. The knife would have been a personal tool worn by most men and has become connected with Uyghur identity. Uyghurs are a Turkic Muslim peoples from the far western/Central Asian part of China.
Uyghurs and the central government of China have had relations for thousands of years, and this could be antagonistic at times. This is true in the 21st century. Any threat to the Chinese state is often suppressed with a heavy hand and assimilation is strongly encouraged. Muslims living in western China, particularly the Uyghur peoples, have seen their culture repressed in the name of terrorism in the 2000s. A series of attacks, including with knives, committed by Uyghur separatists in various Chinese cities lead to a further suppression of Uyghur culture. Among the bans that came into place as tensions grew include restrictions on religious education, religious practices such as fasting, wearing veils, growing beards, as well as the carrying of traditional knives. Even kitchen knives must be registered with the police.  In 2019, up to 1.5 million Uyghurs and other Muslim ethnic minorities in Xinjiang were put into re-education camps.
This knife can remind us that the exploitative tendencies of colonialism, and its often violent results, is not an issue of the past. It continues to be present in our world, but often with a modified facade.
- Michel Lee, curator for China and Korea at the Swedish National Museums of World Culture.

Weltmuseum Wien, Vienna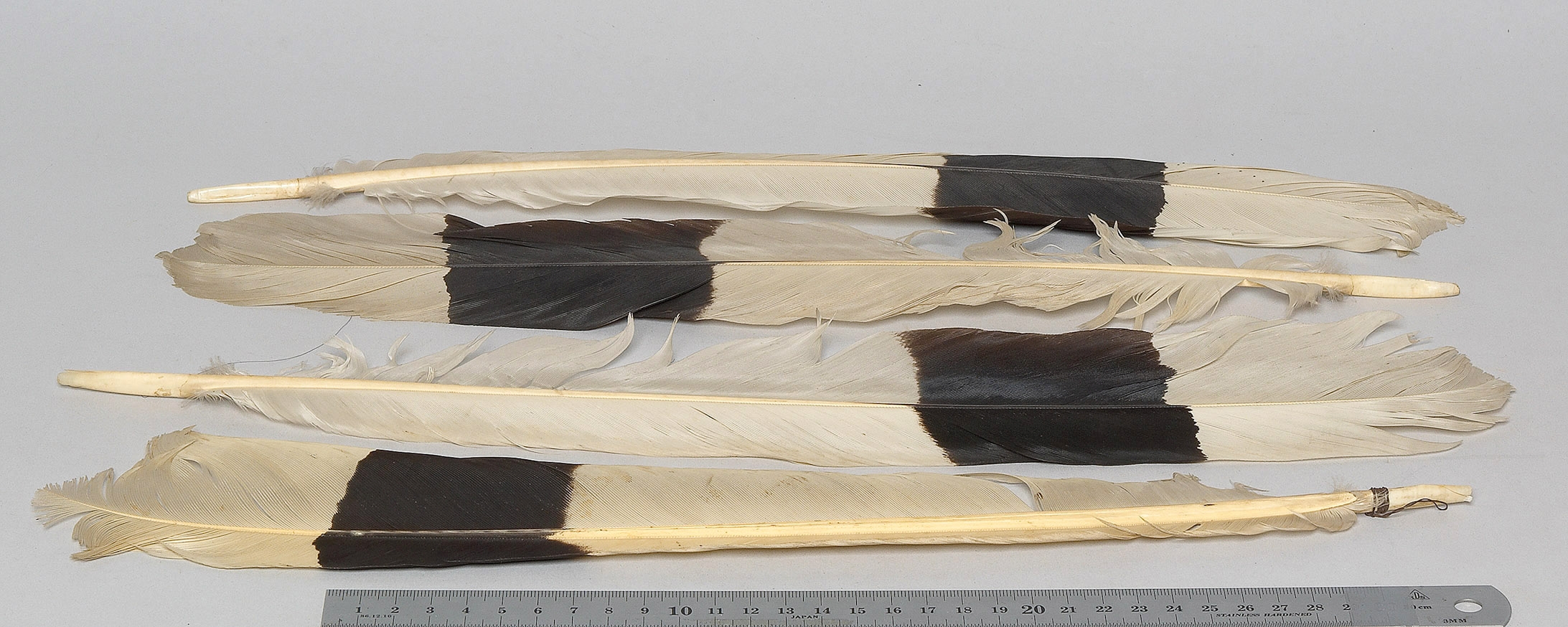 Tail feathers
The Great Hornbill is the largest member of the hornbill family and lives in the Indian Subcontinent and Southeast Asia. The bird plays a major role in myth and ritual of the Naga tribes. Its feathers and other body parts are part of the ritual garment of a warrior. Since the introduction of firearms, the bird is almost extinct in Naga land. New ritual garments are now made with feathers cut off cardboard.
- Christian Schicklgruber, Director Weltmuseum Wien & Claudia Augustat, curator of the South America collections at Weltmuseum Wien
Feather headdress
The Panara are the descendants of the southern Kayapo, an indigenous group in Brazil considered extinct since the beginning of the 20th century. However, survivors of the group had retreated to another settlement area and lived there in voluntary isolation until the 1960s. After renewed contacts, the connection between the groups could be traced on the basis of word lists from the 19th century. This feather headdress was acquired in the 1970s, shortly after the Panará were re-contacted. It does not resemble those used today, as the Panará have adopted other designs, for example from the Kayapó.
- Claudia Augustat curator of the South America collections at Weltmuseum Wien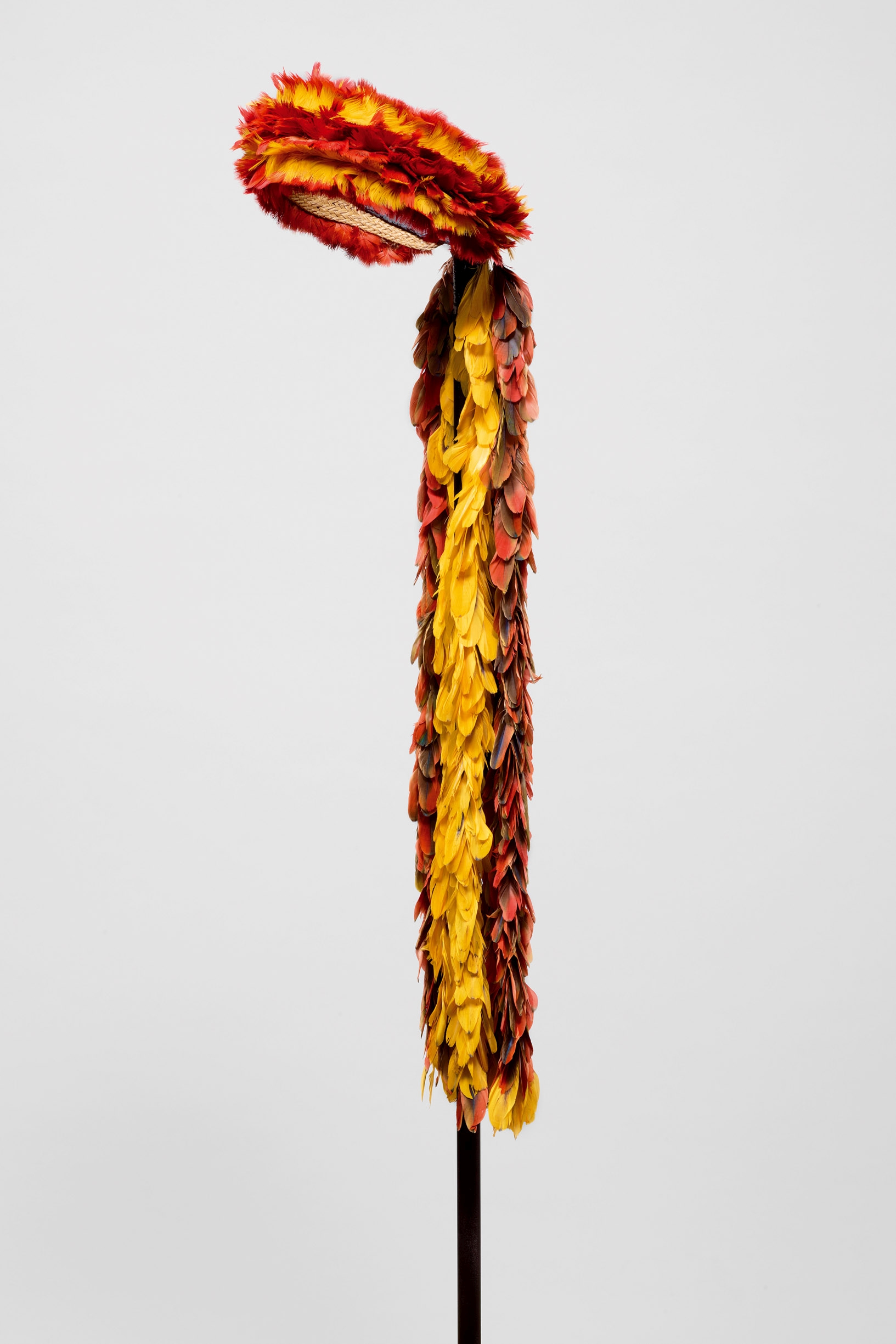 Zoomorphic Figure made of Palm Leaf. Yanomami, Venezuela.
To remedy illnesses believed to be caused by the loss of the soul, a figure in animal form is sometimes suspended over the hammock of the patient. This image helps the wandering soul which itself is envisioned in zoomorphic form find its way back to the body. The Yanomami were exposed to severe measles epidemics, especially in the 1960s and 1970s. Currently, gold prospectors are dragging Malaria and COVID-19 to their settlement areas, especially in Brazil. The situation in Venezuela is not known.
- Claudia Augustat curator of the South America collections at Weltmuseum Wien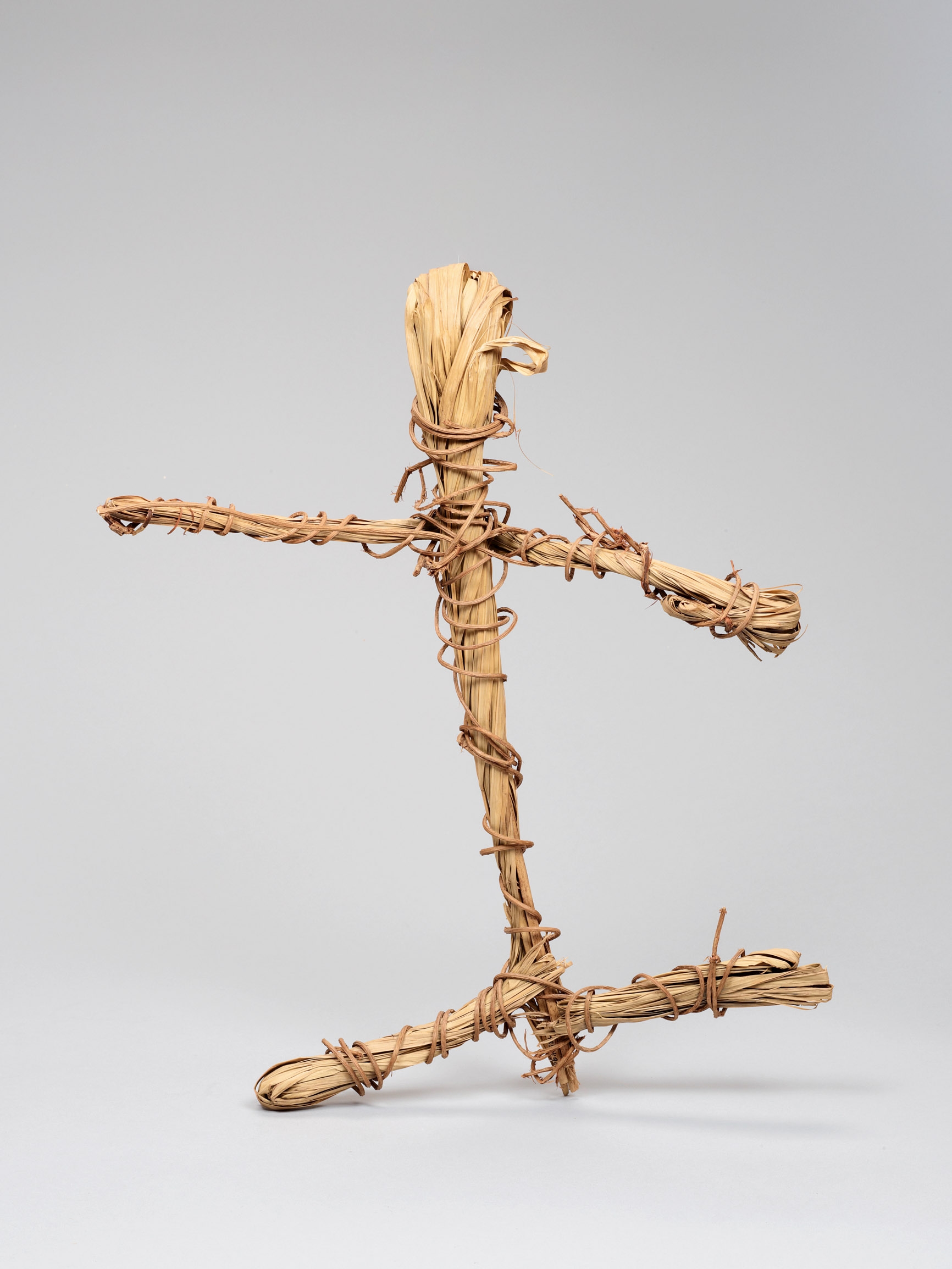 Arrows and Quiver
Arrows and quiver, universally present in large numbers in most ethnographic collections, are not often found in the centre of public presentations and discussions about our collections. Looking at these objects from different angles they uncover many issues concerned within Taking Care.
The materials used to produce them were directly sourced from the forest. The knowledge it takes to source and subsequently process these materials, speaks strongly to the historical relationship with the forest. This is in stark contrast to our contemporary Western understanding and practice of conservation. One core concept is the creation of national parks specifically excluding people from any and all fauna and flora in order to "protect" the latter. In the understanding of most Baka, however, the forest was home and provider while at the same time it cannot be owned, nor can its resources. These disparities between the two different philosophies with drastic consequences are best illustrated through a recorded message from Mangombe in Cameroon.  who speaks of the connection between his knowledge and the forest. 
video: Simon Hoyte, ExCiteS blog March 28, 2020
- Nadja Haumberger, Curator of the Sub-Saharan Africa Collection at Weltmuseum Wien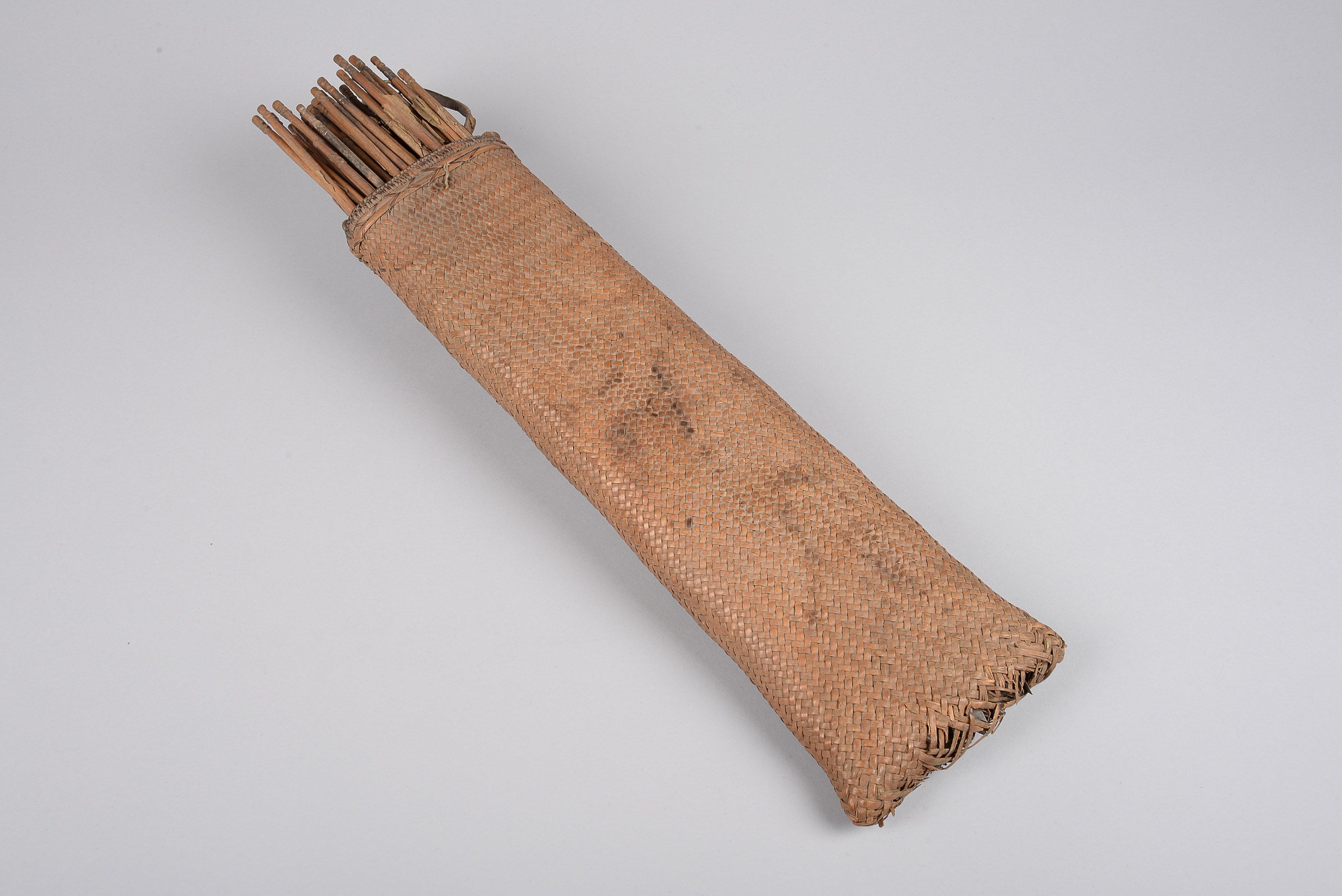 Doctoral, Ph.D. candidate at Politecnico in Milan | Barbara Pollini
Pollini is currently a Ph.D. candidate in Design / Biomaterials for Sustainable Design in the Design Department at School of Design - Politecnico di Milano, in Milano, Italy.
The Chair
Recent studies confirm the biodiversity loss trend; in particular, Over 40% of insect species are threatened with extinction1. The designer Marlene Huissoud with her collection "Please stand by" is looking at giving back to nature through these sculptural pieces, created to provide shelters for insects, encouraging biodiversity in the gardens and increasing the ecosystem productivity.  
Designed with the help of scientists Robert Francis and Mark Brandon from King's College London, these objects mimic a comfortable environment for an insect to consider them as new homes (e.g. light colours and dark tones). With this project, the designer aims to bring back pollinators such as solitary bees, wasps, butterfly, etc. and welcome them in a more than human environment.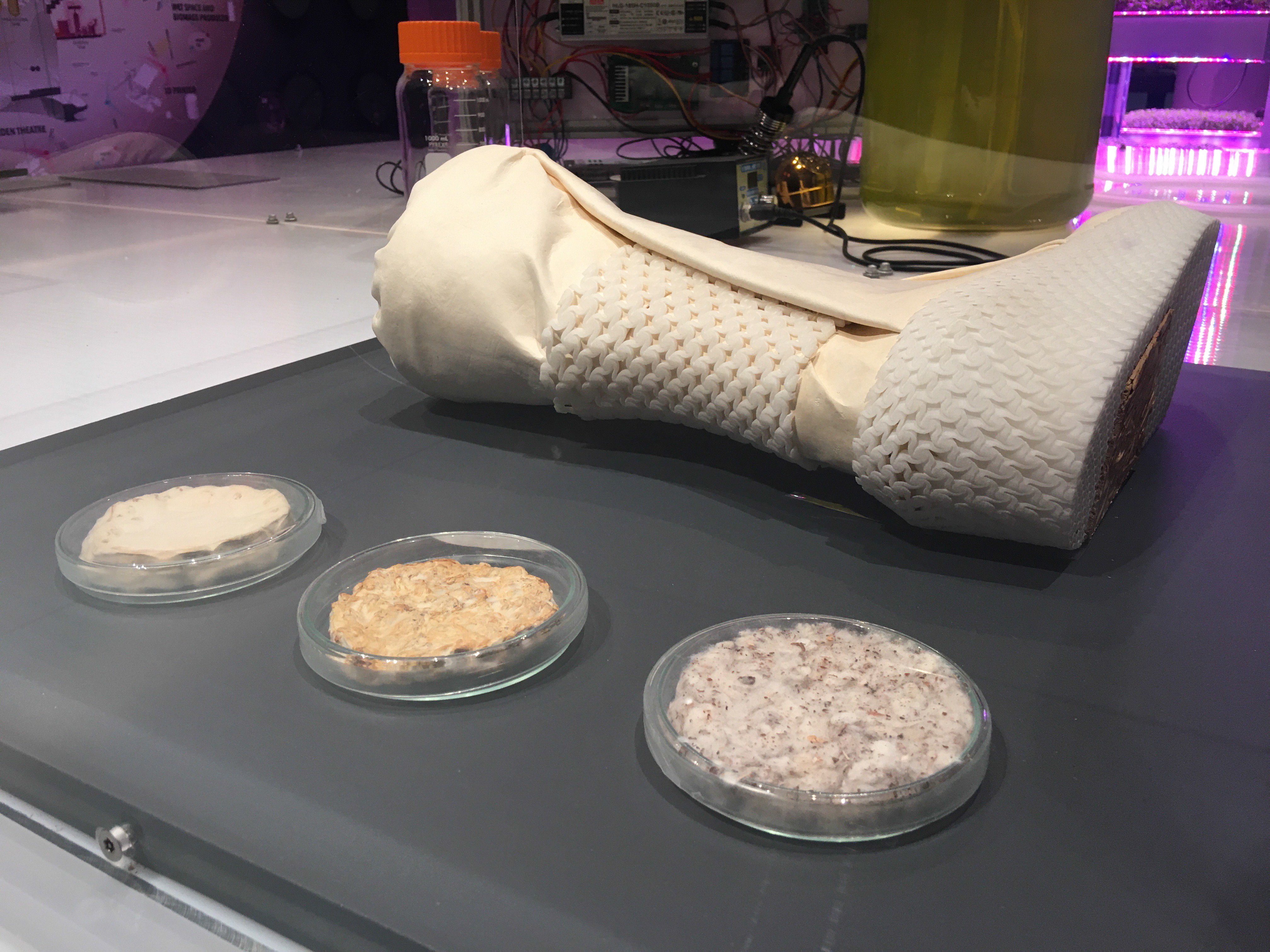 CASKIA / Growing a MarsBoot
Our damaged planet leads the evidence of reckless use of materials. Biological materials are leading innovation today in the development of new sustainable alternatives; moreover, they embed the metaphor of more balanced production systems. 
The project CASKIA reflects on our 21st-century challenges and values, showing a radical alternative to the material culture which characterised the first Moon Boot, developed along the "Plastic Age" (early 1970s). Degradable, 'made in space', grown by harnessing residual resources from the astronaut's bodies (e.g. sweat) and responsibly careful and critical towards the consequences deriving from the introduction of any material on any typology of ecosystem: this projects arise from a combination of hi-tech and low-tech processes, implemented to construct the footwear with mycelium variants, such as flexible mycelium fabrics or stiffer mycelium-based composite materials (cotton/hemp + fungus), characterised by different physical and technical qualities. 
Hopefully, this typology of novel biofabrication-driven, design practices will help introducing new cultures and ecologies of regenerative materialities, capable to favour healing both the common misconception related to the use of Earth's resources, while preventing and remediating environmental damage in (alien) ecosystems.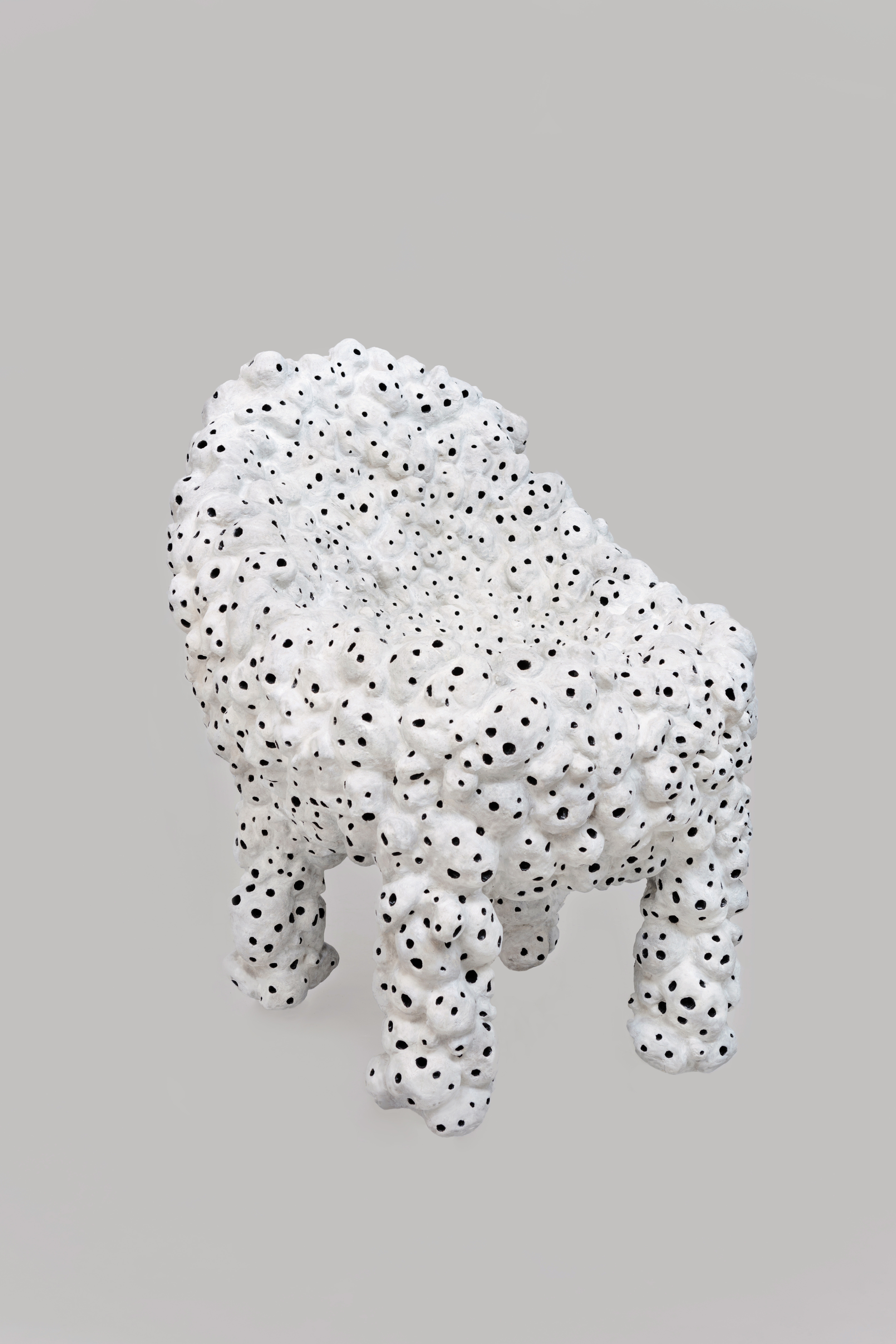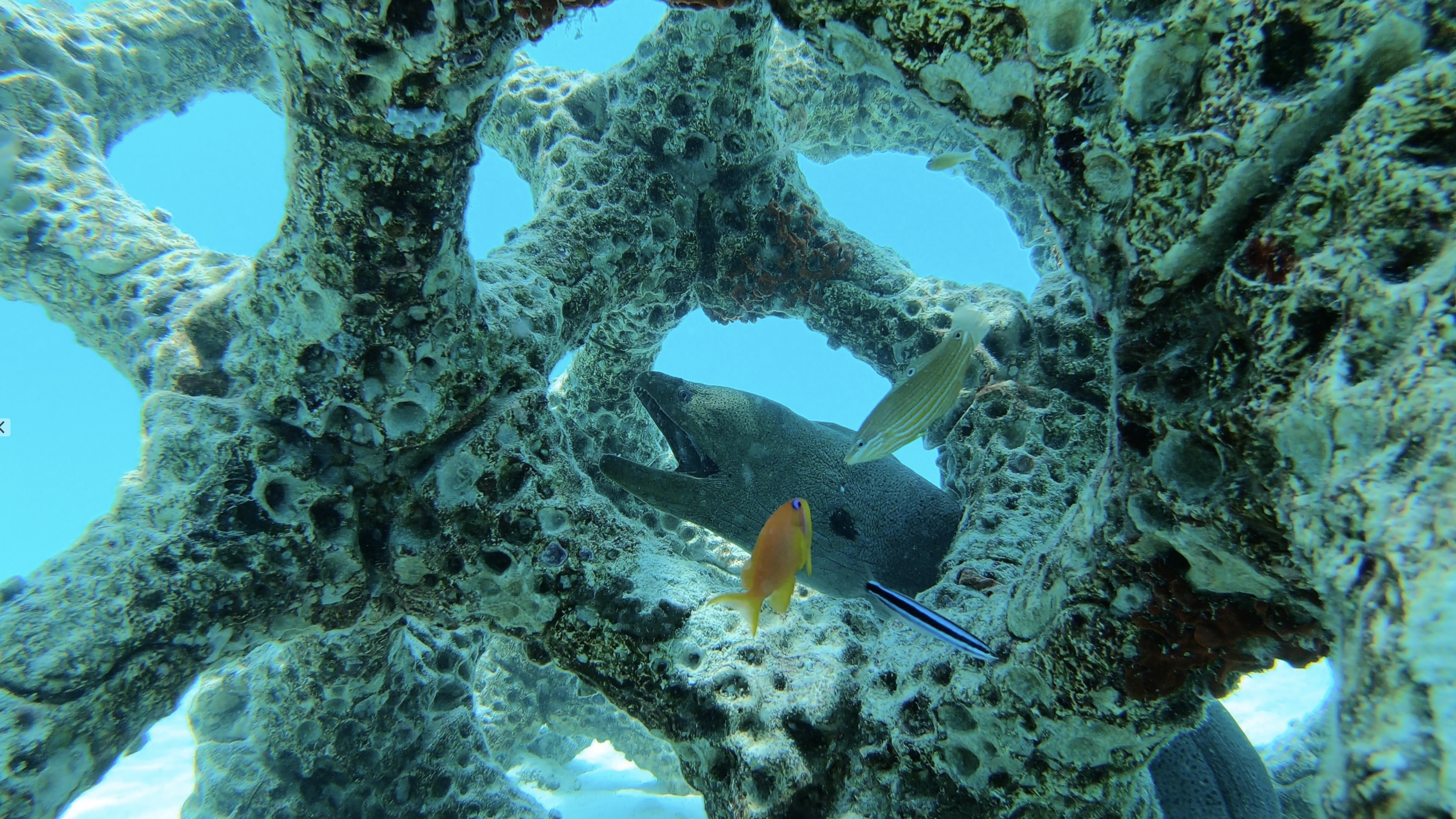 MARS
The damage of the coral reefs globally is a well-known reality; caused by different environmental problems such as global warming and the related phenomena of ocean acidification, river sedimentation runoff, destructive fishing practices, among others.  
The project MARS act like a farming structures to restore this delicate ecosystem, thanks to a modular system that can easily be deployed from small boats, eliminating the need for heavy-duty machinery (inaccessible for many communities) and allowing strong structure with minimal material.  
Each unit is 3D printed and molded in ceramic using the slip casting process. MARS modules have a specially designed surface geometry, which encourages natural recruitment of juvenile coral and makes it easier for the transplanted once to take hold. Once colonised, the system provides a permanent rigid structure, restoring the coral habitat to protect other species in the area and reducing constant flooding as well as erosion of beaches.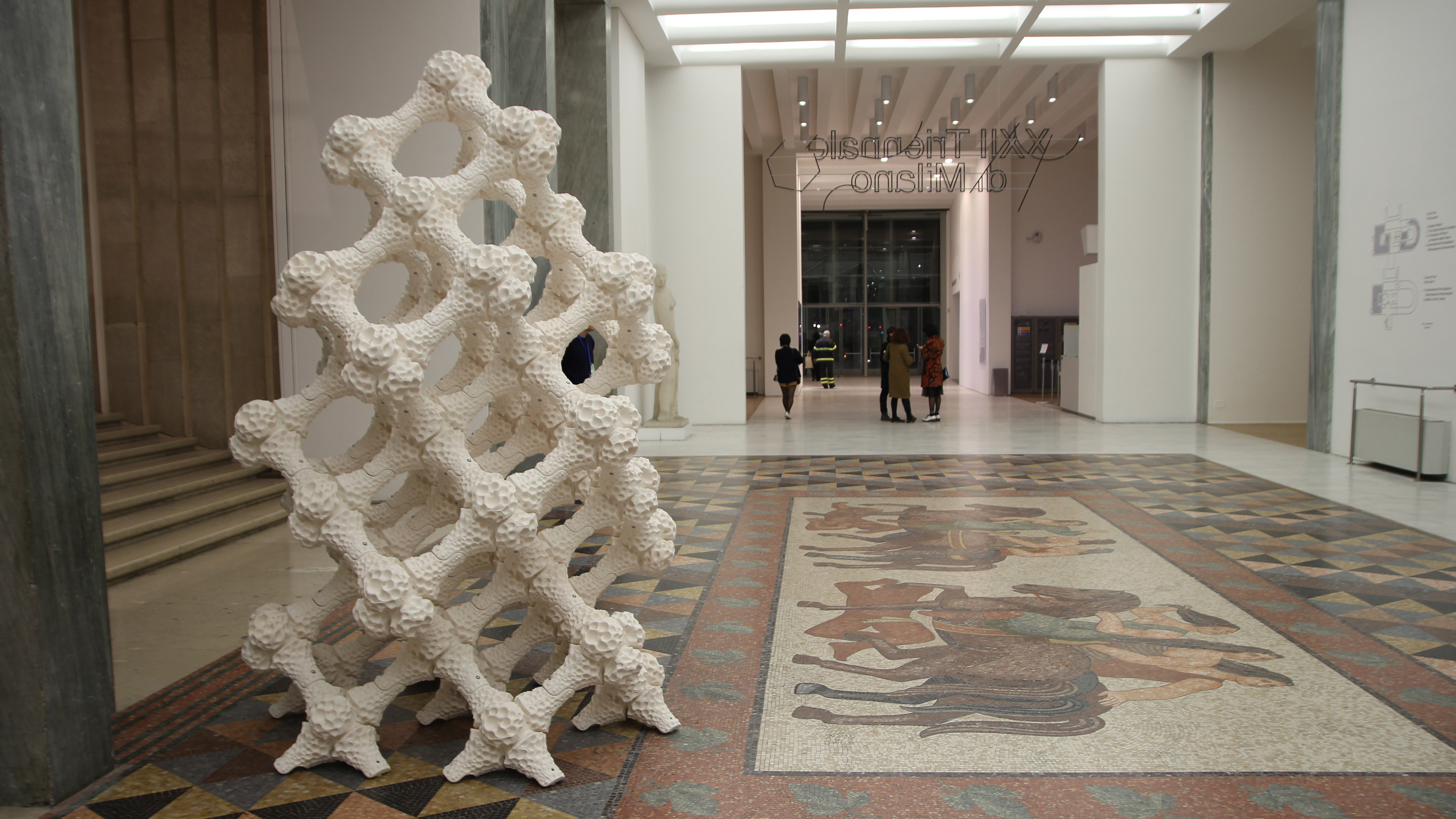 Victimless Leather
In the era of synthetic biology "Extraction" (and all the related human and environmental problems) seems to be replaced with the idea of living self-generating materials and objects, not with less ethical issues. Biodesign can be seen critically as a new form of extraction process: in the project Victimless Leather, the designers Oron Catts & Ionat Zurr aim to extract value from biological systems by growing a jacket in vitro from living tissue. As stated by the designers, the project had no solutionist aspirations as their interest were to cast a critical gaze and problematize this new production approaches. 
This project is particularly important also as one of the first, and still rare, examples of showcasing "the living" in a design exhibition.